Hardworking delegate pulls family, village out of poverty
Share - WeChat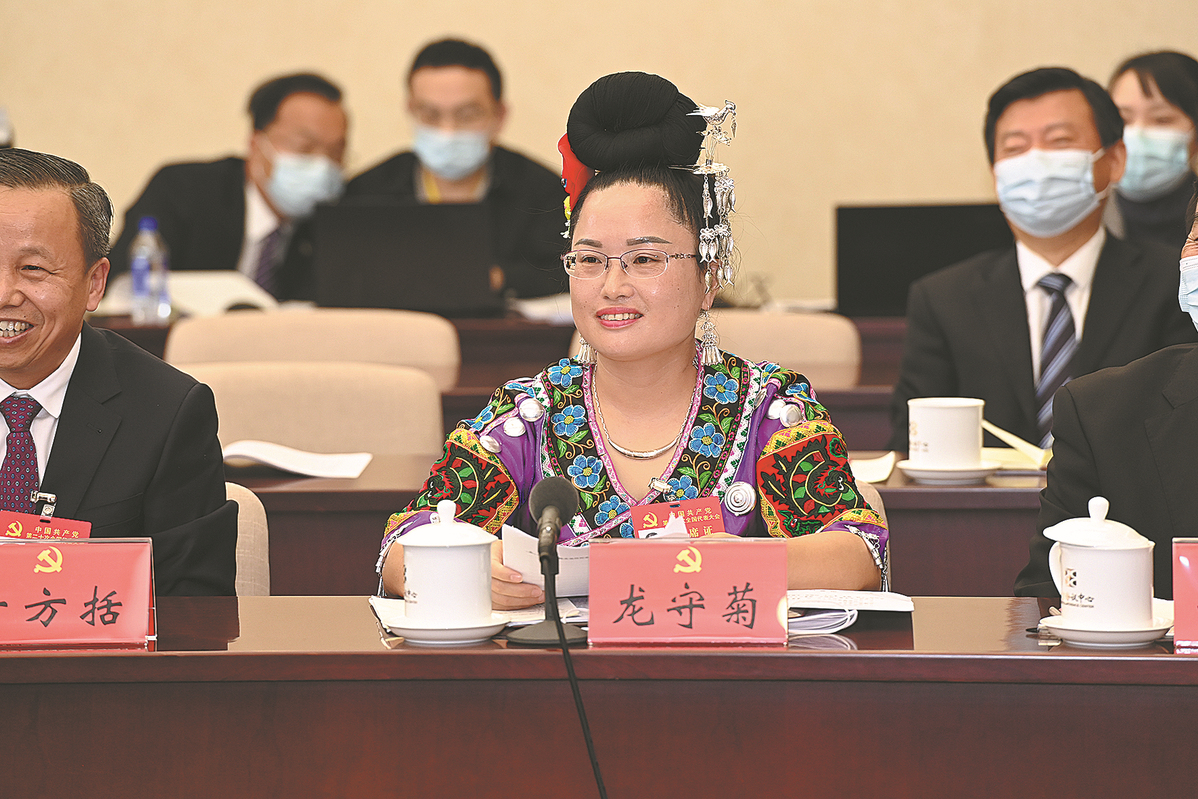 At dusk one day years ago, a boy came to Long Shouju's home in Wushi village of Huangshan, Anhui province.
Picking vegetables in front of her house, she saw the boy was thin and weak.
"The school bag on his back seemed large and heavy," she said.
The boy said, "Auntie, I heard you are from Guizhou province. My mother was from there too, but she gave me and my father up and will not come back anymore. Can I hug you?"
Long guessed the mother left the family mainly because life was hard.
"I held him tight in my arms with tears falling from my eyes," said Long, who was elected a representative to the 20th National Congress of the Communist Party of China earlier this year.
The bitter story made her even more determined to make changes in her own life.
Running a tea plantation and livestock cooperative in Wushi since 2018, Long's life story has been inspirational to many local villagers.
Long was born into an impoverished family in Jinping county of Guizhou in 1978.
With three sisters and a brother, Long said her parents had to work very hard in the fields to earn a living and give their children chances to go to school.
In 1998, Long and her brother received acceptance letters from a college, and she knew her parents could not afford tuition for both. She gave the chance to her brother.
"If my older brother didn't get into college and couldn't lift himself out of poverty in the future, he would not be able to find a wife and my parents would be heartbroken," said Long, who moved to Dongguan, Guangdong province, to work in a factory that year.
Earning about 700 yuan ($100) and having only one day off a month, she was responsible for production management because she was considered a quick learner.
She married a colleague at the factory, Tao Laifu, and to save money and time, the couple stayed in Tao's village for only three days and didn't have a wedding ceremony.
"I knew his family was impoverished too, but the situation I saw still shocked me," said Long.
Tao's parents had lived with chronic diseases for many years. His father, who passed away in 2016, was blind and could barely get out of bed. The house was made of clay and bricks and had only two rooms.
"Such a situation was even worse than my home in Guizhou," said Long.
In 2006, as her parents-in-law's health got worse, the couple decided to return home for a new start.
"In the beginning, I was desperate and helpless. After a while, I told myself that I had to change the situation and bring the family out of poverty," said Long.
In 2007, the couple decided to use their savings to rent a shop in the local market town and borrowed some money to open a frozen food business.
The profits could hardly make ends meet for the family, and their parents' medical costs were their largest expenses.
In 2014, Long's family was listed by the government as an impoverished household and would benefit from multiple alleviation measures.
The government not only provided subsidies to the family, but also gave them business guidance. With improvement in local villagers' lives, they could afford subsidized home appliances, especially refrigerators. As a result, Long's shop got more customers for frozen foods.
Later the local government guided the family to get involved in tea planting, processing and sales, which has been a pillar industry in Huangshan.
The family were eventually lifted out of poverty in 2017. "When my family was removed from the list of impoverished households, I cried," said Long.
Since 2018, Long has helped more than 20 local women with plantation and livestock businesses, increasing their annual incomes by more than 6,000 yuan each.
She also established e-commerce platforms to sell agricultural products for her family and many others, according to the local government.
Recently, she contacted local agricultural experts and authorities to provide special organic fertilizers to the villagers so that their tea gardens could survive the lasting droughts that began in the summer.