Q&A: Beijing's latest COVID-19 outbreak
Share - WeChat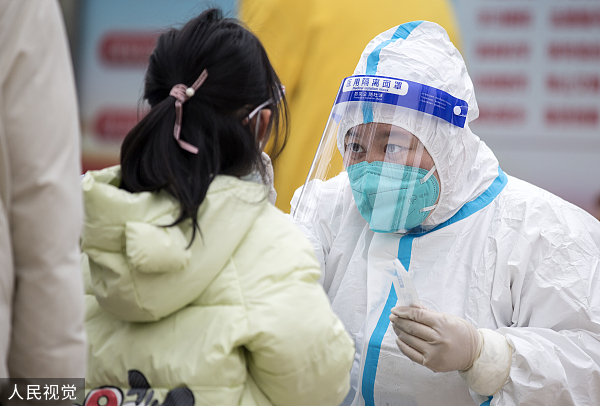 Li Dongzeng, chief physician at Beijing YouAn Hospital's infectious disease department, spoke with Beijing Daily about the infectiousness and virulence of the Omicron variant BF.7, the dominant subvariant in the latest outbreak of COVID-19 in Beijing. The medical expert provided advice on how residents should protect themselves from the virus in a scientific and rational way.
How infectious is the Omicron subvariant BF.7?
Li: Compared with BA.1, BA.2, BA.5 and other variants, it's much more contagious with stronger immune evasion potential, a shorter incubation period and faster transmission speed.
It was estimated that the R0, or basic reproduction number, of the Delta strain of COVID-19 was about 5 to 6, meaning an infected person will transmit it to an average of 5 or 6 people without containment measures. The BF.7 strain of Omicron has an R0 of 10 to 18.6, which has made it the most infectious subvariant in the Omicron family, causing larger difficulty in epidemic prevention and control.
Q: Why does the number of new infections keep growing in Beijing?
Li: People begin viral shedding one day after contracting an Omicron subvariant. The second-generation cases may appear within two or three days. Following previous testing frequency, some cases may be missed, which means when they get tested, the infection may already have occurred. The time for infected people to turn negative is still about seven to 10 days.
In addition, symptoms of Omicron-infected cases are generally mild. Many infections show mild or no symptoms. If they are not detected in time and still go to work, school or gatherings, the epidemic may spread. That's why it's important to find the infected and cut the transmission chain as soon as possible.
Q: If the neighborhood agrees, can infected people be isolated and cared for at home?
Li: Major symptoms of the Omicron variant BF.7 include fever, coughing, sore throat and decreased sense of smell and taste. A small number of people may suffer from diarrhea and vomiting.
Beijing adopts different treatment methods for people with varied symptoms. Asymptomatic cases usually don't need medicine or medical treatment. But for high-risk groups, such as the elderly, those that have underlying diseases or weak immunity, smokers, the obese or women in later stages of pregnancy, the risk for them to develop severe symptoms is high. So we will monitor their situations more closely.
For mild cases, Beijing mainly treats them in accordance with their symptoms. For example, we use antipyretics and painkillers to help patients with fever or coughing. For those estimated by experts to have a high risk to deteriorate, we will use antiviral drugs.
Most asymptomatic cases are willing to be quarantined at home. However, some old people will get seriously ill after infection, or their underlying diseases get worse. So residents who have old or sick family members, those readying for exams, or have important work to deal with, may have different views on the question.
It would be ideal if we can offer targeted solutions for each family or each individual, but more professional evaluation on the community environment, home ventilation and drainage is needed to make sure surrounding residents can be safe. But there is no reliable method of assessment and many communities can't do that, making quarantine at designated isolation sites a more realistic option.
Q: Are ordinary medical surgical masks still effective in preventing infection from the more contagious Omicron variant BF.7?
Li: The subvariant mainly reproduces in the upper respiratory tract. Infected people are able to spread the virus when coughing or speaking loudly, and they don't even need to sneeze.
When two people talk face to face, both wearing masks, the infection risk can be largely reduced, so residents should wear them wherever they go outside.
Due to the difference of the tightness with the face, medical surgical masks are not as airtight and effective as N95 and KN95 masks. When people go to hospitals, underground shopping malls and entertainment venues with poor ventilation, or take public transport and in other high-risk areas, they are suggested to use N95 or KN95 masks.