Lives of Guangxi fruit farmers sweetened by prosperity
Share - WeChat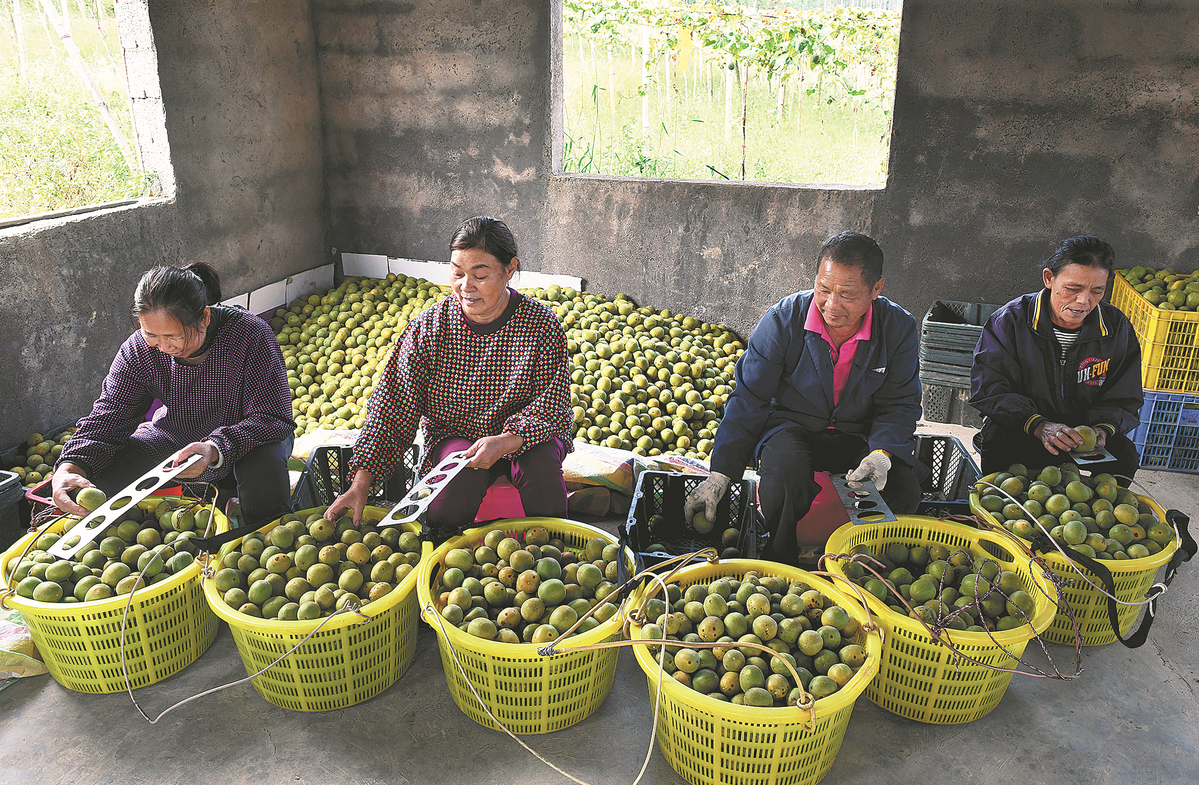 Editor's note: This series of stories looks at local enterprises in specialized sectors that have a share in global markets.
Zhou Huaguo, 38, hadn't always planned to be a fruit farmer.
"I never had the required expertise or experience. Without the proper technology, I was also afraid I wouldn't be able to fully harvest the crops," said Zhou, who was barely able to make ends meet when he sold agricultural products like seed and fertilizer.
However, in the past decade, Zhou steadily surmounted his doubts and difficulties and even became an internet celebrity — all by successfully cultivating luohanguo, also known as monk fruit, in Longsheng county in Guilin, South China's Guangxi Zhuang autonomous region.
China is a major producer of luohanguo, which is used as a major ingredient in traditional Chinese medicine. In other Asian countries, including Malaysia and Singapore, where TCM is also widely practiced, the fruit is used for treating ailments ranging from coughs and sore throats to lung and intestinal conditions. In addition, it is used in herbal preparations in a growing number of Western markets.
The fruit's intense sweetness and antioxidant properties also make it a healthy alternative to sweeteners in a wide variety of food products. Guilin, in Guangxi, has a history of more than three centuries of cultivating the fruit and accounts for most of its output in the country.
Guilin's luohanguo products, including dried fruit and extracts for beverages, have been exported to 26 countries and regions, including the European Union, according to the city's customs authority.
In the first half of this year, Guilin exported 356 million yuan ($49.7 million) worth of luohanguo and related products, up 65 percent year-on-year, according to customs figures.
With global demand for luohanguo extract increasing, the sector is poised to tap huge potential. Worldwide annual sales of sugar and sweeteners is valued at around $70 billion, but natural sweeteners account for less than 0.5 percent of that, according to industry statistics.