Organ donors inspire others to follow suit
Share - WeChat Doubts harbored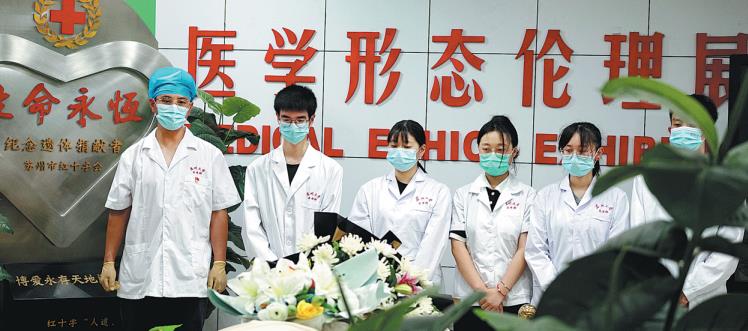 Zhong Shizhen, an academician at the Chinese Academy of Engineering who has authored works on modern Chinese clinical anatomy, said modern medicine cannot be separated from anatomy, while anatomy cannot be separated from human remains.
However, due to traditional customs, many people have doubts about donating their remains, while numerous medical schools are short of resources for medical research.
Hubei University of Medicine has set up a volunteer service team to publicize organ donations, and also offers related services for those who intend to sign such agreements.
Li said that since it was established, the team has staged more than 50 public events to promote the need for organ donation, reaching a total audience of more than 50,000 people.
There has been a shift in the public's perception of organ donations in Shiyan, with the number of applications for body donations received by Hubei University of Medicine rising in the past two years.
Li said that last year, a record 54 people applied to donate, while this year, more than 30 applicants have signed such agreements.
The efforts made by China to promote organ donations, which grabbed Monfils' attention, have also resulted in more Chinese breaking from tradition to become registered organ donors.
As of September, more than 5 million people had registered to be donors, according to the China Organ Donation Administrative Center, compared with 1.2 million in March 2019.
Huang Jiefu, a senior member of the China National Organ Donation and Transplantation Committee, said the number of people who have made posthumous donations, and the number of organ transplants in China, are both the second-highest in the world.
Guo Yanhong, an official at the National Health Commission's Bureau of Medical Administration, said that from 2010 to May 2020, more than 43,000 people donated their organs after death, contributing to transplants involving some 116,000 organs.
In addition to the rising number of organ donations and transplants, the level of medical supervision for transplants has continuously improved over the years, Guo said, adding that the post-operative survival rate globally has reached an advanced level.
China started to pilot its organ donation program in 2010, and five years later, it made voluntary donations the only legitimate source of organs for transplants.
According to the latest report on the nation's organ transplant development by the China Organ Transplantation Development Foundation, the number of posthumous organ donations reached more than 29,000 from 2015 to 2020.
Body donations per million head of population in China rose from 2.01 in 2015 to 3.70 in 2020.In 2018, the figure stood at 4.53.
Some 180 hospitals were certified to perform organ transplants in 2020, when more than 5,200 posthumous organ donations were made and over 17,000 organ transplants were performed, according to the foundation's report.
In 2020, the provinces of Guangdong, Shandong and Hunan, as well as Beijing and Guangxi Zhuang autonomous region headed the organ donations list.
More leading experts and scholars are signing up to donate their organs — attracting widespread public attention and encouraging the public to follow suit.