Speed, service key for COVID control
Share - WeChat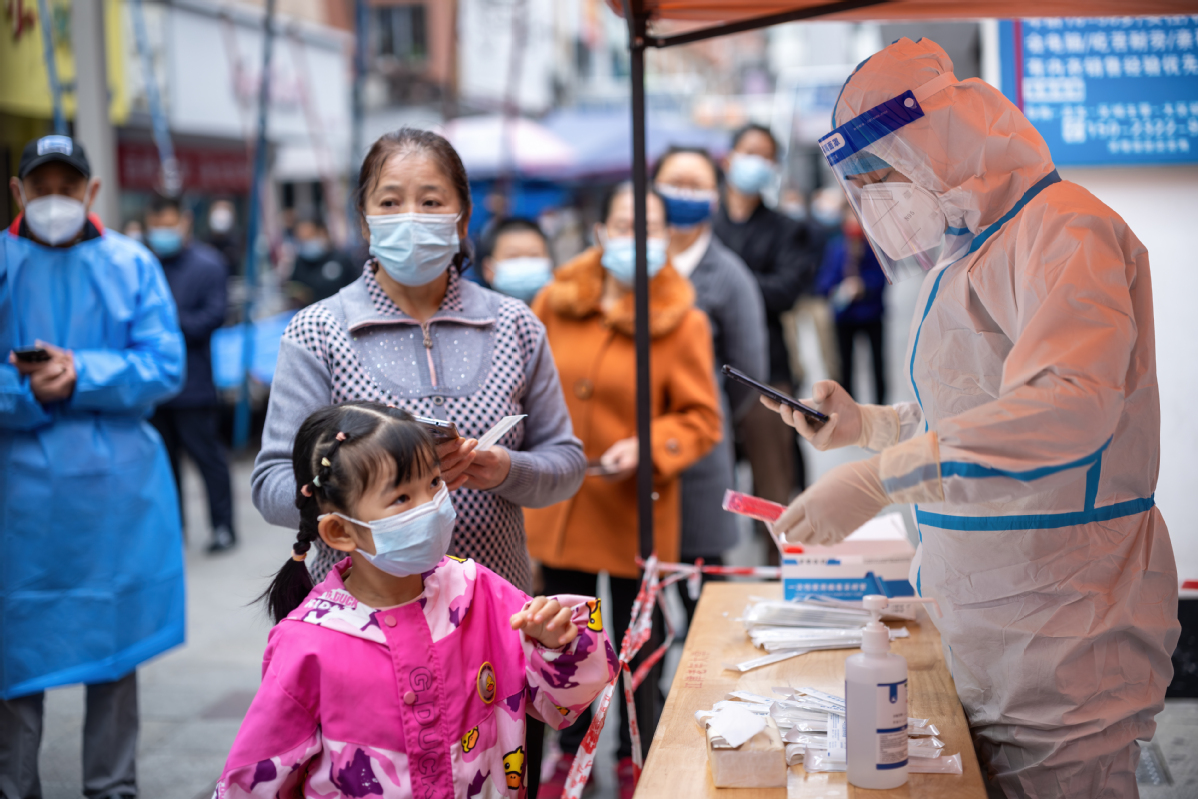 Intensifying the clampdown on COVID-19 containment malpractices, increasing the speed of response and improving services at makeshift hospitals are among key efforts to tackle the current wave of outbreaks in China, health officials said on Tuesday.
Hu Xiang, an official with the National Administration of Disease Prevention and Control, said that the mainland had reported 253,000 cases of infection since Nov 1. The past week has seen an average daily increase of 22,200 infections.
"Some provinces are facing the most severe and complicated epidemic situation in three years, and densely populated cities like Guangzhou and Chongqing are having a particularly difficult time reining in the virus' spread," she said at a news briefing.
Hu said that the rapid and stealthy transmission of the Omicron variant, coupled with its spread in factories, schools and catering businesses where people tend to gather, has led to a shortage of resources in epidemiological investigation, quarantine and community management.
"Detecting and controlling new cases and close contacts, and identifying at-risk areas promptly and precisely are the key to gaining the upper hand over the disease's spread," she said.
Hu added that the health authority has sent 15 working groups to guide local governments in stamping out outbreaks and implementing 20 measures announced recently to make COVID control work more precise and scientific.
"Strengthened efforts will be devoted to cracking down on imposing additional and unnecessary COVID-19 restrictions, especially practices such as locking down campuses and factories recklessly, cutting off roads without authorization, sealing off communities for prolonged periods or suspending hospital services," she said.
Guo Yanhong, director of the National Health Commission's health emergency response bureau, said some people have complained about poor conditions at makeshift hospitals — stadiums or exhibition halls converted to medical facilities to receive asymptomatic or mild COVID-19 cases.
"We have required local authorities to step up preparedness, including training medical workers, ensuring normal function of water supplies, electricity, restrooms, showers and ventilation, and stocking sufficient beds and medical materials," she said.
The mainland reported 2,145 local confirmed cases and 25,754 local asymptomatic cases on Monday. There are currently 110 severe COVID-19 cases.
Guo said that despite the low rate of serious cases, it is still imperative to increase intensive care capacity across the country.
"COVID-19 still poses great threats to the elderly and those with underlying illnesses," she said. "As a country with a population of 1.4 billion and many vulnerable groups, we must enhance intensive care capacity and multidisciplinary treatment capabilities."