Fans enjoy Chinese room service at Qatar World Cup
Share - WeChat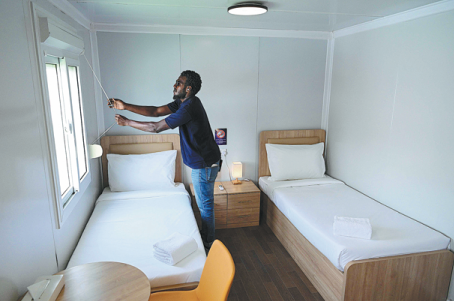 "It's pretty hard to book a hotel room in Qatar. Many of the rooms were booked even a year before, most of which are occupied by the players, officials and volunteers. I also heard about the $200 cabin. But my final choice was an apartment, which is more convenient for me as I will stay here until the end of the tournament," He told media after arriving in Doha.
Omar al-Jaber, the head of accommodation at Qatar's Supreme Committee for Delivery and Legacy for the tournament, told AP that most fans still preferred hotels, apartments or villas, but the fan village had attracted those seeking budget accommodation.
The high cost and scarcity of hotel rooms have been major concerns for fans planning to attend the World Cup in Qatar, which has an estimated 130,000 rooms available per day for the tournament. Organizers in Doha have also offered accommodation at camping and cabin sites, and on ships.
Fans have also been encouraged to stay in neighboring countries and fly in for games. Dubai in the United Arab Emirates has begun welcoming World Cup fans who will travel on to Qatar to watch the games.
"The shuttle flights option is one of the options for people who stay in our neighboring countries and …they would like to just spend a day to attend the match," said al-Jaber.
"So this is a good option for them. If they would like to come and stay, they are more than welcome, of course, and there are many, many options for them.
"We have enough accommodation and people can still come and enjoy the tournament and of course they can choose what exactly they are looking for from the accommodation."
shifutian@chinadaily.com.cn
Most Popular
Highlights
What's Hot