Beijing COVID cases continue to rise
By DU JUAN in Beijing, LI WENFANG in Guangzhou,LI WENFANG and ZHOU HUIYING | China Daily | Updated: 2022-11-21 09:23




Share - WeChat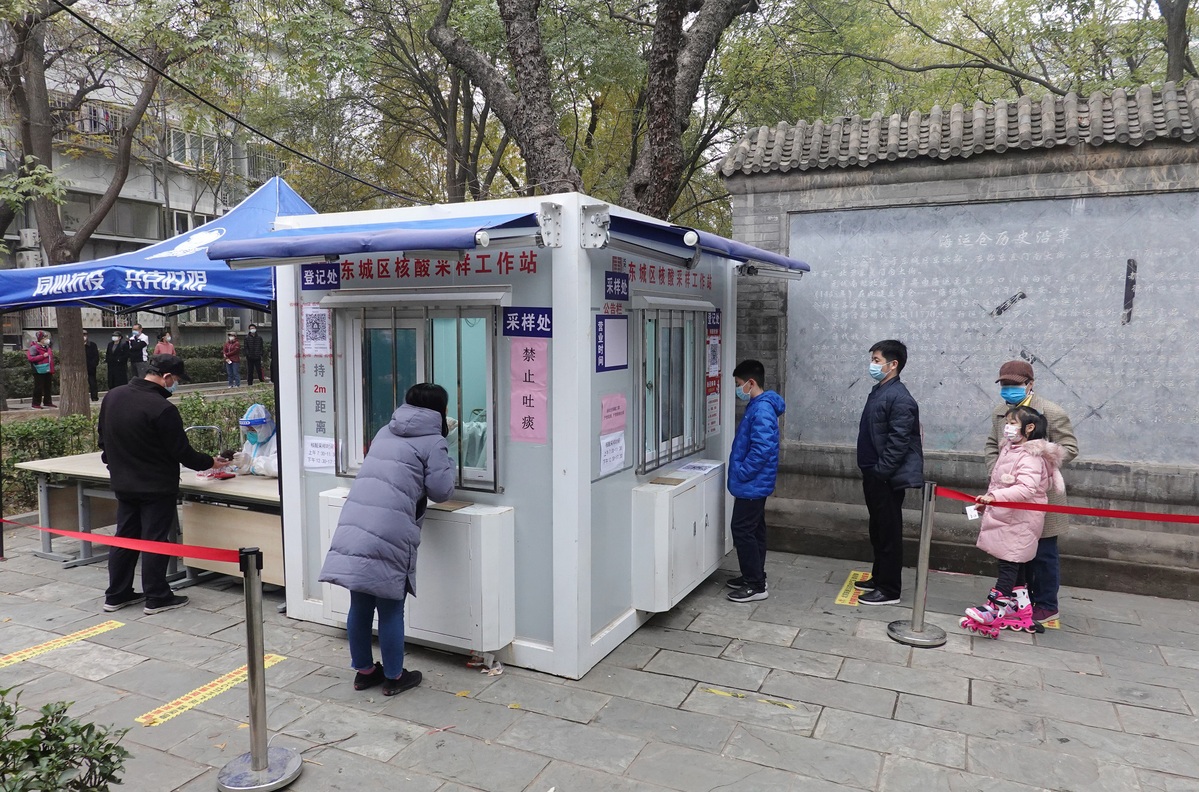 Chaoyang residents advised to work from home; Guangzhou sees infections slow
Both the number of new locally transmitted COVID-19 infections and cases detected at the community level in Beijing have increased significantly in recent days, with further expansion of affected areas, a senior official said on Sunday.
"We are still facing a grim and complicated epidemic prevention and control situation, as the risk of hidden spread at the community level still exists in multiple aspects," Xu Hejian, municipality spokesman said at a news conference on Sunday. "Furthermore, we are also seeing an increase of confirmed cases among those who returned to the capital, indicating a risk of spreading at the community level.
"The concerned departments are required to optimize and improve epidemic prevention policies and control measures for those returning to Beijing, including strengthening risk screening and nucleic acid testing," he added.
Between midnight and 3 pm on Sunday, Beijing reported 516 locally transmitted COVID-19 infections, with 470 of them asymptomatic carriers. All 46 confirmed patients were diagnosed as mild cases, according to the city's health commission.
Among them, 381 were found in those under quarantine and the remaining 135 were detected at the community level.
Chaoyang, the hardest-hit district in the capital, reported 357 cases.
"Residents of the district are still being advised not to leave their area unless necessary for the coming working day," Yang Beibei, deputy head of Chaoyang said on Sunday. "Flexible office time, including the use of telephones, the internet and video conferencing is encouraged."
Beijing Ditan Hospital reported a COVID-19 death on Saturday.
"The 87-year-old male patient was transported to the hospital on Nov 13 and was diagnosed as having a mild case," Jin Ronghua, director of the hospital said at a news conference on Sunday. "We immediately carried out a multidisciplinary consultation with a group of experts and prescribed anti-infection and symptomatic support treatment."
The condition of the patient continued to deteriorate due to underlying issues, including high blood pressure, cerebral infarction and cerebellar atrophy, and he died on Saturday from pulmonary infection, respiratory failure, sepsis and septic shock.
As of 7 am on Sunday, there were 608 infections undergoing treatment at Ditan Hospital, including 325 high-risk patients.
Meanwhile, the growth in new local COVID-19 infections in Guangzhou, Guangdong province appeared to slow slightly on Saturday.
A total of 200 new confirmed local COVID-19 cases and 8,234 new local asymptomatic carriers were reported, both fewer than the figures recorded the previous day.
Haizhu district, the worst hit in this outbreak, reported 8,205 new infections, Zhang Yi, deputy director of the city's health commission, told a news conference on Sunday.
The willingness of residents to be vaccinated has also grown significantly. Since December 2020, 22.06 million people in the city have been vaccinated, 14.7 million of whom have received a booster shot.
However, vaccination among people over 60 needs to be increased. More than 110,000 people in that age bracket have not yet received their first shot, and over 220,000 elderly people have not received a booster.
Classes at primary and high schools in Panyu district will resume in the coming week. Classes at schools in the districts of Huadu, Conghua and Nansha will continue and those in seven other districts will remain suspended, according to Chen Xueming, deputy director of the Guangzhou education bureau.