COVID fight continues as cases rise in Haizhu
Share - WeChat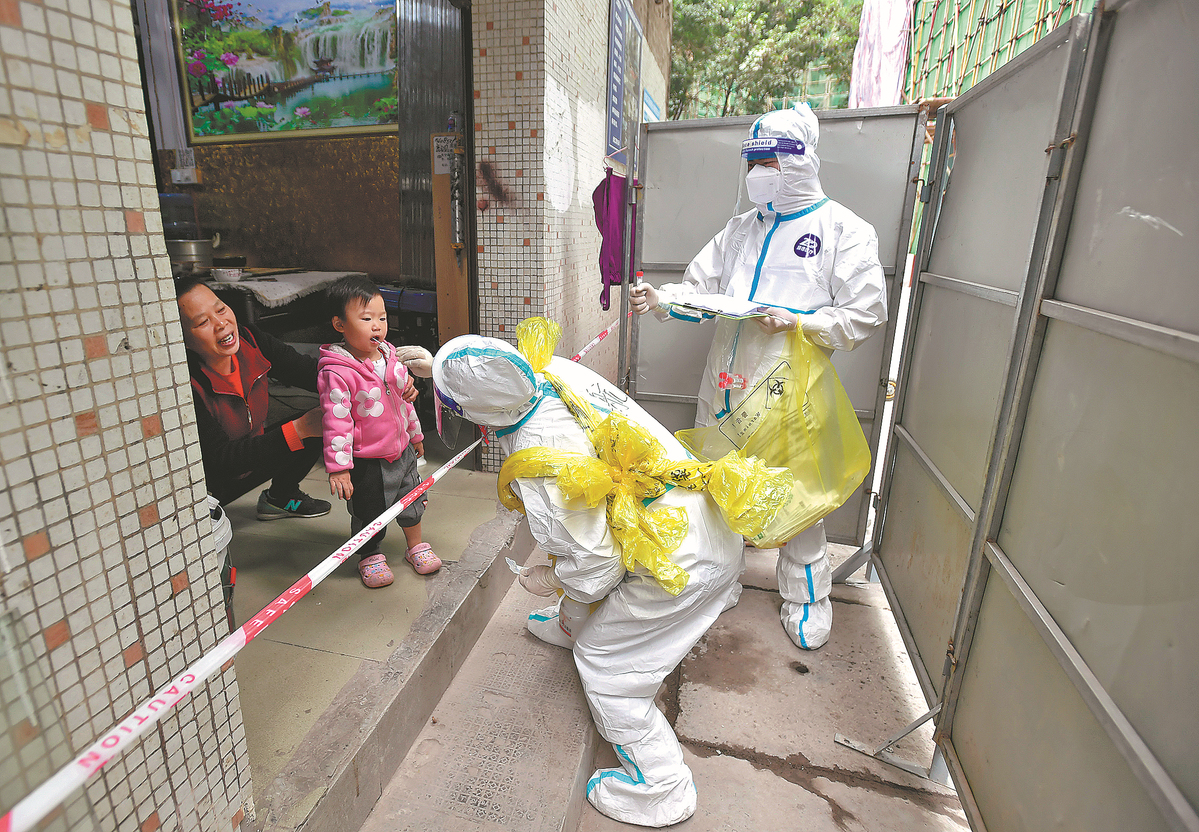 Central district in Guangzhou remains epicenter of city's latest viral outbreak
Highly concentrated efforts will be made to tackle the COVID-19 outbreak in Haizhu of Guangzhou, Guangdong province, as infections continue to rise in the district, according to a local health official.
"We will allocate resources at all levels to tackle the epidemic in Haizhu, which is hardest hit by the city's latest outbreak," said Zhang Yi, deputy director and spokeswoman of the Guangzhou Health Commission, at a news conference on Wednesday.
On Tuesday alone, Haizhu reported 6,060 of the city's 6,296 new infections, of which 17 were found at the community level, according to the health authority.
New infections were still mostly found in the district's high-risk Kanglu area, an urban village with cramped buildings and poor ventilation, according to Zhang.
"Sporadic cases were also reported in several subdistricts, indicating the epidemic situation in Haizhu is still complex and severe," she said.
Some 176,900 nucleic acid samples were collected in high-risk areas in the district on Tuesday, carried out by 4,600 medical workers and volunteers door-to-door, according to Fu Xiaochu, deputy district head of Haizhu.
"Screening in a classified way in high-risk areas will help us detect infections more quickly and accurately," he said.
Guangzhou is the hardest-hit city on the Chinese mainland, accounting for around a third of all new infections.
The Chinese mainland on Tuesday reported 1,568 locally transmitted confirmed COVID-19 cases and 18,491 local asymptomatic carriers, the National Health Commission said on Wednesday.
In Beijing, the city's epidemic situation is still developing, Xu Hejian, spokesman for the municipal government, said at a news conference on Wednesday.
"Beijing will continue to strengthen accurate and scientific prevention work to cope with the situation," Xu said. "Meanwhile, the government will improve the database of the permanent residents and cross-city commuters to provide better services for the public."
Beijing recorded 179 new local cases between midnight and 3 pm Wednesday, among whom 32 were detected at the community level, the local health commission said. Chaoyang district, the hardest-hit area in the capital, reported 94 cases.
"During the epidemiological investigation, the authority found that some infected people didn't wear masks properly in crowded places or failed to take tests accordingly, which has added difficulties to virus control and prevention work," said Liu Xiaofeng, deputy director of the Beijing Center for Disease Prevention and Control.
Beijing is taking strict measures to reduce risks at the community level. The key areas with high infection risks should continue mass nucleic acid testing in order to discover hidden infections as early as possible. People who are quarantining at home should reduce contact with other family members to prevent infection, Xu said.
Many shopping centers and office buildings in Chaoyang on Wednesday began to require people to show negative nucleic acid test results valid from within 24 hours before entering.
Yin Li, Beijing's newly appointed Party chief, paid an inspection visit to the city's epidemic control and prevention departments on Tuesday afternoon, and said that swift action should be taken to curb the spread of the virus and to ensure people's health and safety.
In Chongqing, residents are being asked not to leave the city unless it is urgent as the city works to curb the spread of infections to other places, the local prevention and control headquarters said on Tuesday.
According to a notice released on Tuesday, residents living in quarantine and closed-loop management, or in areas with a high risk of infection or who are living in communities with people testing positive within seven days, should not leave Chongqing.
For people who must leave the city, negative nucleic test results and some other documents are required.
Chongqing reported 126 new local confirmed COVID-19 cases and 2,688 new asymptomatic carriers on Tuesday, the local health commission said on Wednesday.
In response to increases in infections, Chongqing has transformed an exhibition center into a makeshift hospital with 12,000 beds.
Deng Rui and Tan Yingzi contributed to this story.