China, US chart a path forward for bilateral ties
By XU WEI in Bali, Indonesia and ZHAO HUANXIN in Washington | China Daily | Updated: 2022-11-16 07:15




Share - WeChat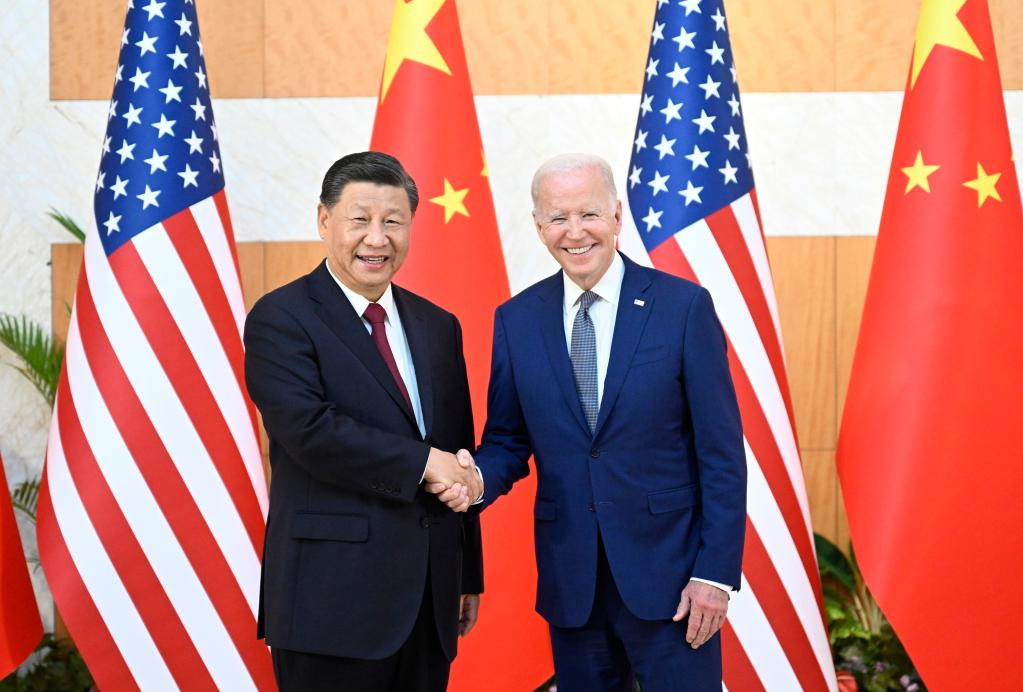 The first face-to-face meeting between President Xi Jinping and United States President Joe Biden has charted the path for improving ties between the world's two largest economies and bringing stability and certainty to a turbulent and volatile world, officials and analysts said.
The two leaders greeted each other on Monday with a smile and a warm handshake before holding a meeting that lasted for over three hours — longer than scheduled and using simultaneous interpretation — on the sidelines of the G20 Summit in Bali, Indonesia.
Xi and Biden emphasized the global implications of China-US relations, underscored the importance of establishing guiding principles for bilateral ties and said they hoped to push the relations back to a steady track from a downward spiral, State Councilor and Foreign Minister Wang Yi told a news briefing after the meeting.
They agreed to bolster dialogue and exchanges and promote pragmatic cooperation, which charted the way forward for the relations and will help bring the ties gradually back to a track of healthy and stable development, Wang said.
The meeting came months after Beijing broke off a number of routine contacts with Washington after US House Speaker Nancy Pelosi's visit to Taiwan, which took bilateral relations to a historic low level.
Wang, a member of the Political Bureau of the Communist Party of China Central Committee, said the meeting made clear that both sides should prevent the relations from losing direction or speed, still less having a collision, and should find the right way to get along.
The two leaders also exchanged views on the Ukraine issue, with the Chinese president underscoring the urgency of a peaceful settlement of the crisis.
"In all, the meeting reached its expected purpose of in-depth communication, clarifying intentions, drawing red lines, preventing conflicts, pointing the way forward and exploring cooperation," Wang said.
The two leaders agreed that both sides will conduct dialogue over macroeconomic policies and bilateral trade, and enable positive outcomes from the 27th Conference of the Parties to the United Nations Framework Convention on Climate Change, or COP27.
They also highlighted the need to implement the cooperation document on public health and agriculture and expand people-to-people exchanges in various sectors.
Erik Solheim, former undersecretary general of the United Nations, said the meeting between Xi and Biden went beyond expectations, given that China-US relations are critical for world peace and the environment.
"This is the best global news for a long time," he said. "China-US relations are not a zero-sum game. The world is big enough for them to prosper together."
Craig Allen, president of the US-China Business Council, said on Monday that amid the current atmosphere of bilateral tension, the meeting underlined the importance of the bilateral relationship to the two countries and the world.
"Regular and close bilateral contact is indispensable for responsibly managing competition, lowering the temperature of the relationship, and working together to address issues of shared interest," he said.
The US-China Business Council, which represents more than 280 US companies that do business with China, fully supports Washington's and Beijing's mutual interest in seeking to stabilize relations and working collaboratively as global leaders as much as possible, Allen said in a statement.
"We hope a new framework can take shape to advance confidence-building measures and tackle long-standing issues in the bilateral relationship," he added.
Allen said he hoped that commercial issues will be on the agenda when cabinet-level officials from both countries hold further discussions.
A commitment to open lines of communication at all official levels, Biden's declaration to avoid a new Cold War, and a joint renunciation of nuclear threats are the three best outcomes of the summit, said Gary Hufbauer, a former US Treasury Department official and nonresident senior fellow at the Peterson Institute for International Economics in Washington.
"From a business perspective, these announcements should reduce fears of a continuing downward spiral in US-China relations," Hufbauer told China Daily.
Regarding priorities for follow-up in the areas of business and trade, in order to implement the consensuses reached between Biden and Xi, Hufbauer said the first order of business should be to dismantle the tariffs imposed by the administration of former US president Donald Trump on imports from China, with reciprocal dismantling by China.
The second order of business should be to draw lines around "national security" industrial sectors so that this label is not used to restrict an ever-widening scope of bilateral trade, he said.
Su Xiaohui, deputy director of the China Institute of International Studies' Department of American Studies, said the two presidents' sit-down was constructive and conveyed a clear message that it is important for both nations to avoid misjudgment.
"Beijing has made clear proposals for the steady and healthy growth of ties with Washington, and the US must meet China halfway," she said, adding that China has again clarified its bottom line in the relationship, especially in safeguarding sovereignty and security and development interests.
Douglas H. Paal, a distinguished fellow in the Asia Program at the Carnegie Endowment for International Peace, said that reestablishing working groups is positive for improving bilateral relations, because they helped resolve practical problems in Biden's first year.
With US Secretary of State Antony Blinken planning to travel to China for follow-up discussions, communication should be more regular, Paal said.
Sourabh Gupta, a senior fellow at the Washington-based Institute for China-America Studies, said the meeting reestablished a baseline of in-person, leader-led communications, restarted senior official-level dialogue channels and was an attempt by the leaders to reassure each other about their strategic intentions.
He said that, as a proverb goes, the proof of the pudding will be in its eating.
"The problem, after all, is not a lack of positively expressed intentions... but the inability or unwillingness to translate these intentions into actual policy at the US end," Gupta said. "So we will have to wait and see how the 'pudding' tastes this time around."
Zhengyu Huang, president of the Committee of 100, a nonprofit organization of prominent Chinese Americans, said that while nothing can be completed in one meeting, what can result is a better understanding of each country's position on key issues and the search to find common ground.
"The US and China both face transnational challenges such as food supply, energy security, climate change and global peace. The two countries must work to reduce mutual misunderstandings and strive toward tangible solutions that benefit the world," Huang said.
Tom Watkins, president and chief executive officer of TDW and Associates, a US-based business and education consulting firm, said it is plausible that the two presidents are taking steps that raise hopes of propelling the world forward.
"Leadership matters," Watkins said. "Peace and prosperity over confrontation and conflict — this is what the people of China, the USA and all of humanity are looking for."
Chen Weihua in Brussels and Yifan Xu in Washington contributed to this story.