Talents hold key to inno-tech growth
Share - WeChat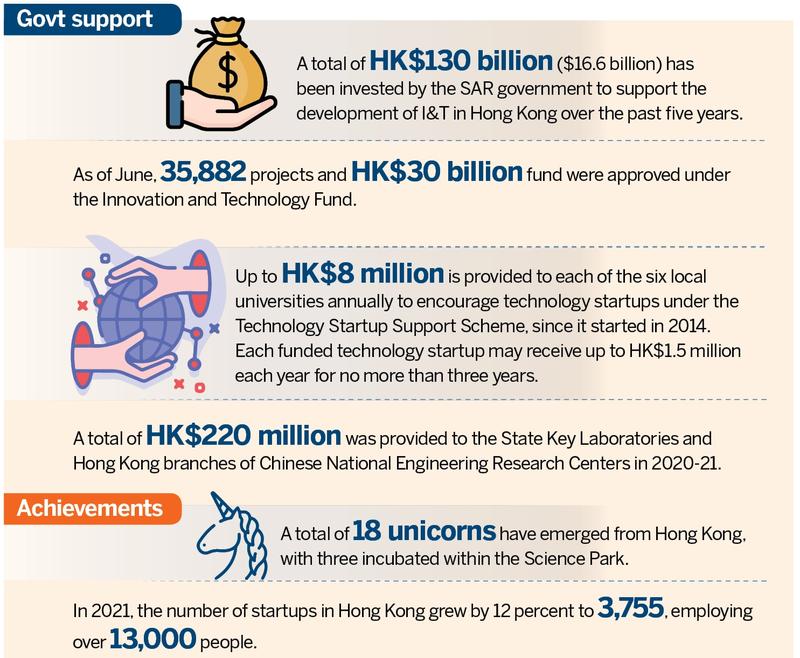 The Hong Kong Special Administrative Region should offer more favorable policies to attract global talents and deepen integration with other cities in the Guangdong-Hong Kong-Macao Greater Bay Area to lift the city's innovation and technology sector, according to inno-tech heavyweights.
Since President Xi Jinping inspected Hong Kong Science Park on June 30 during his two-day inspection tour of the HKSAR and expressed his hopes for the sector's future growth, the inno-tech community has been injected with fresh impetus and confidence in developing the city into a global inno-tech hub.
"The development of innovation and technology is vital for Hong Kong's future growth, which is also a new engine to boost the local economy," says Duncan Chiu, who represents the technology and innovation functional constituency in the Legislative Council.
Noting Hong Kong's achievements in the technology industry in the past few years, he says the city has proved it has huge potential in developing the sector. "Hong Kong has a solid basis for technology development, whether it's the large pool of capital or Hong Kong's connectivity with international markets. So, we can see a flow of outstanding technology companies and teams that stand out in Hong Kong."
"What we need are strong confidence and a favorable environment (for innovation and entrepreneurship) to achieve more. Talent is essential for taking Hong Kong ahead," says Chiu. To attract global talents to settle down in Hong Kong, he says there should be a series of preferential policies on tax, housing or finance to make it happen.
It's also essential for the SAR government to clarify its key direction and areas for the future development of innovation and technology in light of the city's advantages and characteristics. Focusing resources primarily on a few segments could create a "cluster effect" and attract more enterprises in specific fields to Hong Kong, Chiu believes, citing financial technology, biotechnology, high-end manufacturing and the data economy as areas that should be given priority.
Sunny Chai Ngai-chiu, chairman of Hong Kong Science and Technology Parks Co, describes talent as of "utmost importance" for Hong Kong to develop innovation and technology.
"The SAR government had rolled out the Northern Metropolis development strategy and revived the Ma Liu Shui reclamation project in last year's Policy Address. The Ma Liu Shui reclamation project alone would provide a total of 88 hectares of new land, which is four times the area of Hong Kong Science Park," notes Chai.
"As there are currently about 17,000 people working at Hong Kong Science Park, it's estimated that some 70,000 professionals would be working at the park after the reclamation project is completed. As such, there will be heavy demand for inno-tech talents in the future."
Noting that housing needs, children's education and immigration policies are among a number of issues that professionals would consider in deciding whether to settle down in Hong Kong, Chai says the government should strengthen interdepartmental coordination to attract and retain talents. "Relevant authorities, such as the education and labor departments, should team up to design and enforce favorable policies for professionals."
It's also vital for young people to know more about the local inno-tech ecosystem, and more internship programs should be organized to broaden students' vision of the growth opportunities in the inno-tech industry, says Chai.