Governments offer rental help to new college graduates looking for work
Share - WeChat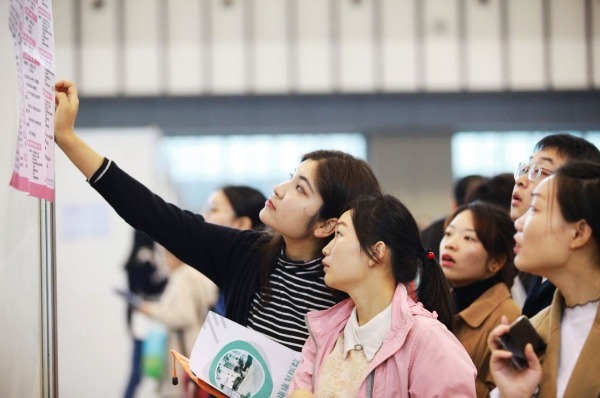 Government at all levels have made continuous efforts to stabilize house rents to help reduce the financial burden on tenants, especially those who are new college graduates.
A report by the Meadin Academy, a third-party commercial consultancy institute with headquarters in Hangzhou, Zhejiang province, said the housing market showed a growing trajectory in 2021, and was at a high level in the second half of that year.
The report said that in September 2021, the average house rents in 20 cities surveyed including Beijing, Shanghai and Guangzhou, the capital city of Guangdong province, reached a peak at roughly 52.3 yuan per square meter per month because of the surging rental needs of college graduates.
It said that Beijing ranks first in the average house rent at around 114.2 yuan per sq meter per month, followed by Shanghai and Shenzhen at 96.7 yuan and 87.4 yuan, respectively.
Transportation, house safety and locations are the three main considerations for graduates' concern when choosing a rental apartment, said Anjuke, a Chinese property portal in a report released in June.
It said that college graduates they've surveyed prefer to live in apartments near the companies or railway stations to facilitate their commute.
As to house rents, nearly 40 percent of those surveyed chose to live in apartments priced from 1,501 yuan to 2,500 yuan per month and 31 percent live in apartments priced from 2,501 yuan to 3,500 yuan per month.
"Most of the college graduates still need assistance from their parents to pay the rents and only about 20 percent of the surveyed pay the rents themselves," Anjuke said in the report.
"I shared a three-room apartment with two friends. The monthly rent for my room is 4,200 yuan. It's quite expensive so I temporarily get help from my parents," said Xu Linyi, a 23-year-old who just graduated from the University of International Business and Economics in Beijing.
"The apartment is near my company, which only takes 20 minutes to walk. The money for the room may cover a one-bedroom apartment in the suburbs, but I prefer sharing a flat which saves me time in commuting," she said.
To help lower the financial burdens of young people, many provinces and companies have given their support in house rentals.
For example, Dalian in northeastern Liaoning province started to give housing allowance of 1,000 yuan per month to graduates with bachelor's degrees from May 30, and 1,500 yuan and 2,500 yuan to those with master's and doctoral degrees after landing jobs in the city.
In middle of June, Fuzhou, capital city of Fujian province, released a notice to encourage college students who graduated in the past three years and are willing to take an internship or start their businesses in the city to apply for oneyear free accommodation. The policy is open to college graduates from other provinces and regions.