Stand-up has legs in China
Share - WeChat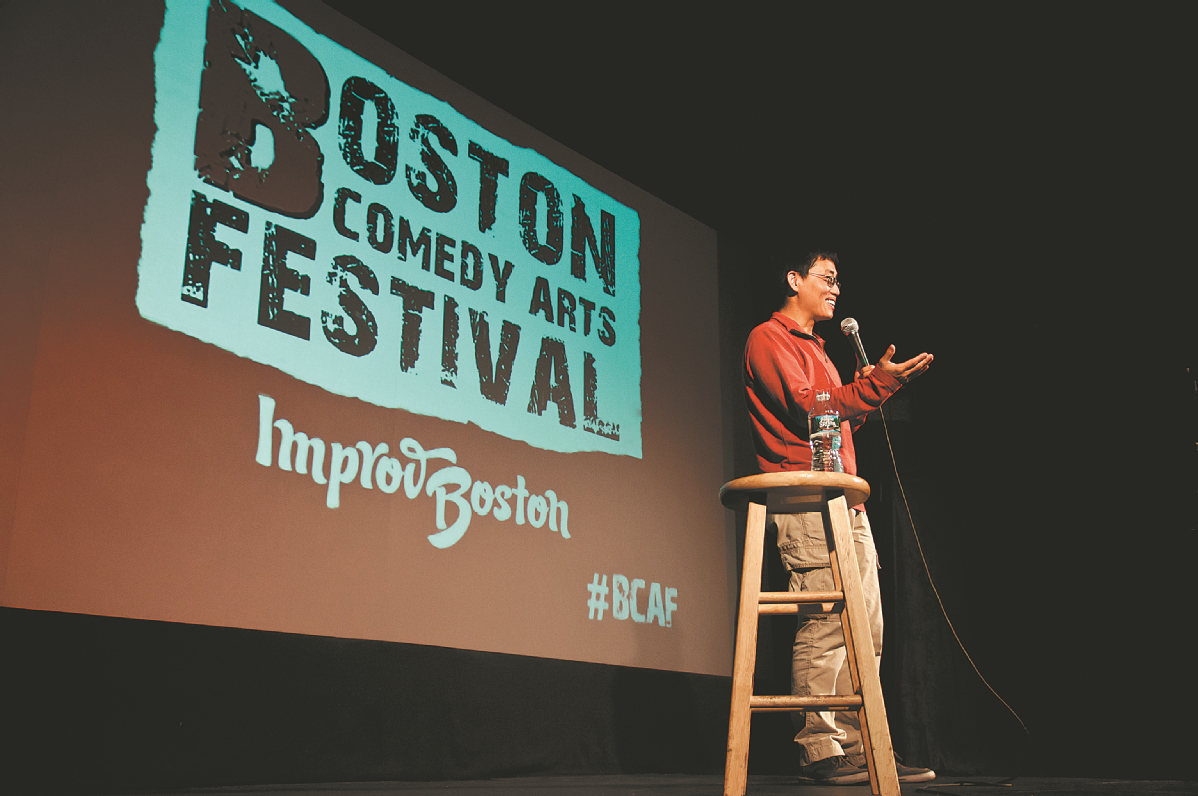 The increasing popularity of the performance comedy art in China shows that fun has no borders
It was the late, great comedian Richard Pryor who said that all humor is rooted in pain. Audiences don't necessarily know the pain, but from New York to Beijing and all points in between, stand-up comedy, for which Pryor was famous, has made people laugh.
With its origins in minstrel shows and the comic lectures of raconteurs such as Mark Twain, stand-up is an American form of comedy but it appeals to audiences everywhere.
Take Out Comedy, the first Chinese stand-up comedy club, was founded in Shenzhen in 2009 when few Chinese had heard about this form of entertainment. In China stand-up was inaccurately known as tuokouxiu (the Chinese translation of talk show).
Yet Chinese tried their hand at stand-up in the United States long before this. Joe Wong started to perform in Boston after getting a PhD in Biochemistry in Rice University in 2002.
Early days in China
The Chinese capital got its first stand-up comedy club, Beijing Talk Show Club, in 2010. The club nurtured a number of famous stand-up comedians including Yang Li, a female stand-up comedian who has triggered huge controversy with her jokes about men, and Zhou Qimo, who won the Rock& Roast competition, a popular stand-up contest produced by Tencent Video, last year.
That year, Joe Wong gained instant fame both in the US and China for his calm yet razor-sharp performance at the annual Radio & Television Correspondents' Dinner during which he roasted the in-attendance then-vice president Joe Biden without mercy. The show was such a success that Wong was given a standing ovation by the audience. And many Chinese consider it to be the pinnacle of his career, to the latter's dismay. "Actually my later performances on The Late Show with Stephen Colbert are more popular on YouTube," he says resignedly, during an interview with China Daily in a café in Beijing.
In 2012, a stand-up variety show named Tonight Post-80s Talk Show hosted by Wang Zijian, a crosstalk comedian, aired on Dragon TV. During each themed episode the host discussed hot social issues and events that concerned young people the most. The show, the first of its kind, acquainted a wider Chinese audience with stand-up. It was not renewed after the sixth season in 2017. The show's scriptwriters and supporting actors such as Li Dan and Wang Jianguo are known as the "original gangsters" of the stand-up business in China.
Speaking of his decision to return to China in 2013, the 52-year-old comedian Joe Wong says in a half-assured and half-playful way, "Staying in the US, I am only one of the many stand-up comedians, albeit the outstanding ones. But by coming back to China, I am the living history of Chinese stand-up." Indeed, Joe Wong is a pioneering figure that cannot be ignored whenever Chinese stand-up comedy is talked about. Many Chinese comedians were introduced to stand-up watching Joe Wong and have been inspired to follow suit.
Ji Ziqiao, a 31-year-old mother of two children and the founder of a dance studio, was one of them. She was enthralled by stand-up after reading Wong's Be Funny, Be Happy, a book telling people how to be humorous. Wong believes that a sense of humor can be cultivated by anyone regardless of personality or disposition, which he says was his biggest finding in life. "As long as one can laugh, anyone can be humorous."
Stepping into the national spotlight
Shanghai Xiaoguo Culture Media Co Ltd. and Beijing Danliren Comedy, the two stand-up comedy industry leaders in China, were established in 2014 and 2017 respectively. Rock & Roast and Roast, two popular stand-up variety shows that aired in 2017, were co-produced by Xiaoguo Culture and Tencent Pictures. They helped spread the popularity of stand-up comedy and were the launchpad for stand-up comedy gaining nationwide attention in China.
Each season of Rock & Roast has been viewed billions of times and has generated dozens of the most heated exchanges of views on Weibo, the Twitter-like social media platform. Which has significantly expanded the audience for stand-up comedy in China.
According to the Rock& Roast Marketing White Paper released by Tencent Video, the audience for stand-up comedy is mainly higher-income people aged between 18 and 35 in the first- and second-tier cities who have relatively higher social status, incomes and spending power.
The White Paper also says that there were less than 10 stand-up clubs nationwide in 2018, but now there are at least 179. And the number of offline commercial shows has grown to 18,500 in 2021, up 50 percent from 2019, while revenue has reached 224 million yuan (about $31 million) attracting an audience of 2.2 million. In 2016, there were less than 100 stand-up practitioners, now there are about 10,000 practitioners and 1,585 contracted stand-up comedians in China.
Joe Wong believes in terms of stand-up comedy's development, today's China resembles the US in the 1980s. At that time stand-up comedy was so popular in the US that a stand-up comedian could put on five or six shows a day in the same venue.
Zhao Ruhan, a professor at the Institute of Communication Studies, Communication University of China, says that the audience has become more demanding of entertainment forms with the rapid development of society. And stand-up, as an interactive entertainment form, is a way for people to release the stress that comes with an increasingly fast-paced society. For instance, everyone, members of the audience included, can take to the stage and do stand-up during an open mic event. Besides, young people today are more inclined to be adventurous and express themselves through new channels like stand-up.
Same logic, but different targets
Wang Xuebin, a professor at the Department of Literature and History Research of the Party School of the Communist Party of China Central Committee, notes that the stand-up comedy shows during which comedians roast a social hot-spot issue in a few minutes perfectly fits the current online communication patterns that favor straight-to-the-point short videos. In addition the down-to-earth topics are closely related to the young emerging consumer group.
He says that compared with other performing arts, including China's traditional comedy form crosstalk, the threshold for stand-up is relatively low and there are no age or gender restrictions, and everyone can perform for at least a few minutes. This also contributes to its huge popularity in China.
Indeed, according to Joe Wong, one doesn't need talent to do stand-up. "Talent is nothing and could be easily wasted. The key to performing stand-up is to find your own voice," he says.
As for the difference between Chinese and American humor, he says that the techniques and underlying logic of American stand-up and Chinese crosstalk are basically the same. What distinguishes the two is the language and cultural differences. Therefore, it is rather difficult for a stand-up comedian to crack up both Chinese and American audiences at the same time.
"Many said that China does not agree with me and my jokes don't crack here, actually this is good for a stand-up comedian. Setbacks and uneasiness will instead amplify your urge to create. I've never seen a silver-spoon kid grown to be an excellent stand-up comedian," he says.
Zhao believes that the audience for stand-up comedy in China has a strong local color, as it appeals to people of a certain cultural and economic background. In terms of content and topics, stand-up in other countries can be more pointed and intense touching gender, race and other sensitive issues. Stand-up in China is more closely related to day-to-day life.
Now Wong is paying attention to the stand-up training business because he believes China is now the best place there can be for a stand-up comedian. "Stand-up is still an emerging industry and there are more shows than comics here. So there are plenty of opportunities for comedians to practice on stage and hone their skills. Which is nearly impossible in the US," he says.
Long road ahead for Chinese comedians
Yet there are a variety of problems confronting the budding industry. Among them, despite the staggering appearance and advertising fees of A-list comedians, most stand-up comedians are poorly paid for offline shows and have full-time occupations because the meager income as a stand-up comedian is not enough for them to perform full time.
Besides, as Professor Wang Xuebin notes, some stand-up comedians' routines, such as Yang Li's put downs of men, that the targets of her barbs get upset about, have caused huge controversy and some stand-up comedians have had a bad social influence. The champion of Rock & Roast Season 2, Ericam Asker, for instance, was caught taking drugs. Wang says that as a fast-growing industry, appropriate guidance and supervision are needed to ensure the sustainable and healthy development of stand-up in China.
Joe Wong doesn't see any problem with Yang Li's ridiculing of men in her performances. "Actually these are just good jokes. Why can't women, long the disadvantaged group, make fun of men? Male comedians have joked about women for decades, with wisecracks about gold diggers and driving," he says.
But he has grave concerns that there are relatively scarce opportunities for Chinese stand-up comedians to step into the national spotlight. He hopes the channels for stand-up comics can be more diversified and include TV series, movies and podcasts so there is more room for comedians to put themselves in front of a wider audience as offline shows can have an audience of thousands of people at most.
Zhao Ruhan, the Communication University professor, says that it remains rare for Chinese comedy to go global even though China has introduced many Western performance forms, although there are a number of experienced bilingual stand-up comedians that perform in both English and Chinese, such as Norah Yang and Tony Chou. She hopes that Chinese stand-up with unique Chinese characteristics can help spread Chinese culture.
Now as a mature stand-up comedian that has 20 years of experience on stage, Joe Wong still feels the urge to improve his skills. "My life made an unexpected turn to stand-up comedy in 2002, thereafter it has revolved and will always revolve around stand-up. This is the only thing that I will always come back to. I've tried other hobbies, golf, billiards and shooting, but they haven't grabbed me like stand-up," he says.
liujianna@chinadaily.com.cn