World's first cloned arctic wolf makes video debut
Share - WeChat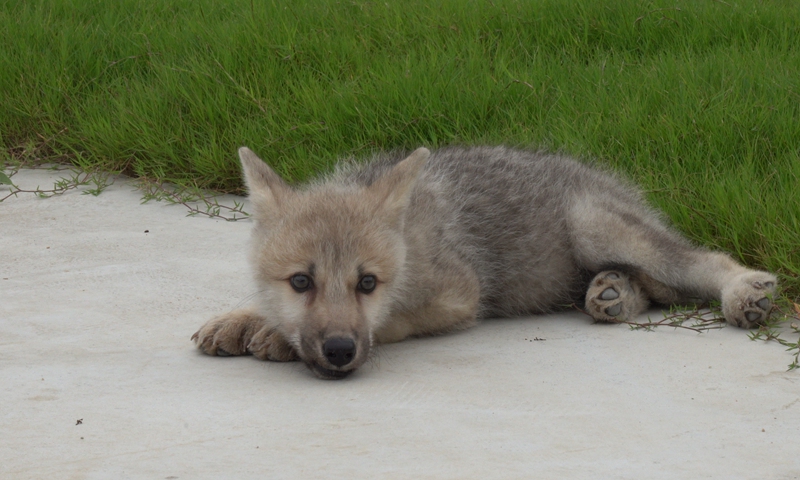 A Beijing-based gene technology company announced the debut of the world's first cloned arctic wolf via video on Monday, marking the 100th day since its birth in a Beijing lab.
Born on June 10, the wolf pup is energetic and in very good health, as evident in the video shown during the news conference.
Its donor cell came from skin samples of a wild arctic wolf named Maya, who had been introduced from Canada to Harbin Polarland. Its oocyte was from a female dog in estrus and its surrogate mother was a beagle, according to Zhao Jianping, deputy general manager of the Beijing-based Sinogene Biotechnology.
"This is not only the achievement of our research cooperation with Harbin Polarland, but also our new attempt and breakthrough in the protection and breeding of wild and endangered animals. From the start of the project in 2020 to the healthy birth of the wolf pup in June of this year, we have overcome many difficulties. Looking back, it's worth it," Mi Jidong, the company's general manager, said during a news conference in Beijing on Monday.
The birth of the world's first cloned arctic wolf is a milestone for the application of cloning technology and is of great significance to biodiversity, the protection of wildlife and the restoration of endangered species, researchers believe.
"Cloning technology is a breeding method different from natural reproduction, and especially useful for animals with small populations and for whom it is difficult to extract germ cells. It is an effective way to protect gene diversity and increase species population size," said Lai Liangxue, a researcher from the Guangzhou Institute of Biomedicine and Health of the Chinese Academy of Sciences.
Lai further explained that cloned animals still have the ability to reproduce. The physical conditions of a cloned animal are no different from the animal that serves as its blueprint, and it can form gametes to conduct reproductive activities.
It is understood that the arctic wolves' ancestral origin survived the Ice Age over 300,000 years ago. They have the ability to withstand extremely cold temperatures and inhabit many snowy regions around the globe.
However, due to constant threats from poachers and erosion of their habitat, arctic wolves are now included in the International Union for Conservation of Nature's Red List of Endangered Species.
It is reported that at present, the technology used in cloning arctic wolves has gained strong value in its application, and the company has announced that another male cloned arctic wolf is expected to be delivered in the near future.