Ancient span bridges river and lives in city of Wuhan
Share - WeChat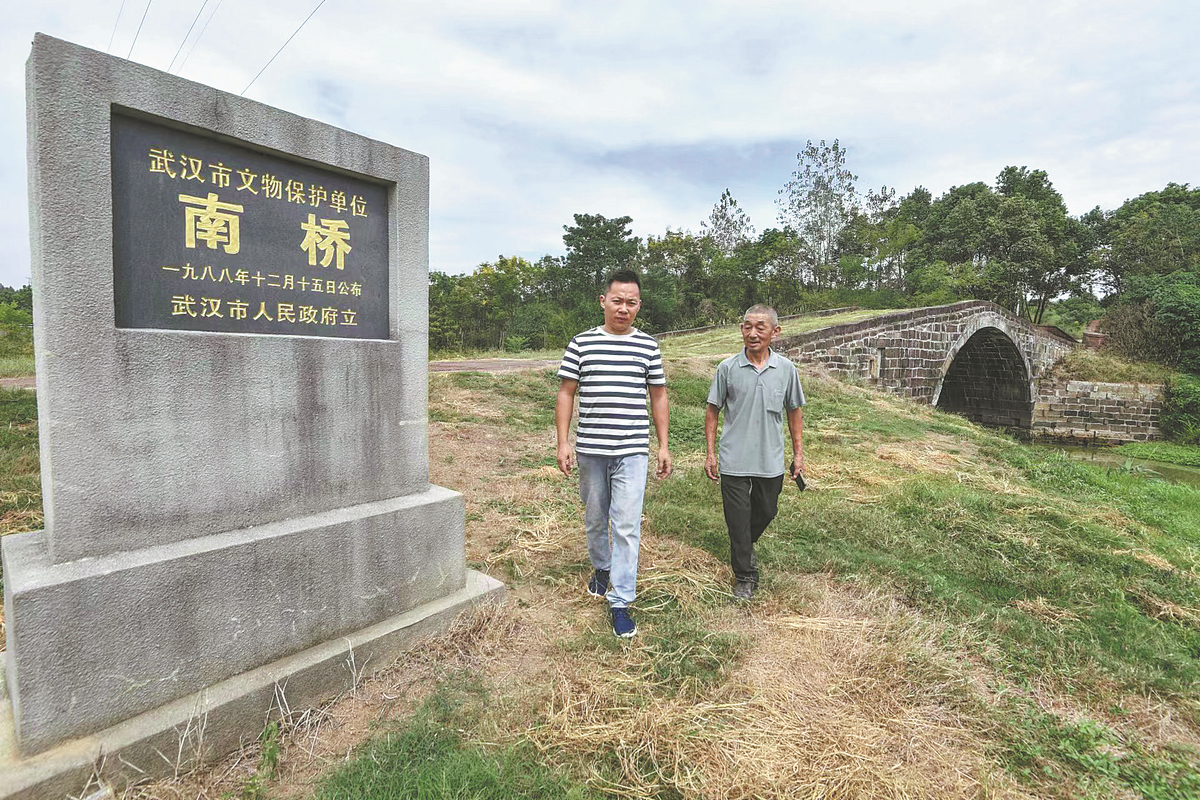 Volunteer guardian passes passion for protecting historic structure on to son
For the past 36 years, Rao Haogong has patrolled an ancient bridge near his home in Wuhan, Hubei province, every day.
The 70-year-old farmer from Chenliu village in Jiangxia district has many childhood memories of South Bridge, which was built during the Yuan Dynasty (1271-1368).
"In my memories, there were teahouses, markets, schools and wharves located near the bridge, making the area prosperous with many people crossing the bridge every day," he said. "My friends and I liked to dive off it, which has left me with some beautiful childhood memories."
In the 1970s, part of the bridge collapsed and became dangerous to passersby.
In 1985, the local cultural protection department arranged for a team of technical workers to make repairs.
Rao became the team's guide and offered the workers an empty room in his house to rest. He and some fellow villagers also helped the workers search the river for stones that had fallen from the bridge.
"When the bridge was finally restored to the way it had looked when I was a child, I got quite excited. It was just like finding a missing member of my family," he said. "And in the time I spent with the team, I learned more about the bridge."
The structure has a semicircular design. It is 36.7 meters long and 6.3 meters wide in the middle, and 7.4 meters wide at either end. Its arch span is 6.9 meters, and the deck is about 10 meters above the water surface.
"According to the inscription on the bridge, it was built in 1349, meaning it's 673 years old," said Liu Zhiyun, director of the Cultural Relics Management Institute of Jiangxia district.
"It has great historical and research value."
In 1988, the bridge was listed as a city-level cultural heritage site. It was upgraded to a provincial-level cultural heritage site in 1992.
In 1986, Rao discovered minor damage to the bridge and immediately reported it to the cultural protection department. He vowed to help protect the bridge and since then, come rain or shine, he walks around the bridge every day.
"As a result of wind, rain and mountain subsidence, sometimes cracks and damage appear on the bridge," he said. "If I find anything serious, I report it immediately. If there are small cracks, I can fix them myself with my skills as a bricklayer."
Rao always keeps at least a metric ton of sand and 50 kilograms of cement in his yard to do repairs.
When wild grass grows between April and September, he has to apply herbicide around the bridge at least four times.
In 1989, Rao was invited to become a volunteer protector of cultural heritage, in charge of two historical sites and three ancient bridges, including South Bridge.
"Protecting South Bridge is the most difficult task because it gets used by a lot of people," Liu said.
"Rao has to give it more time and attention during inspection and maintenance, and he's done a good job in the last few years. Between him and the cultural protection department, South Bridge is in good condition. The main structure is still intact and can be used by pedestrians normally."
In recent years, the ancient bridge has become a famous tourist attraction.
Dissuading tourists from driving across the bridge and collecting rubbish are both important parts of his daily work, but now he has help in the form of his eldest son, Rao Xinghuo, who joined his father 10 years ago.
"My father has been telling me stories about the bridge, making me become attached to it since I was a little boy," Rao Xinghuo said.
"I was 7 when it was repaired in 1985, and I often ran around with the workers and helped them carry small stones. As my father got older, I began to help him do maintenance on the bridge in my spare time. I will continue his work in the future as his successor."