Crowd wisdom
Share - WeChat Crowdsourcing has emerged as a key aid channel for individuals, communities and companies, demonstrating the importance of human collectivity and unity. It offers them vital advice and information, throwing them a lifeline in times of crises and helping to deal with the challenges they face. Wang Yuke reports from Hong Kong.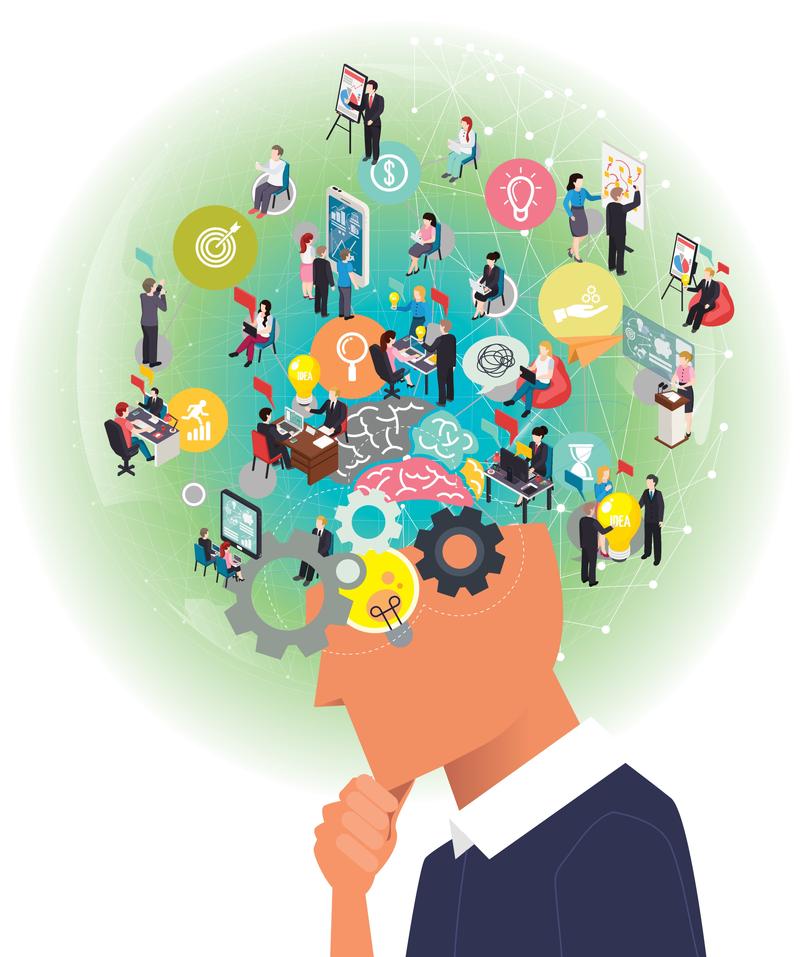 Many together are smarter than just a few. The result is that the whole is greater than the sum of its parts. Alone, we can do so little, but together, we can do so much.
These words represent the "wisdom of the crowds" - a mentality that has been with us since day one - and it has generally stayed true since the dawn of civilization. Yet, the crescendo of leadership and authority has somewhat muffled the voice of collective intelligence. However, because of COVID-19, we're now at the crossroads, where collectivism challenges authoritarianism and elitism, and interdependence makes way for independence because diversity of intelligence is the only way to confront collective traumas.
The pandemic has shut the door to having ideas bouncing offline and opened a window for us to pick each other's brains online, which is not so much an alternative, but a necessity.
"Teaming up with a crowdsourcing website has helped Huawei Spark gain a solid foothold and high-profile exposure in the global startup community," says Alexis Lee, alliance manager of the hybrid incubator and accelerator program for deep-tech startups doing business in the Asia-Pacific.
When Huawei Spark was launched in 2020, it did not have the expansive resources and network to reach startups across Asia, Lee recalls. "The intensive network of Agorize (Huawei Spark's innovation and crowdsourcing partner) helped us to confront the sourcing and outreach challenges."
While crowdsourcing is not completely new, the advent of social media has substantially extended the reach to brains that couldn't have been tapped before the digital age arrived.
In fact, crowdsourcing has long crept into our everyday life without our knowledge. For instance, when we're torn between making vital decisions, we seek advice from our family and friends, or ask social-media followers for help; we're unlikely to be left in the lurch at work because the power of teamwork can conquer difficulties we are facing.
Potential for public good
Although we're more inclined to associate crowdsourcing with institutions' tactics that a company leverages to gauge how the market would react to a new product, it also has the potential for public good. Hong Kong's first crowdsourcing food rescue platform - Breadline, launched by Daisy Tam Dic-sze, an assistant professor at Hong Kong Baptist University -connects local volunteers with donors and non-governmental organizations in salvaging leftover bread. This also shows that crowdsourcing's application goes beyond information sharing. It can mobilize manpower efficiently.
"There are hundreds of shops across Hong Kong with a limited time window to collect what's left over. And we don't know which shop has products that are sold out or are in surplus. Getting people to the right place and at the right time isn't easy. We also don't want to waste volunteers' time and effort - a precious resource," explains Tam.
Crowdfunding could provide a lifeline and, sometimes, be a last resort for startups, NGOs and individuals on a tight shoestring budget as well. Founded in 2011, GoGetFunding helps people from all over the world to raise funds for everything from personal matters and acts of kindness to emergency relief. Among its Hong Kong clientele, 45 percent are individuals, 40 percent communities, 10 percent NGOs, and 5 percent companies, according to the platform's owner and CEO, Sandip Sekhon. So far, the platform has raised up to HK$3.5 million ($446,000) for each project.
The crowdfunding buzz signals growing human collectivism, unity and interdependence, and the tapestries of a tightly knit society are badly needed today, says Sekhon. Whether they're long-standing issues in Hong Kong society, climate change, the coronavirus or wars, "people know that crowdfunding empowers the public to come together and deploy funds where they matter most".
Strengths in business today
Crowdsourcing is a byproduct of how the internet has evolved, Tam says. "But humans are social animals after all. So asking people to contribute, share and collaborate had existed way before the internet. The thing that has changed is how platforms allow individuals to reach beyond geographical boundaries and social networks."
The complexity of the world is unprecedented, confounded by the production of information and data at lightning speed, says Charles Thou, co-founder of Agorize. "Therefore, social, economic, and environmental issues are interlaced. In this context, digital transformation is key to being agile and reactive. It opens the door to collective intelligence and open innovation on a large scale, and access talents and technologies wherever they are."
Another revelation that urges companies to crowdsource is the fact that enforcing strict top-down leadership without embracing the ideas and solutions of others doesn't function anymore. This could mean you'll miss out on opportunities that promise a competitive advantage, notes Thou. "Individuals want purpose and empowerment in their job. When given, they'll go the extra mile to bring more to the organization," he says. People in solidarity outperform those in solitude.
"Humanocracy" emerges as a zeitgeist paradigm shift and is the gist of the namesake book by Gary Hamel and Michele Zanini, which examines how instrumental it is for a company to approach decision-making from human-centric lens - a departure from the traditional power-centric bureaucracies.
As a result, both boundaries of corporations' resources and hierarchy get pushed into a tremendous ecosystem, where limitless brain power is a rich seam to mine. "Open innovation has become a must-have to activate that ecosystem in an impactful and relevant manner," says Thou.
Crowdsourcing realizes speedy, efficient and cost-effective ideation for companies seeking immediate innovative answers. This is best illustrated in some ad hoc tasks, notes Yuen Man-ching, head of the Department of Applied Data Science at Hong Kong Shue Yan University, whose research interests cover crowdsourcing.
Tunnel vision and mental blocks can occur when only employees within a department are involved in brainstorming. It's also hazardous as people could be confined to a thinking pattern and get stuck in a rut, oblivious to some "blind spots", says Thou. Crowdsourcing, either executed internally via cross-departmental collaboration or externally by tapping the wisdom of a wider population, offers a ticket to a "diversity of solutions, skills and points of views", bringing oversight to the surface, he says.
Crowdsourcing platforms also enable companies to locate the exact cohort of talents with a wanted combination of skillsets, stresses Yuen. Linux, an open-source computer operating system, for instance, always needs people with both linguistic and information technology backgrounds to translate their newly minted programs, such as its Open3D, into different languages. The success of Linux, Wikipedia, Apache and other open-source projects exemplifies the "agency of the crowds' wisdom".
Thou notes it's time- and cost-saving, especially in the research and development process, which is often riddled with trials and errors without the crutch of crowdsourcing. The process fast-tracks the product and service optimization by soliciting real-time feedback from users, allowing "fast implementation", he says. A case in point is PepsiCo's "Next Big Idea Challenge" in 2019 powered by Agorize, which invited all its employers around the globe to propose ideas, however inventive and whimsical they might be. The result: PepsiCo reduced its go-to-market time for a new product from 24 months to nine months.
Sometimes, companies crowdsource a task as a camouflage for their genuine intention of talent hunting, adds Yuen. "It's less about solving the challenge they set, but more about identifying the brains behind brilliant ideas and bringing them on board" as an employer or a freelancer. Crowdsourcing, at its core, encourages each average person to partake in charting, constructing, informing and owning our collective future, rather than accepting our lives and our future as a given. In other words, Thou says, "crowdsourcing turns large crowds into ambassadors and power users".
A 'double-edged sword'
Despite the plethora of benefits, crowdsourcing is by no means a panacea for all business conundrums or humanity crises.
A scholar herself, Yuen is an active user of Amazon MTurk, a crowdsourcing marketplace, to disseminate questionnaires and carry out studies. However, she says, biased opinions loomed large when her questionnaires on certain subjects invariably attracted participants from the same demographics, with the results being colored and skewed.
"The power of the crowd is a double-edged sword the same way as we see on social media, where people will crowdsource similar opinions to theirs even if they're wrong or biased" because of a herd mentality, concurs Thou.
He believes a balance has to be struck between the freedom and structure given to people in crowdsourcing; otherwise, it would go haywire, slipping into a semblance of anarchism. Crowdsourcing should galvanize people into voicing their opinions "but only in a framework, where they know the topic in question, how to approach it and what resources they can activate. They should also know what they can gain from it. For instance, if the organization entertains their ideas, how much budget they can secure for a project and what new skills they can get the hang of in a task force". The framework has to be crystalized.
Nevertheless, disclosing business information on crowdsourcing platforms could pose a threat to its confidentiality and embroil it in intellectual-property disputes, warns Thou. "Transparency in crowdsourcing can backfire. But in today's world, speed is usually a priority over confidentiality."
The intrinsic nature and beauty of crowdsourcing, he says, is "participatory" and "inclusive", and at the core of it is that every individual's opinion is valued. Crowdsourcing, in some way, mutes the authoritarianism and challenges the top-down hierarchy, taking the edge off elitism, which is entrenched in all societies.
"What's attractive in crowdsourcing is that it's merit-based, where people stand out by virtue of their original solutions regardless of their backgrounds," acknowledges Thou. "I'm from a generation that taught their parents how to use electronic devices, which may have reinforced my belief that solutions can come from less-experienced people. I think digital technologies are a profound enabler when it comes to letting talent and effort shine in the face of hierarchy and status."
The popularity of crowdsourcing is a testament to our growing attachment to collectivism and interdependence, which has become all the more overriding since all human beings have fallen prey to COVID-19.
"The access to information and the ease with which you can connect with people around the world on topics of interest is a major enabler for people to take action and feel that (concerted efforts) can move the needle," contends Thou.
While the dark side of the internet sometimes channels hatred and fake news, with people falling victim to wrongful herd mentality, Thou is convinced that "the Light Side of the Force" will win - Star Wars shorthand for selflessness, knowledge, peace and serenity.
"We could be living in a renewed enlightenment period as it happened in the past. With it comes the ability to build communities that question the status quo and find collective solutions for all the great challenges we're facing."
Crowdsourcing via internet nurtures and highlights "collectives" more than "communities", argues Tam, who teases out the nuances between the two units that are often used interchangeably. She sees her team's innovation, Breadline, as a crowdsourcing web application forming a "collective" unit. "While volunteers come to help collect surplus bread, their interactions are limited. "It's transient and temporal. They gather momentarily for the same cause." Whereas communities are way more closely knit, and "the types of relationships that are built are stronger and deeper".