Water discharged into Yangtze to fight drought
Share - WeChat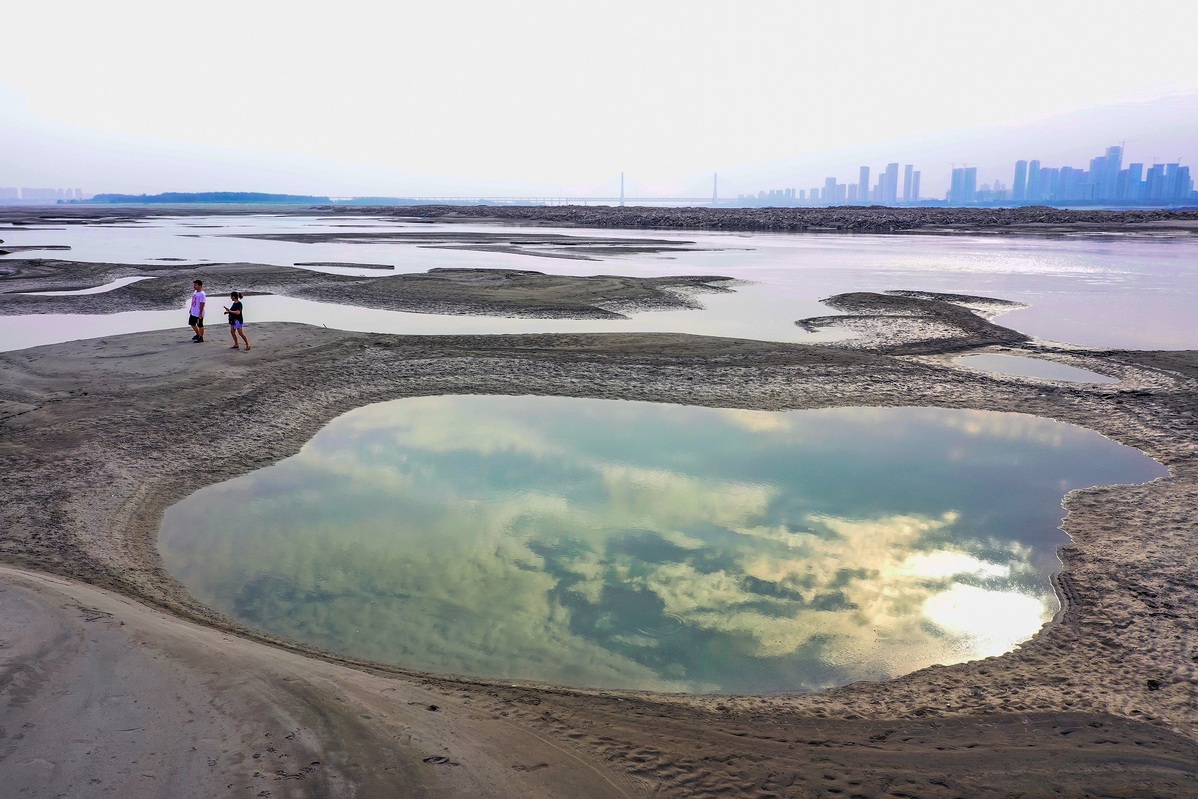 The Ministry of Water Resources is discharging more water into the Yangtze River Basin from surrounding reservoirs, hoping to relieve the lingering drought in the major rice-producing area at a critical time for crop growth.
The middle of September is a critical time for irrigating rice in the Yangtze's middle and lower reaches, and so the operation, which is expected to release almost 1.8 billion cubic meters of water, started at 8 am on Monday, Vice-Minister Liu Weiping said at a news conference on Tuesday.
The amount of water is enough to meet the water demands in Beijing, a city of almost 22 million residents, for over five months. On average, about 4 billion cubic meters of water is consumed in the capital every year.
"The forecast shows that the Yangtze basin will still receive comparatively less precipitation in middle and late September," he said. "The drought situation remains grim."
Against this backdrop, the ministry is preparing ways to cope with a severe drought that may linger for an extended period of time, he noted. With water demands for drought mitigation at the current and next stages brought into consideration, the ministry will strive to increase water storage in major reservoirs to ensure the safety of both the water supply and shipping.
Zhang Dunqiang, deputy head of the ministry's rural water conservancy and hydropower development department, said ensuring a bumper harvest in autumn is significantly important to the country's food safety, as autumn grain accounts for 75 percent of the country's grain output.
He said there are 356 major irrigation areas that depend on surface water for irrigation in Hubei, Hunan, Jiangxi, Anhui and Jiangsu provinces in the middle and lower reaches of the Yangtze.
With rice as their staple crop, these major irrigation areas cover a total of 1.9 million hectares, he said.
Liu Zhiyu, deputy head of the ministry's information center, said the Yangtze basin this year has suffered the most severe and widespread drought in the past six decades.
Since July, the basin has received an average of 190 millimeters of precipitation, not even half of the usual amount and a record low since 1961, he noted.
To cope with the situation, the ministry had previously discharged water from reservoirs starting on Aug 16, releasing almost 3.6 billion cubic meters of water from major reservoirs located in the Yangtze's upper reaches and around the two major lakes of Poyang and Dongting in the basin.
Thanks to that discharge, Hubei, Hunan, Jiangxi, Anhui and Jiangsu provinces managed to divert over 2.6 billion cubic meters of water from the Yangtze, according to the ministry.
It said the diverted water not only benefited almost 13.9 million residents that were faced with water supply interruption, but also helped guarantee irrigation to 1.9 million hectares of farmland.