A man with time on his hands
Share - WeChat At Beijing's Palace Museum, it sometimes seems that time stands still, but the clocks keep ticking at a small workshop. This is where clock conservator Qi Haonan works. As the fourth generation to repair and restore antique clocks at the museum since the founding of the People's Republic of China in 1949, Qi has returned more than 100 timepieces to their former glory. The museum houses over 1,500 antique timekeepers.
"Restoring such clocks doesn't mean to make them look brand-new. Through cleaning and restoration, I try to keep the antique clocks in their original form, bringing back their mechanical and performance functions," the 41-year-old watchmaker says, adding that it usually takes months-sometimes up to a year-to completely restore a clock.
He still remembers the excitement when the hands of his first repaired clock began to move. It was a French clock with a barometer built into it, which took him a month to restore.
"What amazes me most about these clocks is that they combine the scientific advances, technological precision and the trend in decorative art of their particular era. I want to enable more people to marvel at the mechanics," Qi says, adding that through short-video platforms, he can share with a wider audience just how magnificent the clocks are when they are fully functional.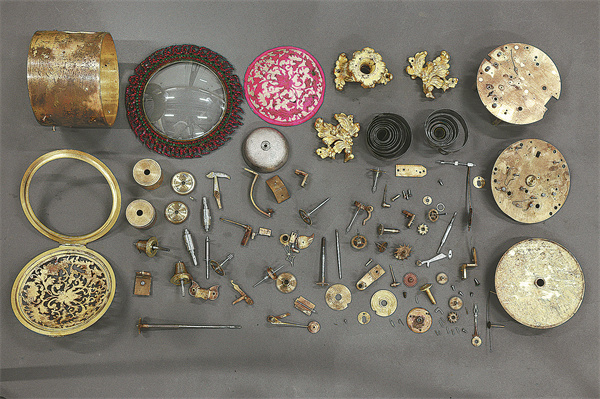 He started posting videos about the antique clocks on the social media in 2019, giving viewers a glimpse into the complicated and playful world built by horologists since the 1600s. His Sina Weibo account has attracted nearly 3 million followers. On short-video platform Douyin, Qi's account has more than 310,000 followers, garnering over a million likes.
One of the most clicked videos features the most complicated clock that Qi and his mentor Wang Jin have repaired. Made by a Swiss horologist in 1829, it is an automaton-equipped gilt copper clock. The video shows how the mechanical characters perform movements to the sound of the chimes.
The clock consists of more than 1,000 components with seven sets of gear transmissions. It features a magician's stage with an automaton performing a conjuring trick with cups and balls inside a temple and a singing bird standing on top.
From Qi's experience, it is one of the two most sophisticated clocks that he has seen in the Palace Museum. The other is an automaton clock that has a robot writing Chinese characters with a brush.
"These clocks are rare treasures, not only serving as a plaything for emperors, but also witnessing the development of the mechanical loom," Qi says.
Since the reign of Emperor Qianlong (1711-99), many European-made clocks (most of which came from the United Kingdom, Switzerland and France) were donated to, or ordered by, China's royal families, whose interest in these exotic machines lasted until the final days of the Qing Dynasty (1644-1911).
During the rule of Emperor Kangxi (1654-1722), an office for clock manufacturing was established with Jesuit clockmakers given the responsibility of maintaining the court's various Western clocks.