'Monster' Xu back on the prowl
Share - WeChat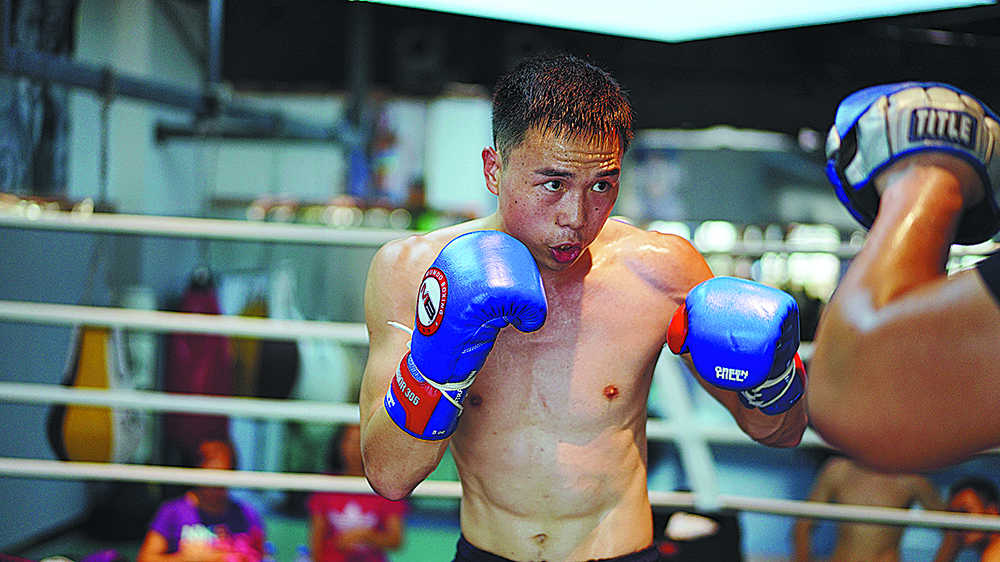 After over a year without hunting, the bloodthirsty "Monster" is finally back on the prowl.
Xu Can, China's former featherweight world champion known as the "Monster", has recovered from injury and will fight Mexico's Brandon Benitez in a rescheduled bout on Oct 7 in Florida as he builds toward another title challenge.
The fight between Xu and Benitez was originally supposed to take place on May 20 but was postponed after Xu sustained a rib fracture in training about two weeks before the scheduled bout.
Now healthy again, Xu, the WBA's former "regular" featherweight belt holder, aims to reestablish himself as a top contender in the 126-pound (57-kilogram) division, beginning with the 10-round battle against Benitez, a 24-year-old fighting out of Queretaro, Mexico.
"I've been waiting for a fight for so long. I can't wait to come back stronger and prove that I've emerged from the shadow of my last defeat," Xu said in a statement released by his Beijing-based M23 Boxing Club.
"I stayed dormant for a while, studying the replay of my last fight and reflecting on my weaknesses. I made the necessary adjustments and now I am ready to strike out again," added Xu, who lost his belt to Britain's Leigh Wood in July 2021 after a shock 12th-round TKO loss in England.
The tough defeat ended Xu's 15-bout winning streak, which included a unanimous-decision win over Puerto Rico's Jesus Rojas in January 2019 to initially claim the belt, followed by two successful defenses against Japan's Shun Kubo and Manny Robles III of the United States in the same year.
Known as "Leoncito", or little lion, in the ring, Benitez (18-2, 7 KO) possesses a similar rapid-fire style to Xu (18-3, 3 KO), who threw a WBA-record 1,562 punches over 12 rounds to defeat Robles III in California in November 2019.
"I am ready and excited for this opportunity to face a former world champion," said Benitez, who is on a four-bout winning streak.
After enjoying the heyday of his career for over two years as China's only world champion boxer with a major promotion, Xu is embracing the uphill task of starting over.
Supported by Max Power Promotions at the M23 gym, Xu has been focusing on his strength conditioning, striking range and power. He has vowed to punch heavier and smarter while keeping his distance for greater control in the ring.
"I will make the best of my advantage in size and reach, and not punch as much from close in," said the 28-year-old native of Fuzhou, Jiangxi province.
Standing 1.75 meters tall, Xu has built a reputation for high-volume punching and superior endurance. However, his lack of finesse was exposed in the defeat to Wood, who repeatedly hurt Xu with his vicious right hook from close range despite the Chinese fighter's height and reach advantages.
With Wood next taking on the WBA's "super" titleholder, Leo Santa Cruz of Mexico, in November, Xu is required to take a few interim fights to improve his ranking-which has dropped because of the pandemic-for the right to earn another shot at the title.
"In the first two months after my defeat, I couldn't even accept the fact that I'd lost," Xu said of the disappointment of losing China's only professional boxing world title.
"But I knew that only I could pick myself up from this setback. I've regrouped and recharged after learning a lot from the last fight."
The fight will be livestreamed on KOTV beginning from 10 pm (Beijing time) on Oct 7, a perfect window for Chinese fans during the annual National Day holiday.
With two senior boxers, Meng Fanlong and Zhang Zhilei, both losing their most recent bouts, it is hoped that Xu's return can deliver a much-needed lift for pro boxing in China, where the pandemic has forced an increasing number of local gyms to shut down and young prospects to halt training with domestic events canceled.
"The fight against Benitez has greater significance than just for Xu to prove he's still capable of a title challenge," said Liu Gang, chief promoter with Max Power. "It is a fight that will bring confidence and excitement back to the pro boxing scene in China should Xu win it."
Meng, who represented China at the 2012 London Olympics, was beaten by Canada's former WBA, WBC and IBO light heavyweight champion Jean Pascal via unanimous decision in Florida on May 20.Three months later, heavyweight star Zhang narrowly lost an enthralling IBF bout to Filip Hrgovic of Croatia after a seesaw 12-round battle, missing out on a shot at the division's world title.
"I swore to myself that however difficult it will be I will persist and carry on fighting and leading by example," said Xu.