Student sailors enjoy summer holidays at sea
Share - WeChat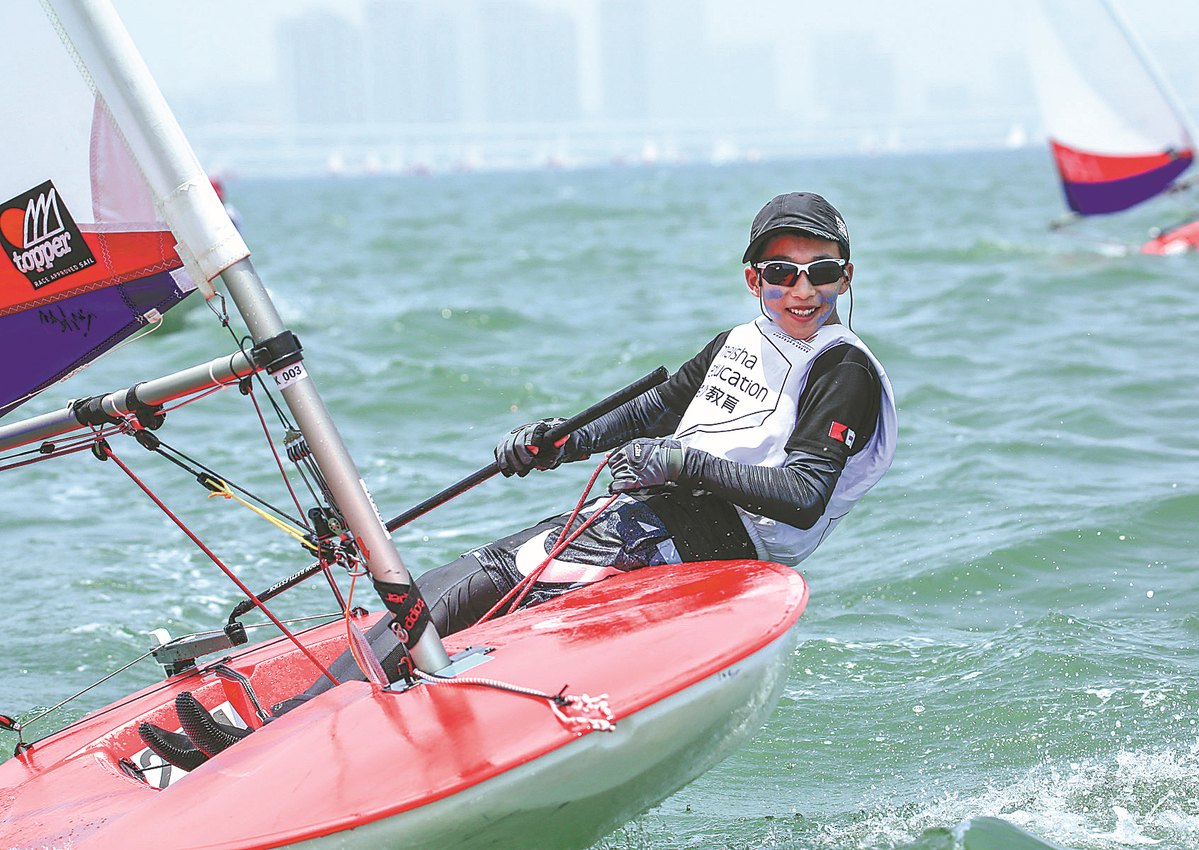 Activity has wind in its sails as more youngsters take to the water in boats
Looking back on his summer holidays, 14-year-old Lyu Junxi is happy because he was once again able to improve his sailing skills off the coast of Qinhuangdao in Hebei province.
Holding the tiller in his right hand and the sail with the left, he leans back to keep his balance. Wearing sunglasses and a wide smile, Junxi's excitement is obvious as he sends his boat skimming across the water.
The middle school student from Beijing No 4 High School took part in a weeklong summer sailing camp in July in Qinhuangdao's Beidaihe New Area, which has an 82-kilometer coastline.
It was the fifth year Junxi had chosen sailing as one of his summer holiday activities.
The Beidaihe Seatopia Sailing Base is the largest center in North China that trains young sailors, according to a report by China News Service. Run by the Beijing Sailing Center, it has 160 dinghies and 50 instructors who train about 1,000 young people every year.
"If I want to sail better, I have to keep learning and practicing hard," the boy said, adding that the sport has become one of his favorites.
Some 1,300 youngsters aged between 6 and 18 have enjoyed themselves on the ocean in Qinhuangdao this summer.
The camp, which has been organized by the Beijing Sailing Center for over 15 years, has welcomed students from home and abroad, and according to the center's brand manager Wang Yitan, Qinhuangdao is known for holding all kinds of summer sailing activities.
This year's camp started on June 12 and ended on Aug 27 and offered all kinds of training.
"Junxi has become stronger of course, but more importantly I think my son has become braver and more confident since he started learning to sail," said his mother, Wang Gege.
Apart from learning new skills, the young sailors have to learn to overcome difficulties at sea, including unexpected bouts of bad weather.
"On our first day, we ran into a sudden rainstorm that capsized our boat. The water was cold and salty but we had to right it before we could return to shore safely," Junxi said, adding that although he'd been scared, he had a life jacket on and so he forced himself to keep calm and tried to stay strong.
An increasing number of youngsters like Junxi have been taking part in sailing events in recent years, according to Liu Weidong, secretary of the Chinese Yachting Association.
"There is still huge room for the development of sailing in our country, as the sport is still at an early stage, with fewer than 60,000 people regularly sailing every year," he said.
He estimated optimistically that the number of young sailors should increase by around 500,000 in the next five to 10 years.