High on nature
Share - WeChat Karst topography, rugged peaks, rocky trails, verdant foliage, plunging gorges, limestone caverns, staggering sinkholes and breathtaking waterfalls-Guizhou province in Southwest China is a mountainous Shangri-La. Little surprise that the once virgin region is now attracting travelers in hordes.
While it was always an inviting getaway for thrill-seekers, the province's pretty hamlets, clean air and pleasant climate have suddenly become a big draw for urbanites who are desperate to escape heat and pollution.
The local tourism industry is undoubtedly reaping the benefits. The Xingyue pastoral hotel in Kaiyang county in the provincial capital of Guiyang is sold out this autumn. "We have some 60 rooms and all are booked. Prospective clients are being requested to make reservations weeks in advance," says Zhang Guanyu, a manager at the hotel.
In addition to ensuring modern amenities, the hotel is hosting various adventure activities and cultural programs. Folk songs and fireworks are already a hit with visitors. To stay ahead of competition, it is tapping into rich mountain resources. "We are collaborating with neighboring scenic spots to offer our guests camping, paragliding and even terrace farming experiences," Zhang says.
A 20-minute drive from the hotel brings one to the Nanjiang Grand Canyon, a land of meandering rivers, placid lakes, sharp cliffs and over three dozen waterfalls. It is a popular kayaking and rafting destination. In fact, since rafting was formally launched in May, the canyon has approximately received 80,000 tourists, raking in a whopping 12 million yuan ($1.75 million) in revenue.
Camping has been the rage in Guizhou this year. A total of seven camping sites have been made operational in Qingzhen, a county-level city under Guiyang, says Rao Wenyan, deputy director of the city's culture, sports, radio, TV and tourism bureau.
Qingzhen has rolled out more than 17 events and activities to maintain a high tourist footfall. At the city's Xiangchou Park, creative illumination, camping and barbecue have been lined up for visitors. Around 90,000 tourists have come to the park since it opened in late July. "Yoga and baseball are a big draw among the youth, and hence, a key part of our new tourism strategy," Rao adds.
As more people are choosing the southwestern province as their summer-autumn getaway, the local authorities are actively harnessing a superior mountain ecology to drive the economy.
Li Fang, deputy head of Guizhou cultural and tourism authority, says tours are being tailored to integrate leisure and recreational activities, sightseeing, cultural creativity, and rural and agricultural experiences.
From Aug 18 to 21, the 2022 Asian Mountain Tourism Promotion Conference was held in Guiyang. It was organized by the International Mountain Tourism Alliance and attracted guests from 18 Asian countries, including government officials and representatives of international organizations.
The objective of the conference was to promote mountain tourism in Asian nations, and call upon them to protect natural resources and local cultures.
"The impact of COVID-19 has prompted people to pay more attention to ecological health and quality of life," says Sun Hanxin, director of Guizhou provincial department of culture and tourism.
"Today, mountain tourism is an important means to reconnect with the natural world. It is playing an irreplaceable role in global ecological reconstruction," Sun adds.
According to the World Tourism Organization, mountain tourism accounts for about 20 percent of the global tourism market. It is growing annually and showing great potential.
Mountain life may mirror people's desire for camping thrills and starry nights on the surface, but deep down it shows human proclivity to connect with nature, experts say.
Guizhou is a typical mountainous province and the local authorities are keenly focusing on tourism to accelerate economic development, protect the natural environment and preserve traditional culture.
"Guizhou is the only province in China without plains. About 92.5 percent of it comprises mountainous areas, complete with magnificent scenery and colorful culture," Sun says.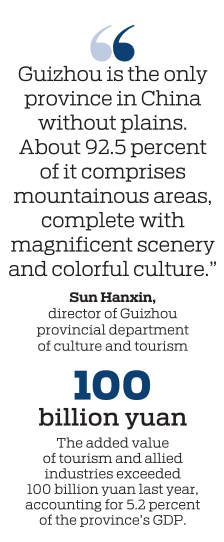 Earlier this year, the State Council issued a document that proposed Guizhou accelerate its development into an international mountain tourism destination. "That injected fresh enthusiasm," Sun says.
The province has integrated mountain tourism and summer leisure in Guiyang and Anshun, in its central and western parts, and introduced health preservation to mountain tourism in Qianxinan Bouyei and Miao autonomous prefecture in the southwest.
The authorities have also taken advantage of the challenging terrain to arrange sporting events, including a national auto rally in Qinglong county, an international summer marathon in Liupanshui city, an international rock-climbing competition in Anshun city and a cycling race around Fanjing Mountain. Cave quests, forest adventures and water sports have been arranged as well.
From 2016 to 2019, Guizhou's tourist footfall and tourism revenue maintained an average annual growth rate of more than 30 percent. The added value of tourism and allied industries exceeded 100 billion yuan last year, accounting for 5.2 percent of the province's GDP.
"It means tourism has become a pillar industry of the province," Sun says.
Sreng Sataro, charge d'affaires of the embassy of Cambodia in China, says he was impressed by what Guizhou had to offer during his stay for the tourism conference. "On my way to the ancient town of Qingyan, I only saw green mountains. I couldn't see the rock face. It means Guizhou is a natural ecological wonder. It is a green lung of China."
Sataro says Guizhou and Cambodia have similar potential in terms of mountain tourism and a collaboration can be fruitful in promoting sustainable economic growth, alleviating poverty and protecting nature's abundance. "It is necessary to strengthen our cooperation," he stresses, adding that only long-term exchange could help countries in Asia achieve prosperity.
Wang Jin contributed to this story.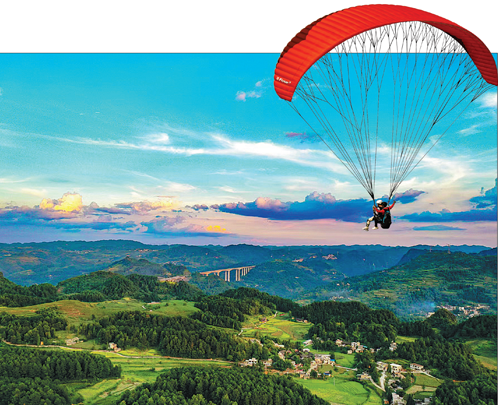 Today's Top News
Editor's picks
Most Viewed