Descendants of massacre survivors made inheritors of historical memory
Share - WeChat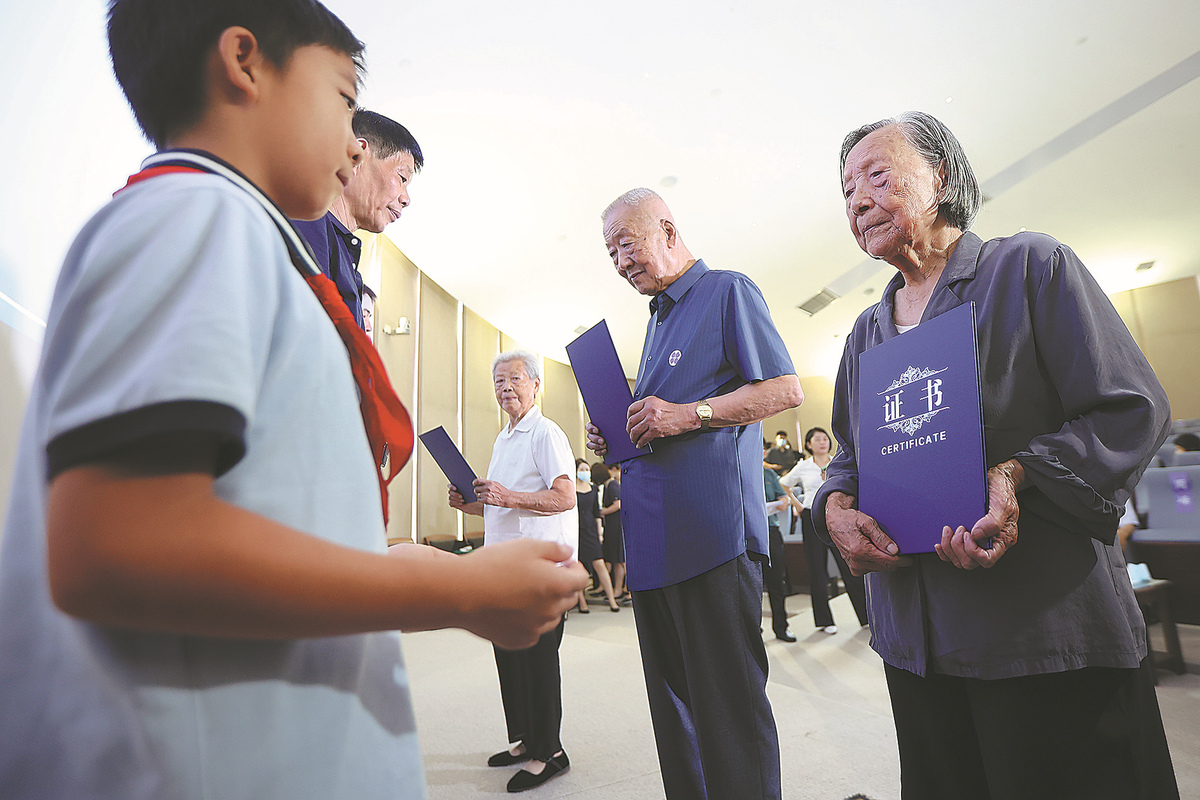 Thirteen descendants of Nanjing Massacre survivors have become the first group of "historical memorial inheritors" of the tragedy as the survivors, who now have an average age of 92, are gradually passing away.
The number of survivors officially registered with the Memorial Hall for the Victims of the Nanjing Massacre by Japanese Invaders has now declined to 55.
Xia Yuan, granddaughter of survivor Xia Shuqin, is one of the new inheritors. She said that her grandmother has told her about the massacre ever since she was a child, and that she feels the responsibility to share her family's experiences with more people in a call for peace.
"My grandmother is 93 years old," said Xia Yuan. "Due to losses to her sight and hearing, she doesn't participate in as many activities as she used to, so it's up to me to share what our family experienced with the world."
At the age of 8, Xia's grandmother lost seven family members during the massacre when on Dec 13,1937, Japanese soldiers broke into her home at No 5 Xinkou Street and killed everyone except for her and her 4-year-old sister.
The Nanjing Massacre took place when the Japanese army captured the then national capital. Over the course of six weeks, more than 300,000 Chinese civilians and unarmed soldiers were killed.
"I've always known that my grandmother would prefer to leave the pain behind," said Xia. "But she told us that if she chose to remain silent, people would forget what had happened."
Six survivors have passed away so far this year.
According to the memorial hall, the first group of 13 are descendants from 10 survivor families.
"I hope that more descendants will join us as inheritors of this historical memory," Xia said.
"We should work together to make sure the world never forgets the survivors, and knows the tragic truth about the Nanjing Massacre."
For years, the memorial hall has overseen the collection of oral testimonies from the survivors.
Wang Weixing, vice-president of the Nanjing Japanese Invasion Victims Aid Association, said that more descendants have stepped forward to share their families' experiences with the public.
"They will become the backbone of the process of passing on and sharing the memory of the massacre," he said.
Besides collecting oral testimonies, the memorial hall lobbies for peace through a variety of activities, including lectures, patriotic education courses and inviting people from all walks of life to ring the Peace Bell that hangs in the hall.
Guo Jun in Nanjing contributed to this story.