Livestreamer sells the beauty of Xinjiang
Share - WeChat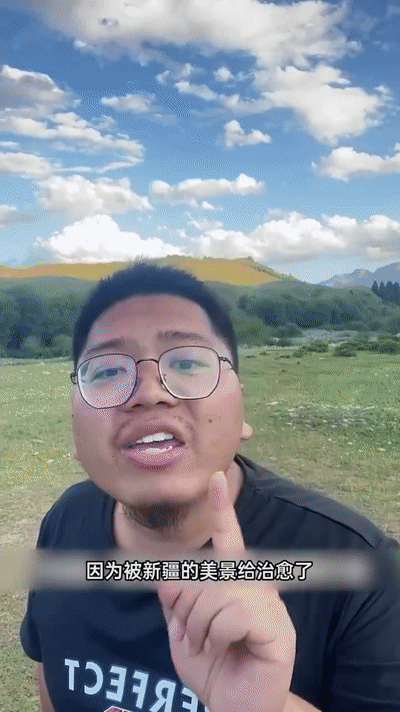 Before arriving in the Xinjiang Uygur autonomous region in 2020, Liu Yuanjie, born in 1997 in East China's Jiangsu province, had made many attempts to lift himself out of poverty.
He worked in many different jobs after leaving school at 16 years of age, for instance, factory worker and cyberspace writer. He also launched startup programs as a way to improve his life, however, none of them succeeded.
Liu visited Xinjiang in 2020 with only 3,000 yuan ($441.75) to his name after investing most of his savings in a failed startup program.
Observing the cattle and sheep, grasslands, snowy peaks and meadows of Xinjiang, Liu said he felt a healing touch from the region. His taste buds welcomed the delicious fruits in Xinjiang and gave him the courage to stay.
In 2020 Liu began to sell agricultural products, including a type of locally produced pear, through livestreaming programs and generated outstanding sales results. From 2021, he started to sell locally produced honey through livestreaming.
Being different from many liverstreamers who sell products indoors, Liu likes to use the natural scenery of Xinjiang such as rivers, mountains and grassland as the background.
The natural scenes were so incredible that many viewers of the livestreams questioned whether the backdrops were real at all.
Liu looked at how he could interact with his background to prove the doubters wrong. He threw buckets and shoes into a river behind him and called in friends and horses as active props to prove that everything was 100 percent real.
Liu received more than 2.6 million likes on short video-sharing platforms. He soon became popular not because of what he was selling but what was happening behind him.
By this point, all the honey in his store was sold out. Liu, who is the director of the bee-keeping association at Yuli county of Bayingol Mongolian autonomous prefecture, did not plan to add new stock or new catalogues to his store until all orders were fulfilled.
"My team is not big enough and I am worried about our after-sales services. We must be responsible for the quality," Liu said.
In Liu's recent short videos, he paid greater attention on demonstrating the natural beauty of Xinjiang.
"I don't mind people saying the background is fake or the livestreamer is fake. I just want to say the beauty and honey of Xinjiang are wonderful," he said.
Looking ahead, Liu hopes to use his influence to help the farmers of Xinjiang, who are not familiar with e-commerce, to sell their products.
"Xinjiang is my second home," he said."The significance of my effort is not to lift me from poverty, but to lift my hometown from poverty."