Better connectivity, stability boost region's role in BRI
Share - WeChat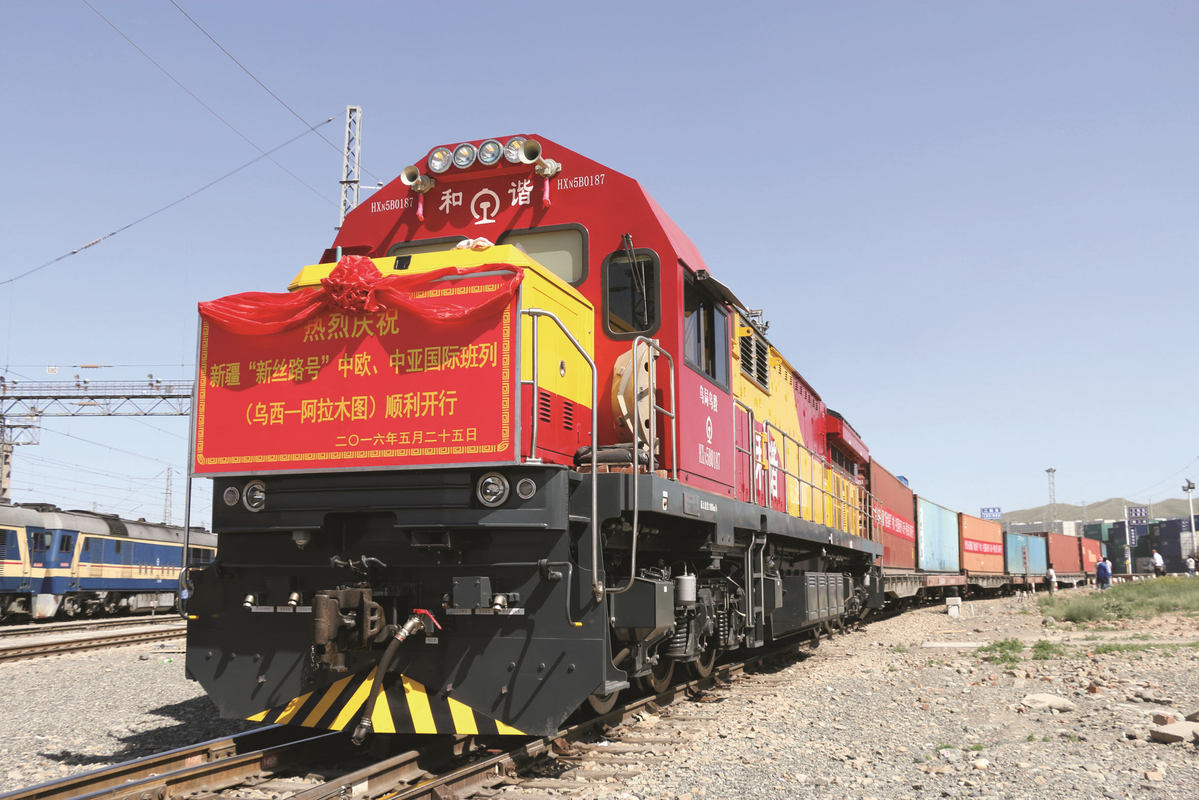 He Haiyan, who has been doing business in Alataw Pass, Xinjiang Uygur autonomous region, for more than 20 years, said a lot of changes have happened in the major land port connecting China and Kazakhstan during the past 10 years.
"It's obvious that the number of freight trains passing through the land port has increased. More importantly, a series of preferential policies to boost international trade under the Belt and Road Initiative have been introduced," said He, who runs a company trading goods from Central Asian and European countries. "An increasing number of people have seen the potential of Alataw Pass and have started businesses here."
Improved connectivity and long-term peace have helped the strategically located region, which enjoys a rich heritage left by the ancient Silk Road, better participate in the BRI. The initiative, proposed by President Xi Jinping in 2013, comprises the Silk Road Economic Belt and the 21st Century Maritime Silk Road. Under that framework, Xinjiang has worked with eight countries to develop a major supply chain, an industry chain and logistics infrastructure to boost the region's economy.
During the past decade, international exchange and cooperation have been increasing in the region, which has become an important gateway for international trade, cultural exchanges and regional cooperation.
Currently, 57 regular freight train services pass through Horgos Port and Alataw Pass in Xinjiang, linking 19 countries and regions in Eurasia and transporting up to 200 categories of goods, including daily necessities, electronics to mechanical parts, to countries such as Germany, Poland, Belgium and Russia. In total, the region handles more than half of all China-Europe freight trains, a flagship project of the initiative, according to the Urumqi Bureau of the China State Railway Group.
Zhong Hehua, vice-director of the Urumqi International Land Port Service Center, said the land port in the regional capital of Urumqi has expanded its domestic and international supply chain network in recent years while improving service platforms.
While visiting the land port last month, Xi said Xinjiang has changed from a relatively closed inland region to a frontier of opening up. The region should take measures such as developing the core area along the Silk Road Economic Belt and incorporating its regional opening-up strategy into the overall layout of the country's westward opening-up efforts, so that it can make better use of international and domestic markets and resources.
Meanwhile, Ma Haitao, vice-director of the administrative committee of the Kashgar Free Trade Zone in southern Xinjiang, said BRI projects have boosted transportation networks and trade, and they've opened up international markets for businesses in Xinjiang.
"By taking advantage of the resources within the port area, we've built new trade routes to Central Asian and European countries by road or train, expanding channels to the West," Ma said.