I want to help as much as I can
Share - WeChat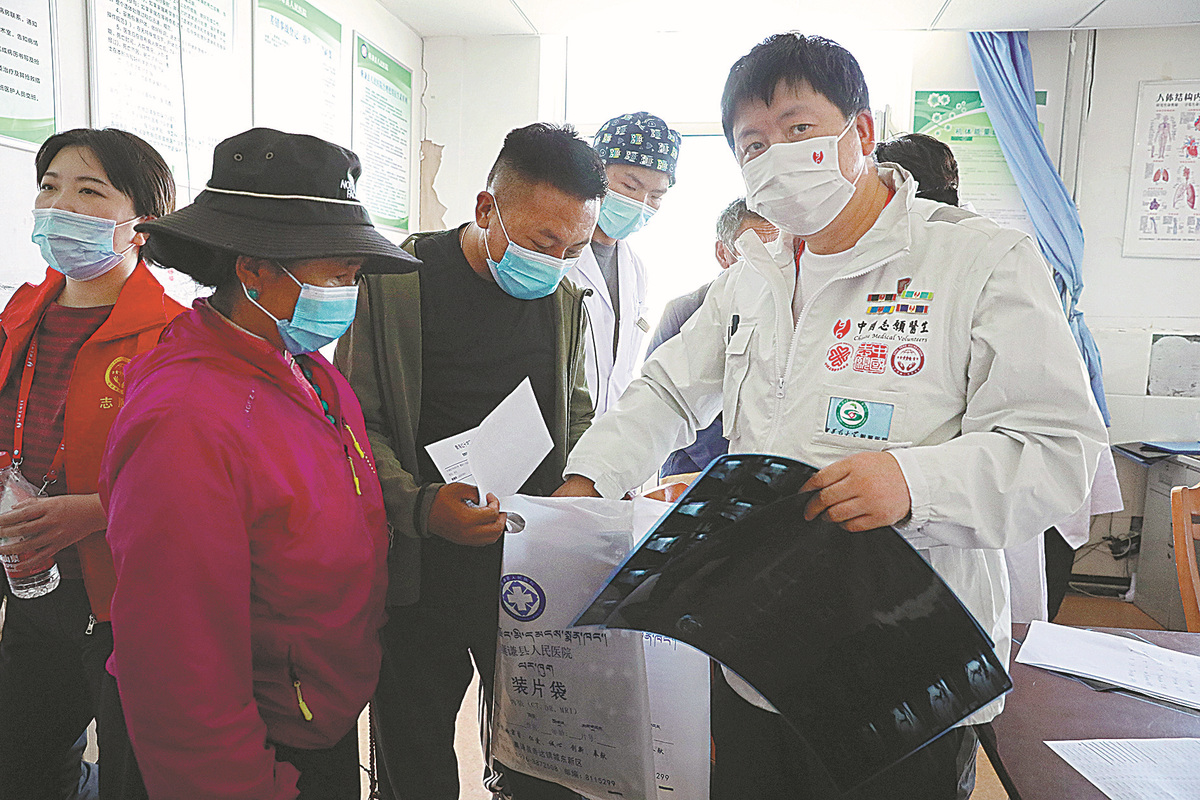 I graduated from the Shaanxi University of Chinese Medicine in 1994, and have been working in orthopedics for 28 years.
My father was a rural practitioner of traditional Chinese medicine. He earned the respect of local villagers through his efforts to address common illnesses and save them the trouble of trekking hundreds of miles to the county seat for treatment.
Growing up under his influence, I chose the medical major at college as I intended to solve problems in people's lives, just like my father did.
The first time I took part in a Chinese Medical Volunteers tour was in August 2020 in Yushu Tibetan autonomous prefecture, Qinghai province.
Then, I used TCM approaches, such as flat head needling, acupuncture, floating acupuncture and herbal patches on acupuncture points to treat common ailments such as femoral head osteonecrosis-a condition caused by disrupted blood supply to the head of the thigh bone-and knee osteoarthritis.
These conditions are primarily caused by the local people's herding practices and the frigid environment in which they live, and are also associated with some of their religious practices.
TCM methods can only alleviate the pain temporarily, and they are unable to address the fundamental causes.
So, I suggested that Chinese Medical Volunteers perform surgeries locally or bring the patients to better developed regions for treatment.
The plan came to fruition this time around. Thanks to early preparations led by the People's Hospital of Nangqen county, as well as comprehensive pre-surgery checks, discussions and consultations across different departments, we successfully completed surgeries on 21 patients. One surgery had to be canceled because the patient had severe heart failure.
So far, all the patients are in good condition, and we have formulated plans to facilitate follow-up monitoring.
As the head of the surgical team, I was under a lot of pressure because we were responsible for ensuring the safety of every patient, ridding them of their pain and improving their quality of life.
The goal of our action was not just to conduct surgeries, but also to provide local medical workers with hands-on training, so local villagers would still be able to access quality treatment conveniently after we left.
Four surgeons, including me, set up a work station in the county to continue providing free medical services for local residents, such as on-demand virtual consultations and monthly online training.
The intense workload and mental stress meant I developed a herniated disc, so I could not sit down. I had to stand for three hours on the bus to the airport, then lie flat on the flight back to Shaanxi province.
I am proud of being part of the initiative. My determination to devote my life to charity medical work has been reinforced.
Chen Mingguang spoke with Wang Xiaoyu and Zhu Xingxin.