Apple planting proves fruitful for Gaoxigou
Share - WeChat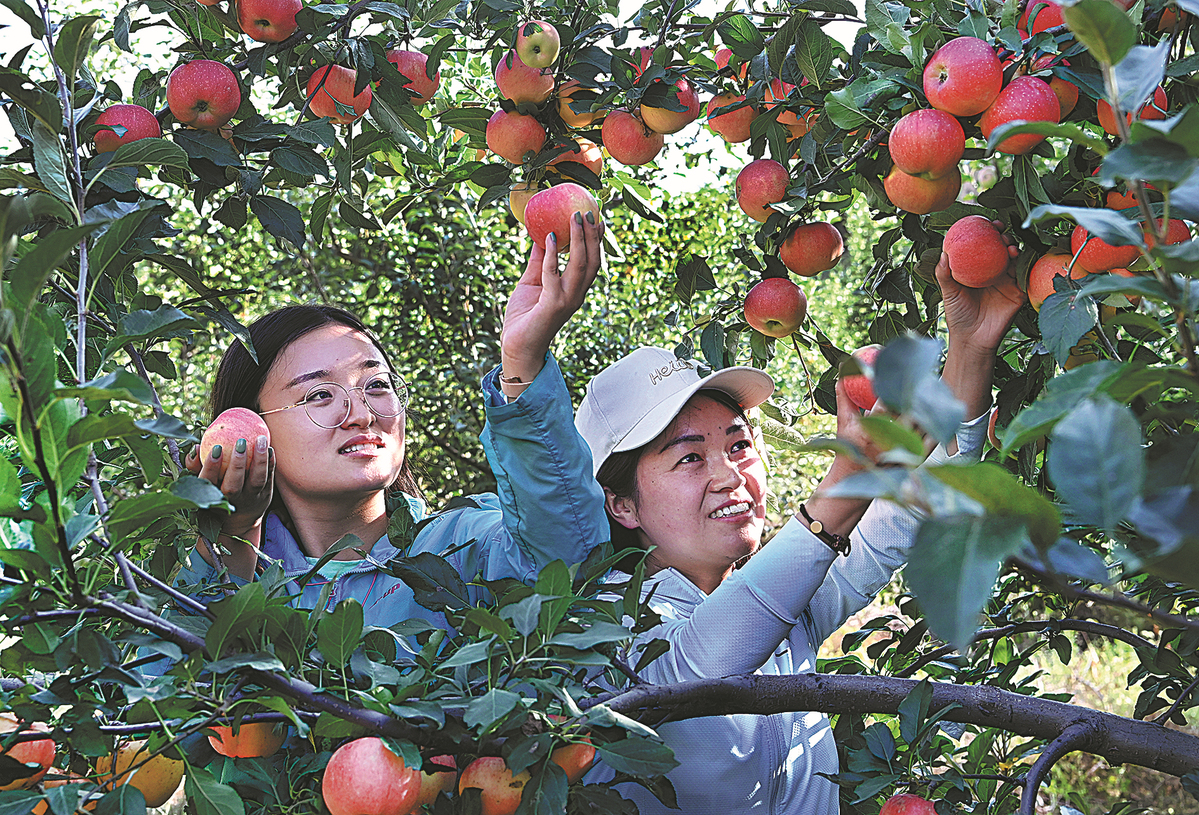 "Green hills are golden hills. Our land here is rather suitable for planting apple trees, and that's why we have such large orchards here," Jiang Liangbiao said proudly, pointing at the hill beneath his foot.
Jiang is the Party chief of Gaoxigou village, Yulin city, Shaanxi province.
Having worked in the village's Party committee since he retired from the military in 1981, he has devoted his life to Gaoxigou.
For decades, the village has done well in managing environmental protection, but the economic benefits of maintaining the forests were not so good in the 1980s and '90s.
In 2006, Jiang learned that farmers in Luochuan county were planting apples for profit, which prompted him to invite agricultural technicians from there to visit Gaoxigou.
They determined that village was also a good place for apple growth, as it had suitable soil, ample sunlight and a big enough temperature gap between day and night, all of which could contribute to growing sweeter fruit.
That's how the apple orchards of the village came to be, and they have since done quite well. Gaoxigou has further capitalized on the success of the growth by offering fruit-picking as a leisure activity, and the village honors the best apple farmers each year.
Last year, villager Jiang Liangwen received the honor after planting 11,333 square meters of apple trees and earning 60,000 yuan ($8,908).
In September, President Xi Jinping visited Gaoxigou during an inspection tour to learn about how the village had worked to develop an ecological civilization.
Jiang Liangbiao remembered talking with Xi.
"He listened to our report with a smile. He even said that he had gotten to know our village back when he was in Liangjiahe in the 1970s," Jiang said.
Xi was rather familiar with the agricultural work in the field, Jiang recalled. Xi spoke highly of Gaoxigou by saying it is a model for environmental protection near the Yellow River and that the village is on the right path. Jiang said Xi's words warmed his heart.
By planting apple trees and forests, Gaoxigou has not only raised villagers' incomes, it has also preserved its environment and has prevented more clay and sand from going into the nearby Yellow River.
Gaoxigou has readily built itself into a comprehensive agricultural tourism zone, with over 666,000 square meters of apple trees planted. The average disposable income per person reached 18,860 yuan last year, 4,378 yuan higher than the county average.