A key player of all that jazz
Share - WeChat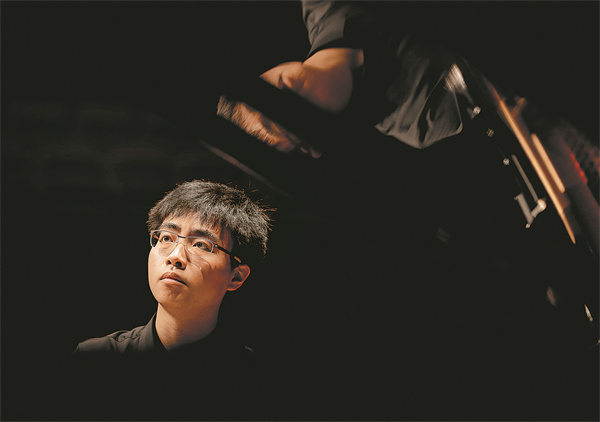 Since his stage debut at the age of 13 during the Beijing Nine Gates International Jazz Music Festival in 2012, pianist Dai Liang has attracted increasing public attention under his stage name, A Bu.
During the past 10 years, Dai has bolstered his reputation by performing at some of the world's biggest jazz events. For example, he is the only Chinese jazz pianist to have been invited by UNESCO to perform at the International Jazz Day's Global All-Star Concert in 2015, 2018, 2019 and 2020. He shared the stage and collaborated at these concerts with internationally acclaimed jazz musicians from the United States, such as Herbie Hancock, Wayne Shorter and Marcus Miller.
He also won international music awards, including first prize and the Audience Choice at the prestigious Montreux Jazz Solo Piano Competition in Switzerland, and, in 2015, became the first Chinese participant to win a prize in the history of the competition.
On July 31, the pianist released his new album, titled New Memories, at the National Center for the Performing Arts in Beijing. The day before, he performed with veteran Chinese bassist Liu Yue at the East Shore Live Jazz Cafe, near Beijing's Houhai Lake, a popular venue for jazz lovers. He is also touring Chinese cities, including Guangzhou and Xi'an, in support of his new album, this month.
The album features four music works: two of Ukraine-born Russian composer and pianist Nikolai Kapustin's most famous works-Variations for Piano Op 41, and Eight Concert Studies (Etudes) for Piano Op 40, and Dai's two original compositions, Fantasie Sleeping in a Dream Op 7 and Piano Sonata No 1 Pinus.
He pays tribute to the late Russian musician with this new album, as well as marking the day they met in Moscow, which Dai considers to be one of the most important days in his life.
Most Popular