Missfresh yet to provide refund plan
Share - WeChat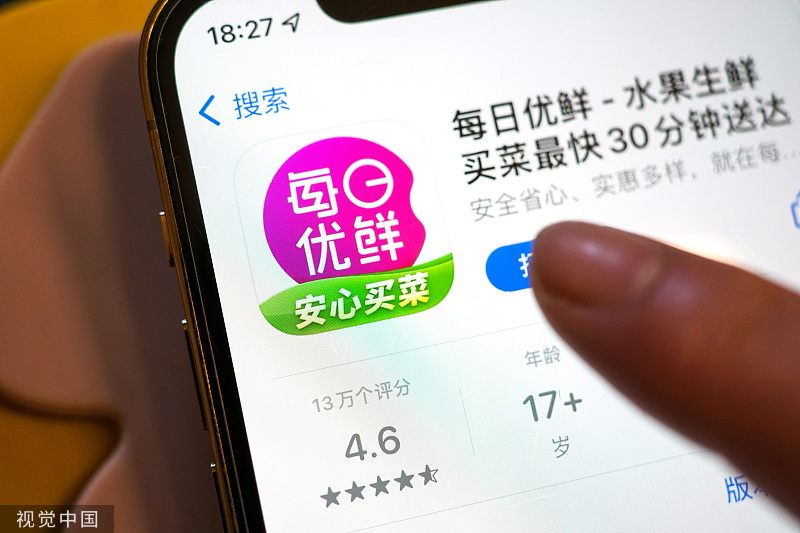 Missfresh has not provided a refund plan after being summoned by Beijing Consumers Association on Aug 4, leaving stakeholders, including users and suppliers affected, Securities Daily reported on Thursday.
The grocery delivery company's share fell by more than 8 percent on Aug 9.
Beijing Consumers Association summoned Missfresh officials last Thursday, informing them about registered consumer complaints and inquiring about the company's current conditions and complaints handling status, according to the official website of the association.
The company was required to properly handle consumer complaints, publicize refund plans and registration methods in a timely manner, and effectively protect the legitimate rights and interests of consumers.
It was also asked to strengthen communication with municipal and district consumer associations, actively cooperate with the work of consumer associations, and jointly safeguard the legitimate rights and interests of consumers.
Missfresh was required to submit written condition statement and rectification plan to Beijing Consumer Association within three working days.
No concrete plan and response were ready yet, Missfresh told Securities Daily on Aug 10.
Consumers complained Missfresh mainly for not able to use account balance to buy products, large balance and membership fees weren't being refunded, orders were canceled without a reason, and customer service staff couldn't be reached.
In addition to owing money to consumers, Missfresh's suppliers and shareholders are also affected.
According to National Enterprise Credit Information Publicity System, two subsidiaries of Missfresh in Beijing and Shanghai were listed in the abnormal management directory on Aug 1 and 3.
Meanwhile, the company's subsidiary in Zhejiang was recorded for cancellation on Aug 4 with the reason stated as resolution to dissolve. The notice for creditors' procedure is currently underway and creditors can declare their claims to the liquidation team within 45 days from the date of the notice.
Laid-off employees and investors are suing collapsed Missfresh and the Wall Street underwriters who marketed its shares in a $300 million New York offering last year over unpaid salaries and alleged violation of securities laws, Financial Times reported on Aug 3.
The company pioneered speedy grocery delivery in China, raising over $1 billion in cash from investors, including tech-focused funds run by Tiger Global and Goldman Sachs, to reach a $3 billion IPO valuation, according to the paper.