China stocks attract foreign capital
Share - WeChat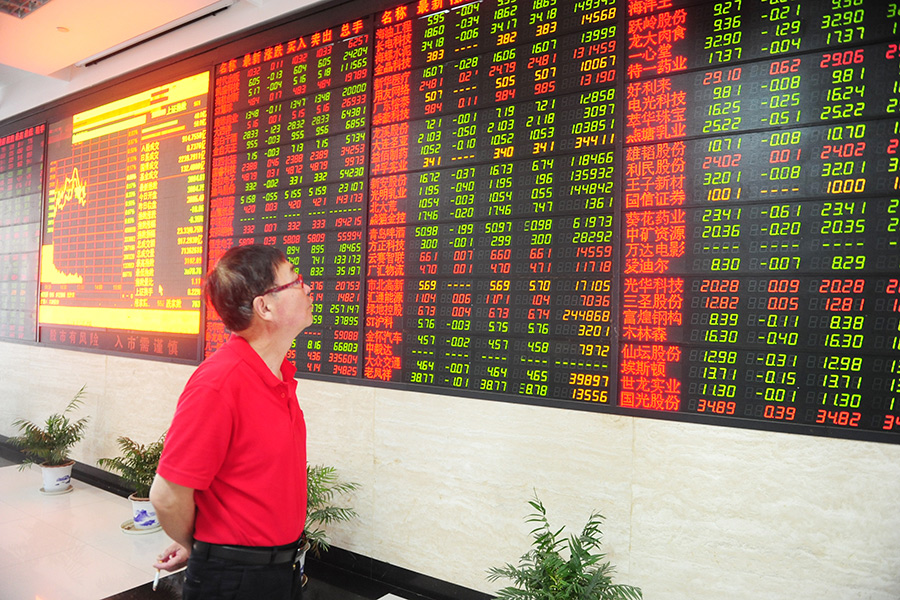 Connects funnel $1.2b into A-share market as policy scene brightens mood
Overseas investors poured a net 7.9 billion yuan ($1.2 billion) into A shares on Tuesday, prompting experts to say the former's interest in listed Chinese companies remains unabated.
Experts attributed overseas investors' optimistic outlook to business-friendly policies of China and the country's stabilizing economic outlook.
Overseas investors' active role on stock connect mechanisms linking Shanghai, Shenzhen and Hong Kong sustained the prevailing positive sentiment, preempting any premature profit-taking after Monday's rebound.
For the seventh consecutive trading day, there were net inflows of foreign capital into the A-share market through the stock connects.
Key indices, however, did not extend Monday's gains. Nor did they retreat. Their movements were marginal in either direction-the benchmark Shanghai Composite Index crawled up 0.17 percent on Tuesday while the Shenzhen Component Index slipped 0.02 percent.
International investor interest in China assets was also seen in the US stock market. While Nasdaq climbed a mere 0.4 percent and Dow Jones even less (0.05 percent) on Monday, the Nasdaq Golden Dragon Index, which tracks US-listed Chinese companies, soared 5.42 percent.
Market observers attributed the rise to investor support for US-listed Chinese companies. Ride-hailing giant Didi saw its price surge by 24 percent and online grocery service provider Missfresh closed 23 percent higher.
Hectic activity on the "buy side "followed certain developments in Washington. The United States expressed a likelihood of rolling back additional tariffs on some Chinese goods.
In a TV interview on Sunday, US Commerce Secretary Gina Raimondo said US President Joe Biden asked his administration to explore lifting some tariffs on imports from China, as part of the government's efforts to curb record-breaking inflation.
While Biden will take the final decision on lifting tariffs, Raimondo said "it may make sense" to lift tariffs on products like household goods.
Meanwhile, the Chinese photovoltaic industry appeared to cheer Washington's decision on Monday to suspend for two years the tariffs on solar panels imported from four Southeast Asian nations.
Chinese photovoltaic component makers are suppliers to solar panel producers in Southeast Asia, so will likely benefit by extension, said industry experts. Data from market tracker Wind Info showed that stocks of 22 A-share photovoltaic companies, or half of all the A-share companies from the sector, have attracted net foreign capital inflows over the past month.
The A-share photovoltaic companies reported an average 0.75 percent increase on Tuesday, extending Monday's nearly 5 percent jump.
Kinger Lau, chief China equity strategist of Goldman Sachs, wrote to clients on Thursday that A-share companies would start to see sequential earnings growth in the third quarter alongside the rebound in economic momentum. A model based on the recovering economy would point to a 4 percent year-on-year growth in earnings per share in the third quarter, in contrast to the 4 percent decline in the second quarter.
In Lau's estimate, the MSCI China Index, which tracks 744 onshore and offshore Chinese listed companies, will likely rebound by 20 percent in the next 12 months, although the gauge fell 18 percent during the first few months of this year.
High volatility may be inescapable for the A-share market over the next two quarters, said Laura Wang, chief China strategist at Morgan Stanley. But she still expressed optimism for A shares in the following months. In an environment of a relaxed policy cycle, industries like information technology, high-end manufacturing and environmental protection will benefit, she said.
The new pension fund policy announced by the State Council, China's Cabinet, in late April, is expected to ensure that pensions will serve as an important source of mid to long-term capital for the stock market. This will help heighten the participation of institutional investors and help boost market performance in the long run, she said.