Country poised to be hub for global EV players
Share - WeChat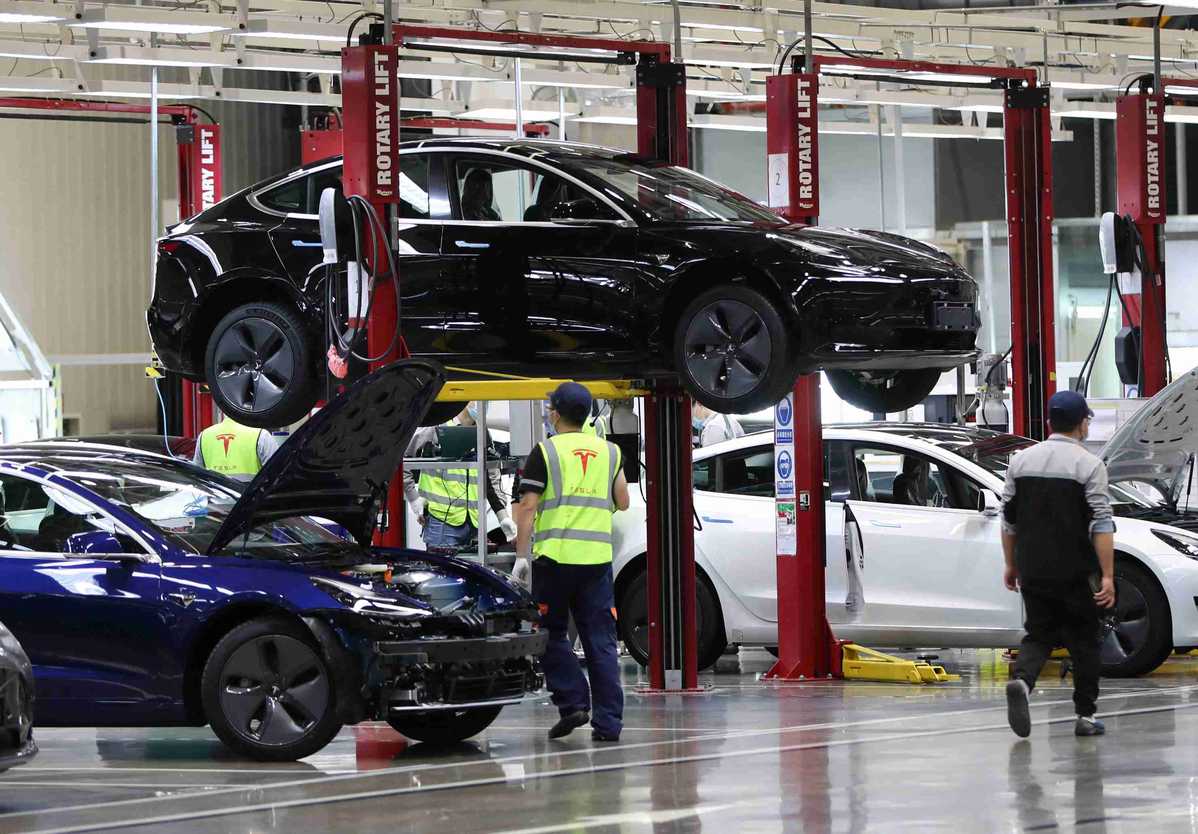 China, the world's largest vehicle market, is growing into an export hub for international carmakers as they charge into the age of electrification.
Tesla exported 97,182 electric vehicles from its Shanghai plant in the first half, more than double the figure in the same period last year.
The carmaker said the vehicles were shipped to Europe, Australia, Japan and Singapore and other markets.
They accounted for around one-third of the Shanghai plant's production from January to June, and almost half of China's new energy vehicle exports in the same period, according to the China Passenger Vehicle Association.
Grace Tao, vice-president of Tesla China, told reporters in June that the Shanghai plant is the company's most important production center and export hub globally, calling Shanghai-made Tesla vehicles a "business card of Chinese manufacturing".
Tao said over half of Tesla's global deliveries in 2021 were made from the Shanghai plant. The plant is also the first wholly foreign-owned car-producing factory in the country.
Exports are expected to grow further as Tesla has increased its annual production capacity at the Shanghai facility to 750,000 vehicles annually, the largest among its global manufacturing network.
Martin Heung, a China EV analyst at Nomura, a Japan-based financial services provider, said this is because China has developed a relatively sound production system.
"Making a car is nothing like making a coat. Car production requires a long supply chain ranging from glass and interior materials to electric motors and chips, especially batteries," he said.
"Over the past decade, China has built a sound industrial chain. Chinese battery makers, compared with their South Korean and Japanese rivals, have a cost advantage due to their production volume."
German premium carmaker BMW has made its Shenyang plant in Liaoning province the sole site of production for its electric iX3 sport utility vehicle, a popular model sold around the globe.
The carmaker and its partner, Great Wall Motors, are investing 5.1 billion yuan ($755.3 million) in their joint venture in Jiangsu province to produce electric Mini vehicles. The first batch is expected to roll off the assembly line in 2023.
Nicolas Peter, a BMW board member responsible for finance, stressed the strategic importance of its partnership with the Chinese company when the joint venture was unveiled.
"It underlines the tremendous importance of the Chinese market for us and our strong belief in the great industrial dynamics of China," Peter said.
He added that the vehicles are not only for Chinese customers. "We are producing in China, for China, as well as the rest of the world," he said.
Mercedes' first electric Smart-branded model has rolled off the assembly line in China. The German carmaker is working with China's Geely to explore the potential for its Smart brand.
The model, called Smart#1, made in a plant in Xi'an, Shaanxi province, was developed based on Geely's electric vehicle architecture, while Mercedes was responsible for the styling.
"We are creating a family of EVs as part of our renewal efforts," said Tong Xiangbei, CEO of Smart Automobile Co, a joint venture between Mercedes and Geely.
Tong said the company has China and Europe at the core of its global strategy. In Europe, Smart will remain in Mercedes' showrooms.
"As the first step, we will have 300 outlets in 14 European markets, including the United Kingdom and Switzerland," said Tong, who added Smart is working with Malaysian carmaker Proton to introduce the brand to Southeast Asia.