Attitudes to digital devices on wheels are changing
Share - WeChat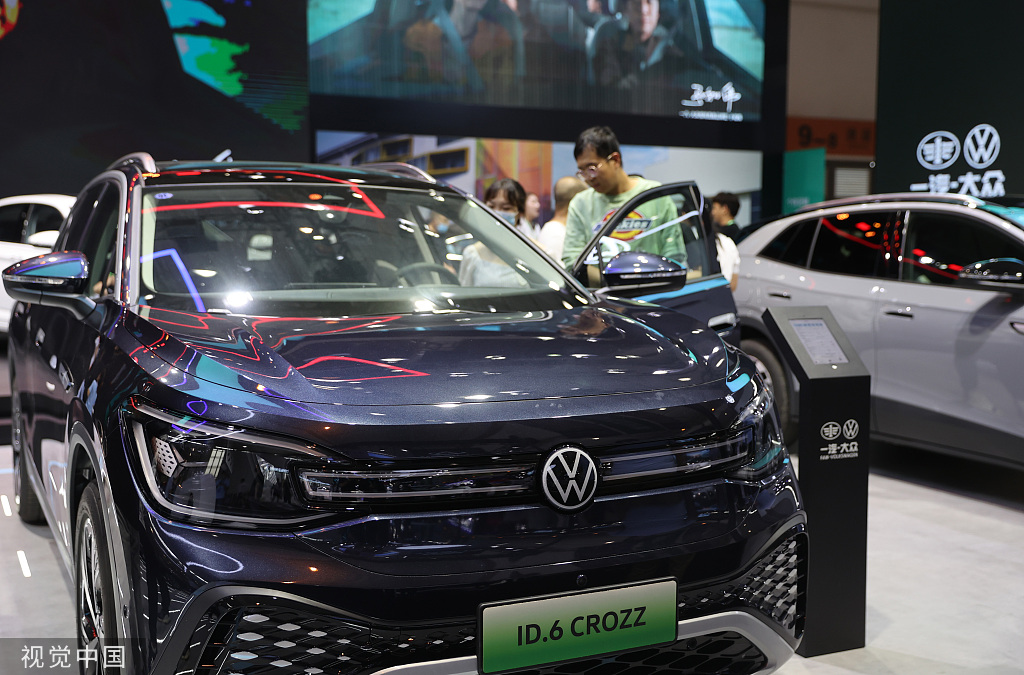 For decades, German and Japanese brands have been top choices of buyers of gasoline cars in China. Volkswagen represented quality and Toyota spelt fuel economy.
But the times they are a-changin', thanks to China's booming electric vehicle market. In July, in his last interview as head of Volkswagen Group China, Stephan Woellenstein described China's EV market as the domain of local car brands plus Tesla.
In the first half of this year, only three international brands, including Tesla, made it to the top 15 new energy vehicle or NEV makers in the country.
Tesla ranked third, and Volkswagen's two joint ventures-FAW-Volkswagen and SAIC Volkswagen-occupied the 14th and 15th places. The three had a combined 12.4 percent share of the NEV market.
It is understandably agonizing for the two joint ventures to reconcile with the rankings. On the gasoline car sales list, they ranked first and fourth respectively in the same period, despite COVID-breaks halting their production for weeks earlier this year.
One reason for the difference is they are latecomers. Volkswagen was one of the first to shift toward EVs among major international carmakers, yet it was years behind the Chinese ones.
Its ID.3 crossover, the first model on its dedicated electric car platform, did not launch in Europe until late 2020, and launched even later in other major markets, including China, when even Chinese startups had come up with their own models, let alone established ones such as BYD.
Another factor is Chinese carmakers have a better understanding of what tech-savvy local customers want, and they are much quicker to adopt new technologies, because they are overall open to new things.
International carmakers' Chinese joint ventures, in comparison, usually have to follow the schedule of their overseas headquarters, and that means when their latest models hit the market, they are not new at all in the eyes of Chinese car buyers.
Woellenstein said Europe set the benchmark in the age of gasoline vehicles but unfortunately it can no longer do so in the age of EVs.
"China will lead the auto industry for the coming 10 to 20 years, globally," he said. "Volkswagen must be fully aware of this and deepen our localization efforts."
Earlier this year, Volkswagen set up a subsidiary in China of its software arm Cariad in the hope of responding more quickly to the latest needs in the local market.
The team, most of whom are Chinese, said they will develop, update and continuously improve products at "China speed" based on local customers' expectations.
Despite such efforts, it is hard to tell whether international carmakers will be able to catch up without updating their mindset.
In this context, I can't forget an interaction I had with a senior Audi executive. In our first interview in late 2020, he asked me if the company's electric e-tron SUV drove like an Audi when he learned I test drove the model.
I understood the logic. Many international carmakers' definition of EVs are vehicles powered by battery, so they should resemble their gasoline siblings as much as possible in terms of handling, and this is what local customers demand in European countries.
Chinese carmakers' executives never ask me similar questions. They tend to emphasize how many pieces of lidar are used, how the model can adjust itself based on facial recognition, how smooth and natural the driver-vehicle dialogue can be even in dialects, and how easy it can park itself at narrow parking spaces. They define EVs as digital devices on wheels from the very start.