Orchestrating an enthusiastic following
Share - WeChat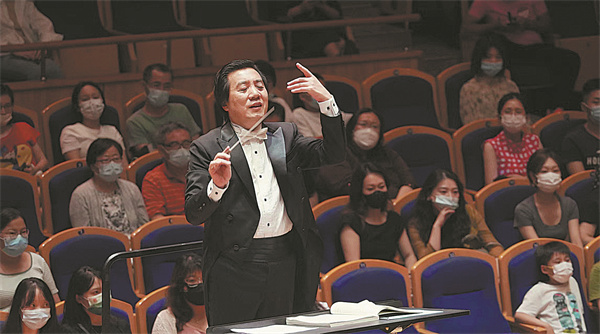 After months of COVID-19 concert cancellations, symphony orchestras are ready to again follow the conductor's baton this summer.
On Friday night, an audience packed the Beijing Concert Hall, one of the most popular venues for classical music fans. They were about to witness the birth of a new symphony orchestra-the Beijing Union Symphony Orchestra, the first private symphony orchestra in the capital.
This was the first concert of the orchestra that performed under the guidance of conductor Fan Tao.
One of their pieces was Symphony No 9 in E minor, From the New World, composed by Antonin Dvorak in 1893. It might be one of the best-known classical music pieces among Chinese audiences.
"It's exciting, isn't it?" says Fan, who is the music director of the new orchestra. "Dvorak wrote that music piece about a year after he moved to the United States. His new life in the US yielded the piece that became widely regarded as his signature work. We decided to perform it during the first concert of the Beijing Union Symphony Orchestra, hoping to deliver the same message. From now on, we will embark on a new journey together, with the audience and our musicians."
Violinist Chai Liang joined in the concert, performing Beethoven's Violin Concerto in D major with the orchestra. The orchestra also played the overture of the German opera, Oberon, by German composer Carl Maria von Weber, before a big cake was presented onstage to celebrate the arrival of the orchestra.
According to Fan, the Beijing Union Symphony Orchestra will give more than 10 concerts in the following two months. This program includes a concert featuring music by Ludwig van Beethoven, which will be held on Sept 30 at the Beijing Concert Hall, and a concert of work by Peter Ilyich Tchaikovsky, which will be held on Oct 3 at the National Library Concert Hall in Beijing.
"People are curious about us because it's challenging for symphony orchestras to survive amid the pandemic, let alone launching," says Fan. "We are fully prepared. The first concert sold out fast, which also gave us lots of confidence."
Most Popular