Chinese traditional musical instruments in spotlight of festival for children
Share - WeChat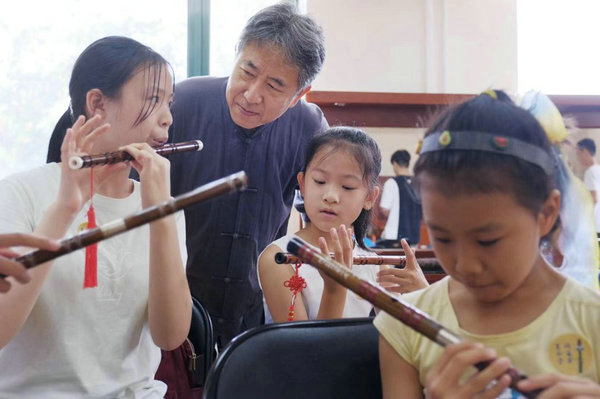 Guqin, xun, flute and xiao, four major traditional Chinese musical instruments, were highlighted during the ongoing 2022 Gateway to Arts Summer Festival's summer camp.
On Aug 5, about 50 music lovers, aged from 9 to 50, performed in a concert, featuring classic Chinese music pieces, such as Three Stanzas of Plum Blossoms and Three Variations of Yangguan.
The three-day summer camp had veteran musicians, including guqin player Li Fengyun and Wang Jianxin, who plays xun, flute and xiao, as teachers, giving classes to music lovers who are interested in these musical instruments.
"Last year, the annual festival launched a summer camp for these traditional instruments for the first time and the warm feedback from the music lovers made it happen again this year," says Li. "Guqin, one of the oldest musical instruments in China, has a large fan base, especially with young people. It's not only about the musical instrument itself but also about teaching traditional Chinese culture, especially Chinese poems."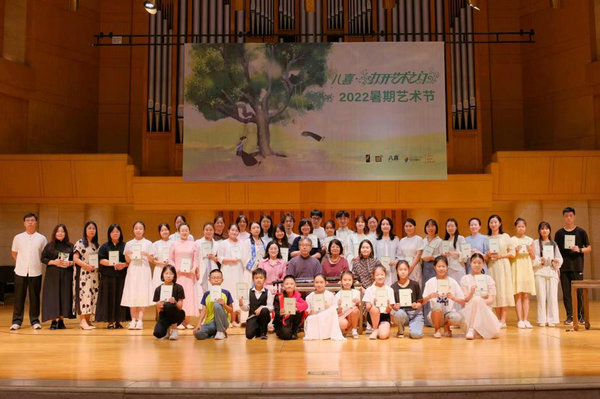 Xun is a globular, vessel flute, and xiao is a vertical end-blown flute, both among some of the oldest musical instruments in China. Compared to guqin, the xun and xiaomay appeal to a minority taste but for teacher Wang, it's a good sign for popularizing those musical instruments amongst young people.
Having established itself since 1995 as one of Beijing's biggest arts festivals for children during the summer, the annual Gateway to Arts Summer Festival is being held at the Forbidden City Concert Hall from July 3 to Aug 31. During the two-month-long festival, audiences can enjoy a wide range of art forms, including classical music, traditional Chinese operas, dance and puppet shows. Over 60 shows are staged at the Forbidden City Concert Hall as well as 10 summer camps for amateur art lovers.