The art of giving
Share - WeChat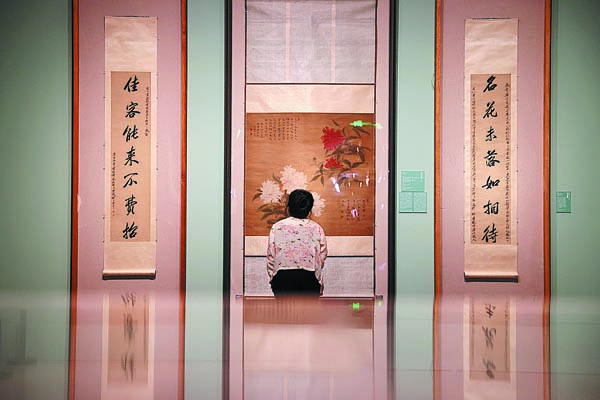 Museum displays a range of ancient paintings from late intellectual Deng Tuo's former collection, Lin Qi reports.
A donation ceremony was held at the National Art Museum of China in July for the addition of just one calligraphy work to its collection.
The work, written on two separate pieces of paper, was created by the late editor-in-chief of People's Daily, Deng Tuo, in 1965. It has verses from a poem by Chairman Mao Zedong.
The donation was made by Deng's family on the sidelines of an ongoing exhibition at the museum in Beijing that shows a selection of Chinese paintings from Deng's former collection.
Deng was well-versed in literature, art and music. He also built a personal collection of classic Chinese paintings, reflecting a fine discernment of the ink art tradition in the country.
Soon after the National Art Museum was opened to the public in 1963, Deng donated more than 140 ancient paintings he had obtained through years to boost the museum's collection and academic research. The donation includes quality works by ancient master painters, which offer a glimpse of the development of art between the Song (960-1279) and Qing (1644-1911) dynasties.
An exhibition dedicated to Deng's donation was held in 2012 to mark the centennial of his birth and his generosity and commitment to preserving Chinese cultural traditions. Selected works from this collection have also been exhibited at group shows to inspire art donations to public museums.
Deng once said he collected art because he loved the country's cultural traditions, and while he owned many artworks, he didn't want to be "a servant" of them, so he donated the personal assembly to the museum.
Most Popular