Australian conductor appreciates harmony of Chinese music
Share - WeChat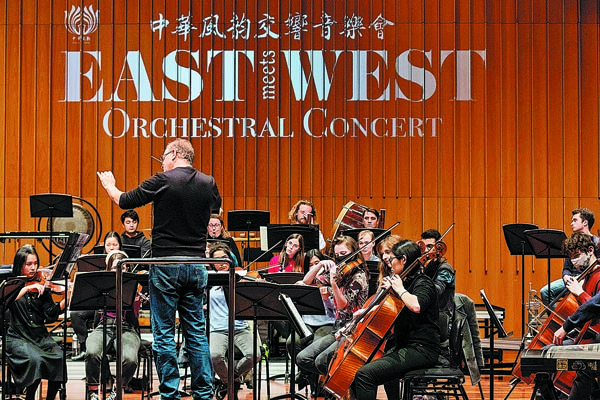 Guy Noble, one of Australia's most versatile conductors, who took the baton for the touring concert East Meets West, says he would like to learn more about Chinese music.
"I'm impressed by the history and the beauty of the music and the melodies, as well as the different sorts of scales and harmonies Chinese music has," he says.
"Even when we put them into a Western form, they're still incredibly beautiful and quite refreshing to the ears of somebody who mainly hears Western music," he says.
The East Meets West concert tour in Australia resumed this year after being postponed twice due to the COVID-19 pandemic.
It was hosted in Canberra on July 30, bringing audiences a repertoire of well-known Chinese and Western pieces such as Jasmine Flower, Carmen, Romeo and Juliet, and The Yellow River Piano Concerto.
Noble says that it was the first time he conducted The Yellow River Piano Concerto. "So we're all learning it together," he says.
The conductor loved the music which he described as "fantastic". "It's beautiful… it has a wonderful energy and a great passion."
The concert in Canberra had been slated for last autumn. On July 30, Noble said it felt great to finally be doing the concert.
While it was called East Meets West, music from China and the West with the same themes were brought together. For instance, they have the famous Butterfly Lovers Violin Concerto from China, as well as the Romeo and Juliet Suite No 2, Op 64ter.
Chinese and Australian soprano singers Ya Fen and Victoria Lambourn performed a duet Hope Betrayed, which was inspired by the Chinese classic novel A Dream of Red Mansions.
Noble says he loved the duet as it showed completely different singing styles: Those of traditional Chinese opera and Western opera. "They're not exactly the same, but they came together," he says.
In an interview prior to the concert, the conductor said he believed the audience could be "East Meets West" as well.
"I hope that the two audiences come together, joined by music. That's what this whole thing is about," he says.
"I think by meeting each other and by hearing music that's not normally heard, each sort of culture gets to know a little bit more about each other."
Having been a professional conductor for more than 20 years, Noble calls music an international language. He notes that more music at the concert is about love, which is also an international language.
"We're much closer than we think," he says.
"The more we understand about another culture, we are going to feel less alien about it or less concerned about it … The more we know each other, the less we're going to have disagreements."
Noble has worked in Hong Kong, a city he loves. He also spoke highly of some Chinese musicians, such as pianist Lang Lang, who he thinks has inspired many kids in China to learn music, but he admits that his knowledge about Chinese culture is limited.
He says that conducting the Canberra concert is an experience that he has enjoyed, which makes him more interested in discovering the background and history of the music, as well as the stories behind it.
Noble is ready to create more things that can involve dance or calligraphy, or some of the other aspects of Chinese culture, and put them together with music.
He would also like to visit other Chinese cities one day, or probably work in the country. "It's obviously such an enormous, amazing place," says Noble.
Most Popular