Nation fights outbreaks in Hainan, Tibet
Share - WeChat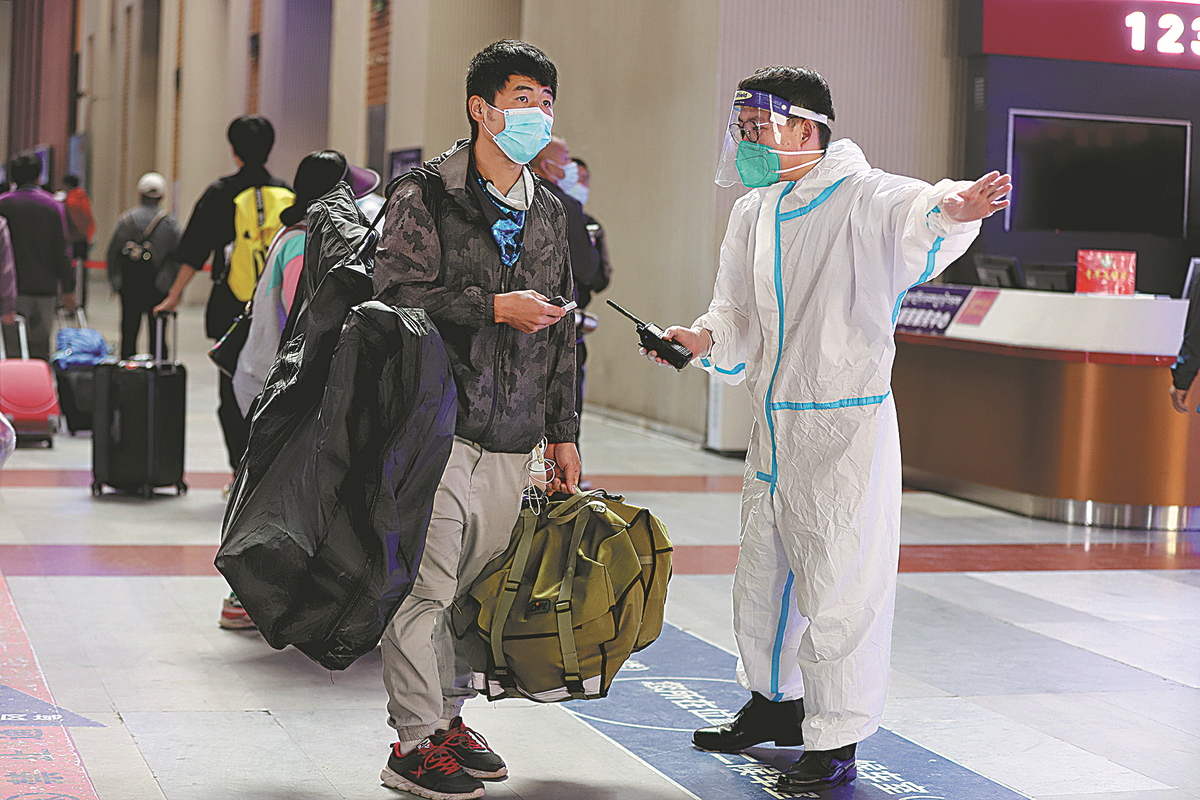 China has taken swift and effective steps to counter the COVID-19 outbreaks in Hainan province and the Tibet autonomous region to help curb the possible spillover of the epidemic to other areas.
The latest figures from Hainan province showed that from Aug 1 to noon on Wednesday, 2,454 people tested positive for the virus. The province faces high risk of transmission of infections among communities in the area.
So far, more than 10,000 medical workers from 19 provinces and regions have been dispatched to Hainan to assist in its fight against the outbreak. Nearly 8,000 medical workers were also sent to the province help with nucleic acid testing, increasing the province's capacity to process nucleic acid test tubes to 24 million per day.
Guo Yanhong, an official in the National Health Commission's bureau of medical administration, said at a news conference in Beijing on Wednesday that the highly infectious Omicron subvariant BA.5 can easily result in sporadic outbreaks in a short period of time. Hainan is facing a complicated situation in dealing with the outbreak while the epidemic may be rapidly spreading.
She said that the nation has coordinated large numbers of medical workers and medical resources to improve the efficiency of nucleic acid testing because the "rapidity" of testing and processing is pivotal in accelerating quarantine and treatment.
She added that medical assistance was also sent to the Tibet autonomous region to improve its ability to fight the outbreak.
"The region lacked experience in dealing with widespread infections because it had found only one confirmed case before this round of the outbreak. But the region has adopted some preventive measures in advance in case of any emergency," Guo said.
The Tibet autonomous region has built new or renovated some designated hospitals as well as buildings temporarily converted into hospitals. Medicines and protective supplies were also stocked to respond to any emergency.
"Lhasa, for example, the region's capital, with 870,000 residents, has been equipped with a designated hospital of over 200 beds. The city also has a temporary hospital with 2,000 beds," Guo said.
The region's Ngari Prefecture announced on Wednesday that the entire area will undergo "static management" for three days starting on Thursday, under which employees of companies and government bodies are required to work from home and operations of entertainment places are suspended.
Four travelers tested positive for COVID-19 in the prefecture on Sunday.
Another popular travel destination over the summer, the Xinjiang Uygur autonomous region, also faces the risk of infection from the epidemic.
Since 8 am on Wednesday, five major areas of Urumqi, the region's capital, have been placed under static management for the next five days. On Tuesday, the region reported 27 asymptomatic cases.