Despite Pelosi's Taiwan visit, Chinese optimistic about reunification prospects
Share - WeChat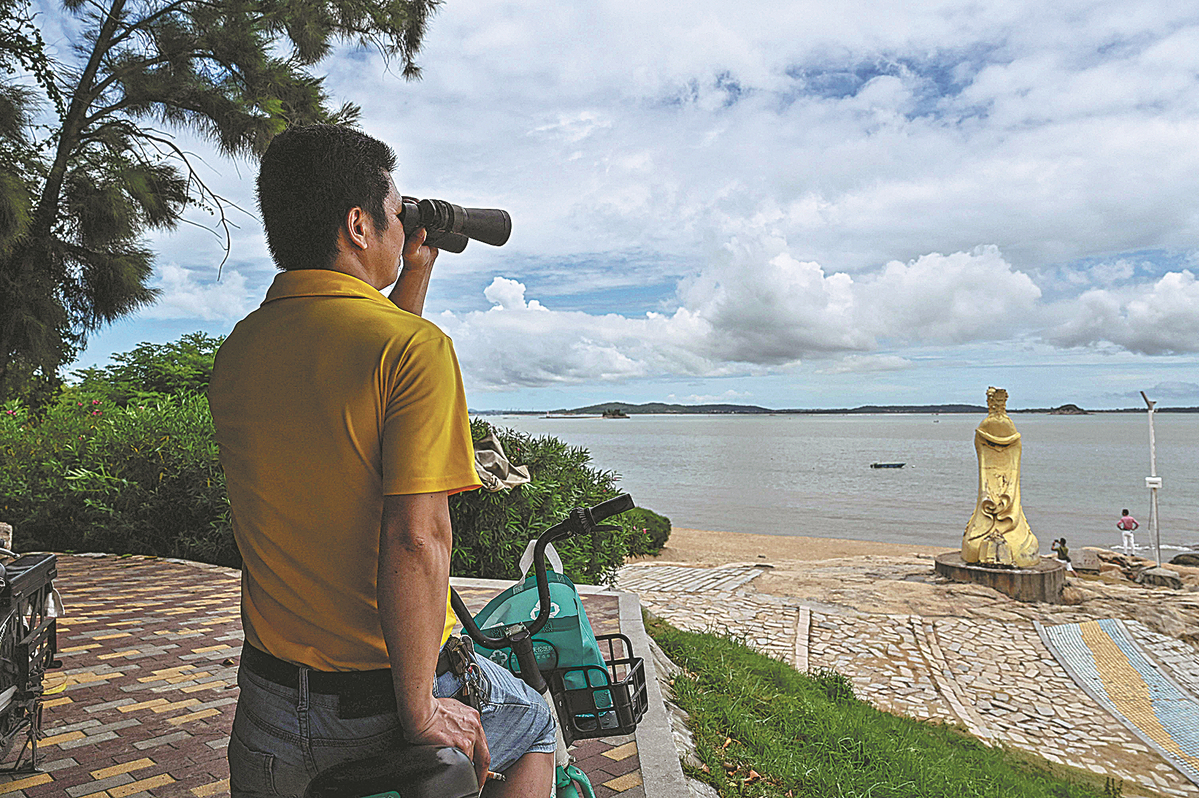 The Chinese people are infuriated by US House Speaker Nancy Pelosi's visit to the Taiwan island, but are generally optimistic and confident in China's ability to handle the situation and thwart any secession efforts by Taiwan separatist forces and foreign interference.
Pelosi's visit to Taiwan has escalated tension in the region since its proposal in April. The situation reached a climax on Tuesday night when her plane touched down on the island, prompting strong protests from various Chinese departments.
Starting on Tuesday afternoon, tens of millions of Chinese netizens tuned into live-streams that tracked Pelosi's plane from Malaysia to the island. Comments wishing for reunification were refreshing so fast that it became hard to read. One of the live-stream providers, China.com.cn, garnered over 5 million new subscribers on short video sharing platform Douyin from 9 pm Tuesday to Wednesday.
When State media reported China's Su-35 fighter jet(s) took off to cross the Taiwan Straits as Pelosi's plane approached proximity of its destination, the news "broke" China's microblogging platform Sina Weibo and people couldn't refresh the app due to the massive spike of traffic.
Many citizens hoped the country would take more drastic military countermeasures, while many others also breathed a sigh of relief knowing that the cooler heads had prevailed and a direct military confrontation between two of the world's nuclear powers was averted.
Cao Ying, an employee at a consulting firm in Hainan province, said "the Chinese people are peace-loving, but the Chinese people's shared anger toward Pelosi's visit speaks volumes to the nation's stance and solidarity regarding the Taiwan question."
"I have faith in China to do the right thing and at its own pace," she said. "What is important is that we stay focused on the big picture. After all, you shouldn't kick over the entire chess board just because your opponent made one nasty move."
A Chinese netizen who goes by the name "China Super Dad" said his friends are furious not only by Pelosi's blatant disregard of China's sovereignty and warnings, but also angry at the cynical and instigating rhetoric by Taiwan separatists calling the Chinese mainland to back up its own words.
"During the 2019 Hong Kong protests, when a photo of a Shenzhen gym packed with Chinese military vehicles went viral on the internet, the Hong Kong rioters were frantically asking for military intervention," he wrote in an article that garnered hundreds of thousands of views on instant messaging platform WeChat.
"But half a year later, China surprised the world by adopting the National Security Law for Hong Kong that resolved the issue with great speed and minimal cost," he said. "This proves that Chinese statesmen are clear-minded and highly capable. We don't need to feel disappointed and disheartened by the current situation in Taiwan, we will get the last laugh."
A netizen named Zhu Dalang said "China's focus is on reunification with Taiwan, and direct military confrontation with the US is not conducive to achieving this goal. Others should not misjudge China's patience and prudence as a weakness."
"Thursday's exercise by the Chinese military would practically surround the island, meaning that the Chinese military may have the ability to cut off Taiwan's access to the outside world," Zhu said. "This has huge strategic implication for the Taiwan question."
Huang Min, a Fujian province native who experienced the 1996 Third Taiwan Straits confrontation, said at that time, locals could sense tension was mounting given the presence of armored vehicles and military personnel being seen transferred to the front line.
In 1996, China held a series of live-fire drills around Taiwan, but most of the exercises were done in the Taiwan Straits and the island's northern and southern waters, Huang recalled. Now, the Chinese military plans to conduct military drills all around Taiwan, most notably in the eastern waters of the island, "this is a noticeable progress of military capability," he said.
However, Huang said him and his friends still wish to see a peaceful reunification, given how Fujian and Taiwan share many similarities in culture, language and customs, as well as have close relations in history, family ties, economy and other aspects.
"Military conflict would inevitably hurt ordinary people in Fujian and Taiwan, and thus should not be waged lightly," he said. "We have to love our country rationally, and trust that our Party and the government can make the best choices in the interest of its people."