People who have recovered from COVID should not be discriminated
Share - WeChat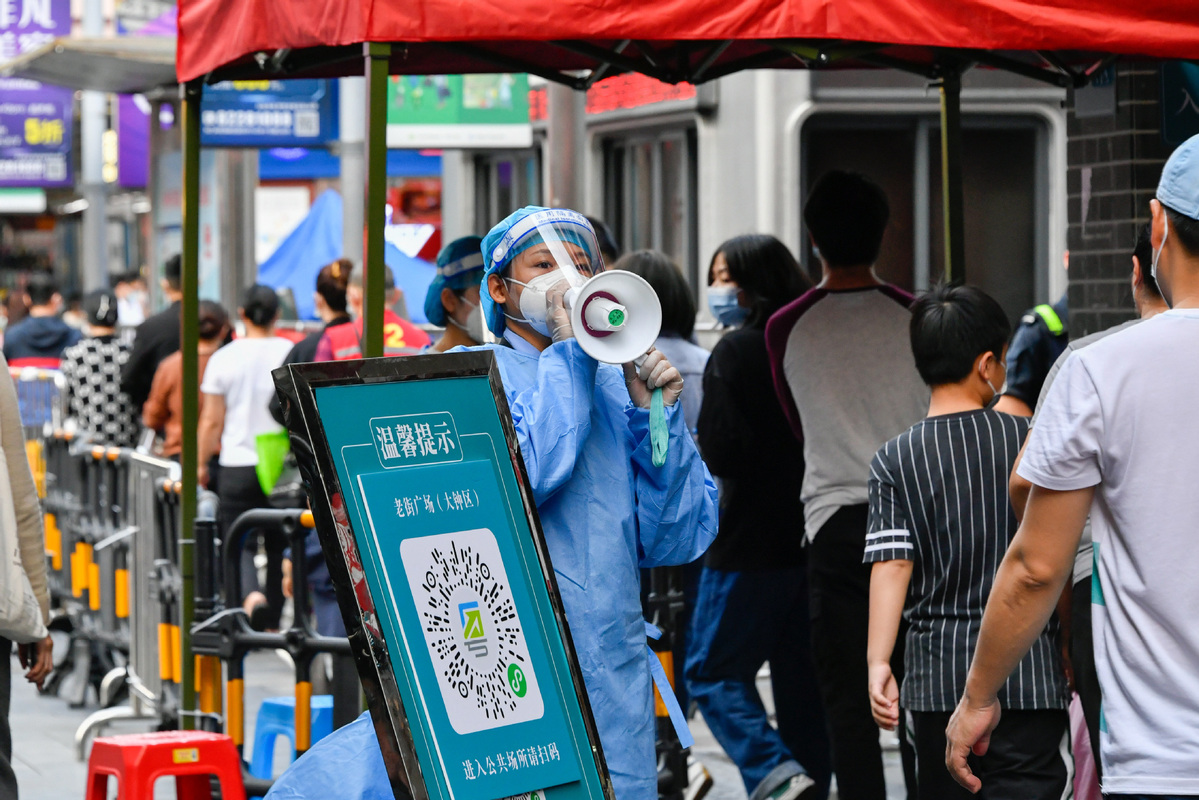 The central authorities are stepping up efforts to protect the working rights of recovered COVID-19 patients who may be discriminated against or receive unfair treatment in the job market due to their previous infection.
Employers and human resources agencies are prohibited from refusing to hire job seekers because they had tested positive for COVID-19, said an urgent notice jointly released by the Ministry of Human Resources and Social Security and the National Health Commission on Monday. They are also prohibited from dismissing employees who had tested positive for COVID-19 and recovered, the notice added.
The notice said that the malpractice and misuse of health codes found in some areas recently had severely infringed on people's privacy, working rights and the fairness of the job market, so companies and individuals are not allowed to check the COVID-19 test results of other people, except for in an official examination due to COVID-19 protection and control requirements.
Yao Junchang, co-founder of the Beijing Weiheng Law Office, said the results of COVID-19 tests are part of personal privacy, so companies and online recruitment platforms would violate the law on personal information protection if they check the test results of workers and job seekers without their permission.
"It's understandable that employers hesitate to hire recovered patients out of concern for other workers' feelings. But no one wants to be infected by the novel coronavirus, so refusing to hire recovered COVID-19 patients or dismissing workers using this excuse is illegal and unreasonable," he said.
"Recovered patients who experience discrimination in the job market can seek help from human resources departments to ensure fair job opportunities. Also, if the unfair treatment and discrimination bring physical or psychological damage to the recovered patients who can't land a job, they can also sue the company for an apology and financial compensation," Yao said.
The story of a young woman nicknamed A'fen became widely known online in July. She was infected with COVID-19, and that made her life and job hunting in Shanghai very difficult during the recent coronavirus outbreak in the city.
As reported by some news outlets, such as The Paper and Guangzhou Daily, A'fen could not find a place to rent because she could not find a job to pay the rent. Fortunately, she was hired by an express company after her story was posted online last month.
A'fen's difficulties attracted attention from Shanghai authorities. In late July, Shanghai released a decision to bolster employment, which clarifies that employers are not allowed to dismiss workers who once had an infectious disease, or refuse to hire people for that reason. The decision took effect from July 21.
In another instance, recruitment information exposed by netizens — such as "no recovered COVID-19 patients needed" and "job seekers should never have had COVID-19 or working experience in mobile cabin hospitals" — stirred heated discussions online.
Since 2020, the central government has made continuous efforts to protect recovered COVID-19 patients from unfair treatment.
The State Council, China's Cabinet, clarified on July 13 that it is necessary to secure fair employment by prohibiting discrimination against recovered COVID-19 patients. The Supreme People's Court stressed on July 22 that discrimination should be firmly prohibited.
Yao, the law office co-founder, added that the law will give stronger support to recovered COVID-19 patients on protecting their working rights.