Ratcheting up the intensity
Share - WeChat Team China star Zhou Qi says tougher drills key to preparations for World Cup qualifiers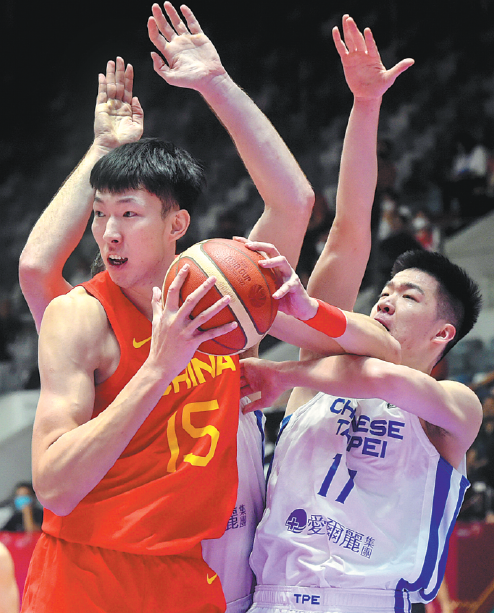 With its lack of intensity and consistency exposed at international level, China's men's national basketball team has pledged to toughen up through drills in Europe and come back stronger for next month's World Cup qualifiers.
Once a force to be reckoned with at the Olympics, the Chinese men's team now finds it hard to even prevail in Asia, underlined by a second straight quarterfinal exit at the FIBA Asia Cup last week following a loss to Lebanon in Jakarta.
The disappointing campaign, though, needs to be put in perspective, with many players fatigued after picking up COVID-19 infections on their way to Indonesia. Yet the team refused to use that as an excuse for another early exit at the continental tournament after a fifth-place finish at the previous edition in 2017.
"Competitive sport is all about results, there is nothing wrong with that. We lost and then we accepted the criticism. It is what it is," said Team China's star center Zhou Qi, who averaged 15 points, 12.7 rebounds and 1.7 blocks in three games as the team's biggest contributor at the tournament.
"To blame the conditioning issues caused by COVID-19 feels like making excuses for our poor performances," added Zhou, a former NBA player with the Houston Rockets (2017-18).
"At the end of the day, we still managed to assemble a full roster for the tournament representing our country. So, it's on us that we didn't deliver when it mattered."
Team China's 69-72 loss to Lebanon, an opponent it had previously beaten 11 times, when most players had basically recovered from their virus symptoms sparked a backlash back home from fans and media. Their biggest complaint was the team's sloppy play-underlined by China's 22 turnovers to Lebanon's eight.
Lacking its traditional strength in the paint that Yao Ming and his former NBA counterparts Wang Zhizhi and Yi Jianlian used to bring, the current team coached by Du Feng has apparently lost its edge against surging Asian rivals. The likes of Lebanon and South Korea have made huge strides in recent years, helped by the addition of naturalized talent from the US.
At the Asia Cup, China's backcourt combo of Sun Minghui and Hu Mingxuan had their lack of consistency against aggressive defenses badly exposed. The two CBA All-Stars combined for just nine points while turning the ball over nine times, while Lebanon's veteran guard Wael Arakji scored a game-high 32 points in the quarterfinal game on July 20.
It all came down to a lack of high-intensity drills, according to Zhou, who played with the South East Melbourne Phoenix in Australia's NBL last year.
"I think we need to better adapt to the physical and high-intensity play on the international stage," said Zhou. "The fact is that most of us are not playing in a competitive enough environment at home, so we struggle every time trying to match the intensity, physicality and hustle at international tournaments."
Zhou's huge double-double of 22 points and 21 rebounds against Lebanon was a rare positive for China in the defeat against Lebanon.
Coach Du credits the 2.17-meter center's time in the Australian league for his progression from a lanky rebounder and rim protector to now being a dominant all-round force.
"Zhou's strong presence was on full display at the Asia Cup. He did a marvelous job in the paint," said Du, who was a member of the Chinese squad that made the quarterfinals of the 2008 Beijing Olympics.
"Strong teams even like Australia had to throw the double-team defense on him, which is proof of his offensive threat developed through high-quality competition overseas," said Du.
After his impressive play at the Asia Cup and in earlier 2023 World Cup qualifiers, where he has so far averaged 16.4 points and 11 rebounds, speculation surfaced on Chinese social media that Zhou's agent is working on his return to the NBA. Multiple franchises, most notably the Los Angeles Clippers, are rumored to have shown interest in landing the 2016 NBA Draft's 43rd overall pick.
For now, though, the 26-year-old is locked into national duty as Team China began a European training trip on Monday to prepare for its next phase of World Cup qualifiers.
Currently in Spain with a plan to also visit France, Team China will play at least four warm-up games against "high quality" opposition, according to coach Du, before competing in two road games against Kazakhstan on Aug 25 and Bahrain four days later. China is bidding to earn one of seven Asian qualification spots for next year's FIBA World Cup, co-hosted by Indonesia, Japan and the Philippines.
"Hopefully, we can discover more of our weaknesses through scrimmages against high-level European rivals and make adjustments in time for the next World Cup qualifying window," said Du.
"Asian rivals have all improved a lot. It's up to us to level up our game to match their competitiveness and try to regain our momentum."
Due to a disappointing campaign at the home World Cup in 2019, Team China lost the only direct qualification spot available for the Tokyo Olympics to Iran, missing out on the Games for the first time since the country's Olympic debut in 1984.
As a perennial continental power and a two-time quarterfinalist at the Olympics (1996, 2008), Team China is keen on speeding up a rebuild since the retirement of Yao and his peers, with Zhou now considered the new backbone of the young squad.
"My goal, no matter where I play, is always to represent my country strongly on the international stage," said Zhou.
"I am looking forward to continuing doing that, beginning with the warm-ups in Europe and then the World Cup qualifiers."
sunxiaochen@chinadaily.com.cn