Huangdu village flourishes as agriculture advances
Share - WeChat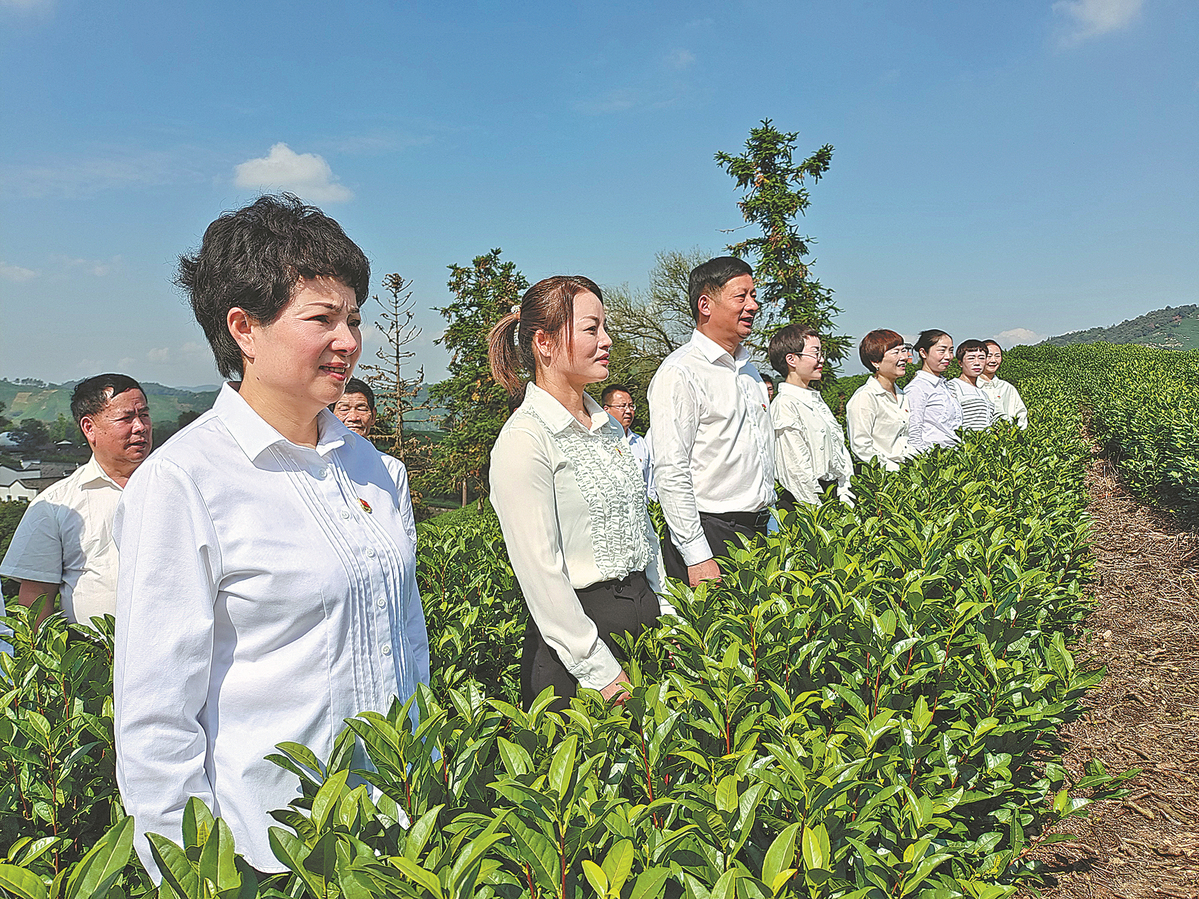 Through the collecting and analyzing of data, the widespread use of digital agriculture in Zhejiang province has proved fruitful in providing better guidance and helping manage agricultural production, raising the income of farmers.
The Zhenong Code application launched in Huzhou's Anji county during last year's White Tea Festival offers farmers a full spectrum of services, including those related to production, processing, circulation, loans, insurance and sales to bolster the management and development of the county's white tea sector.
The price of code-certified Anji white tea is about 100 yuan higher than ordinary white tea, and the county's output value increased from 2.8 billion yuan ($408 million) in 2020 to 3.1 billion yuan last year.
"We have worked hard on the development of Anji's white tea sector for more than 20 years, raising net per capita income from less than 1,000 yuan to over 60,000 yuan. From simply planting tea to combining cultivation with tourism, we are heading toward rural vitalization," Sheng Awei, Party secretary of Huangdu village, said during the 15th CPC Zhejiang Provincial Congress last month.
Huangdu is currently promoting the integration of tea, culture and tourism, and a 4A-level scenic spot, complete with tent hotels and camping spots, is under construction to take advantage of the tourism potential of surrounding villages.
Thirty-odd years ago, Huangdu was one of the poorest of the more than 200 villages in the county.
Residents tried and failed to grow peppers, bayberries, chestnuts and chrysanthemums before the government suggested they try their hand at white tea in 1997.
The village began to prosper in 2002, and last year, its collective economy was worth 2.5 million yuan, with the annual per capita income of villagers reaching 64,000 yuan.
On April 9, 2003, Xi Jinping, then Party secretary of the CPC Zhejiang Provincial Committee, visited tea plantations in Huangdu to observe the efforts to become prosperous through tea and green development.
The farmers, who are all members of the Communist Party of China, wrote a letter to Xi in April 2018 to report on their initiative to donate 15 million tea saplings to people in poor areas.
Xi, by then China's president, replied, praising village Party members in Zhejiang for their donations. Since 2018, Huangdu has helped five counties in three provinces out of poverty through tea sapling donations.
Farmers in Anji are just some of a growing number of rural residents benefiting from digital applications and preferential policies in Zhejiang.
In June last year, the CPC Central Committee and the State Council, China's Cabinet, released a guideline on turning Zhejiang into a demonstration zone for common prosperity.
Since then, authorities in the province have adopted a raft of measures aimed at achieving that goal by 2035, when Zhejiang's per capita GDP and incomes of urban and rural residents are expected to be on par with those in developed countries.