Everlasting love story
Share - WeChat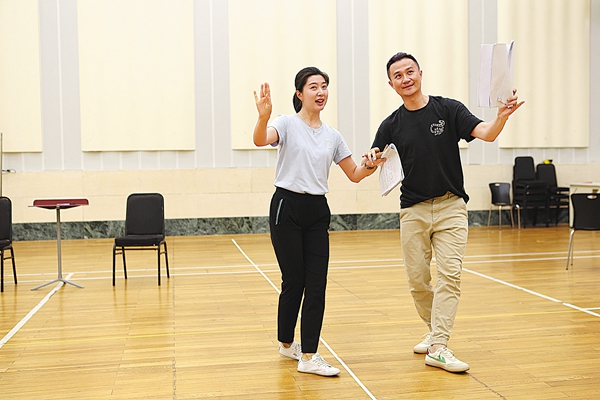 Contemporary Kunqu Opera production of Peony Pavilion remains true to the play's essence, Zhang Kun reports.
Shanghai Grand Theater will premiere a Kunqu Opera production of Peony Pavilion on Aug 10. Created by Tang Xianzu (1550-1616) over 400 years ago, the play is one of the most popular theater classics in China and has been frequently performed around the world. The new production is the first major project by Shanghai Grand Theater after it was forced to close for about three months earlier this year, due to the pandemic.
The production also marks the introduction of a new eastern stage aesthetics series at the grand theater.
Featuring a new adaptation by playwright Luo Zhou, and two award-winning Kunqu artists Zhang Jun and Shan Wen in the leading roles, the production will be different from all previous interpretations, notes Zhang Xiaoding, the theater's general manager.
"Over the past 20 years, many productions of Peony Pavilion have been shown at our theater by generations of established opera artists from all over the country. Shanghai Grand Theater has always put an emphasis on traditional Chinese culture," says Zhang Xiaoding.
"In 2019, we produced the original Kunqu Opera Six Chapters of a Floating Life, winning wide acclaim. We hope to extract the essence of traditional Chinese art and combine it with contemporary expressions to create cross-disciplinary productions that will enrich people's aesthetic experiences and leave fresh impressions of traditional Chinese culture."
The story of Peony Pavilion, also known as The Return of Soul at the Peony Pavilion, revolves around Du Liniang, a 16-year-old who falls in love with a young scholar named Liu Mengmei in her dream before eventually dying from lovesickness.
When Liu visits the garden that Du used to frequent, he falls in love with her after seeing her portrait. She shows up in his dream. Miraculously, Du then comes back to life and Liu proves his worth in front of Du's father by excelling at the imperial examination.
The original play by Tang consists of 55 scenes that can take several days to perform.
The two leading actors, 48-year-old Zhang Jun from Shanghai and 33-year-old Shan from Nanjing, East China's Jiangsu province, have both performed Peony Pavilion hundreds of times before.
Shan won the gold award of the 29th Plum Performance Award, China's top award for theater and opera performances, for her portrayal of Du in 2019, while Zhang Jun produced China's first immersive Kunqu Opera production of Peony Pavilion, which was performed in a vintage garden in suburban Shanghai's Zhujiajiao town for more than 10 years.
This is the first time the two artists are co-starring in a production. Zhang Jun praised Luo's adaptation of the classic opera, comparing its structure to the 2010 blockbuster movie Inception by British-American director Christopher Nolan.
"I am so trapped in this dream-within-the-dream narrative of Luo that it has inspired wild ideas in my mind. I can't help but wonder, is it me performing a Kunqu Opera, or is Kunqu Opera interpreting my life?" says the actor.