What lies beneath
Share - WeChat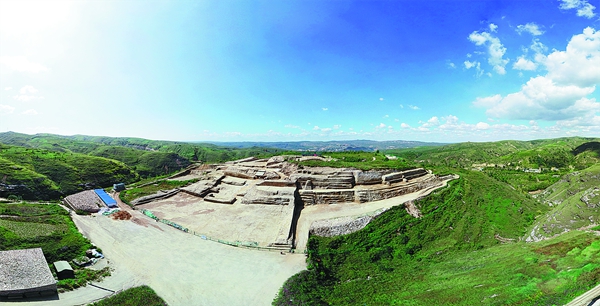 Archaeologists unearth details about glory of an ancient metropolis and strive to get a clearer idea of the colossal site's place in history, Wang Kaihao reports.
Editor's note: A national comprehensive research program, launched in 2002, to trace the origins of Chinese civilization, has led to the excavations and studies of key sites that are about 3,500 to 5,500 years old. It has revealed a host of secrets about ancient China, including how early civilizations were formed and how they merged to create unity in diversity. China Daily speaks to experts working at these sites to decode their recent discoveries.
Near the northern edge of the Loess Plateau on the west bank of the Yellow River, stands the Shimao site in Shenmu, Shaanxi province. History has played tricks, in the past, with its legacy and identity which is now being better appreciated.
It is located in an area where a group of Ming Dynasty (1368-1644) military structures remained along the Great Wall. This led to confusion. When people, in recent times, saw stone walls still standing meters high at the Shimao site, they sometimes confused them as a part of the Great Wall. However, documentation, actually written in the Ming Dynasty, said it was probably built during the Tang Dynasty (618-907).
They were all wrong. Shimao is actually millennia older. This is beyond dispute as it has been verified by archaeologists. The capital, presumably, of a regional power was absent in ancient text records, but many mysteries and surprises lurk under its colossal structure.
Covering 4 million square meters on a terrace, nearly six times the size of the Forbidden City in Beijing, the approximately 4,000-year-old Shimao site is the largest city ruins of its era in China. In the eyes of scholars, it is also probably among the biggest archaeological discoveries in recent decades and is closely connected to the birth of ancient Chinese civilization.
Sun Zhouyong, now head of Shaanxi Academy of Archaeology, has been devoted to the excavation and studies of Shimao over the past decade. Recalling his first impression of the "crazy stones", as he dubbed them half-jokingly, Sun says he was stunned, considering prehistoric cities in China were usually built up through the earth.
"The constructional components and walls were so well preserved," he says. "And stone statues were still there, in the magnificent 'palace' atop the terrace."
Most Popular