Cooperation of Laos and China benefits both
Share - WeChat Xi's state visit in 2017 included meeting with old friends, launching landmark projects
Editor's Note: China Daily is publishing a series of stories reviewing President Xi Jinping's visits at home and abroad in the past decade, to showcase his vision for development in China and the world.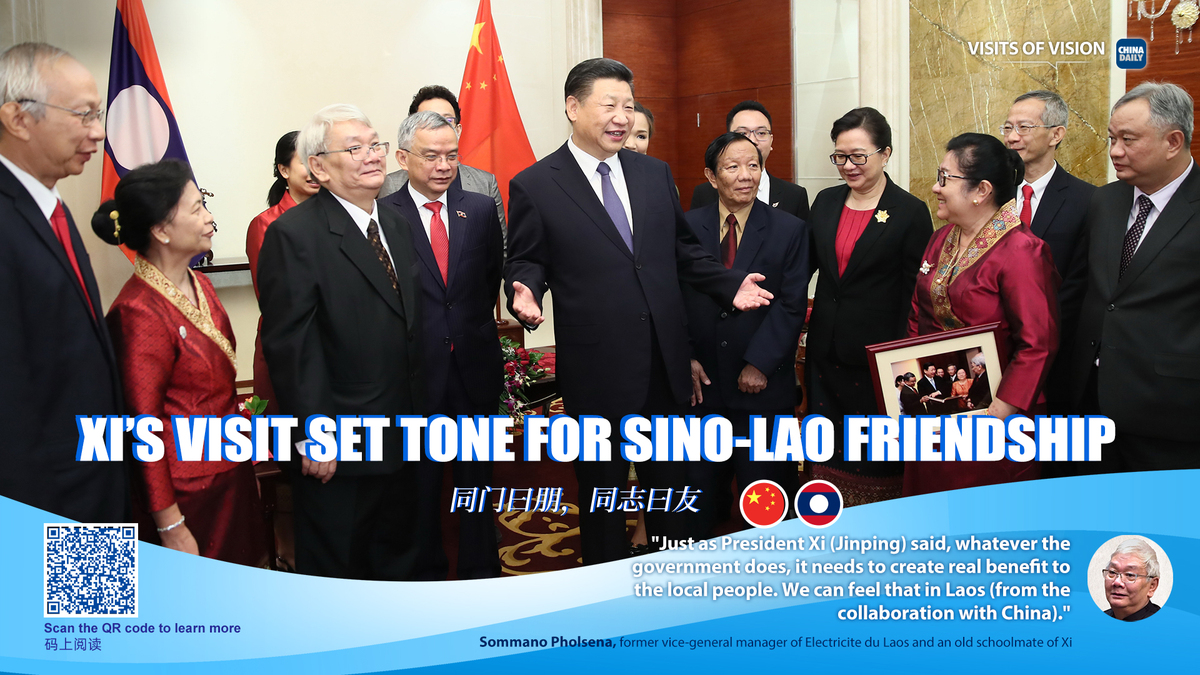 Five years after President Xi Jinping was in Laos on a state visit, Sommano Pholsena, an old schoolmate of his, is happy to see the fruit of collaboration between the two countries.
"The China-Laos railway has been opened," said Sommano, a former vice-general manager of the state corporation Electricite du Laos. "I've also heard that the first phase of a China-aided hospital in Vientiane has started to accept patients."
He was referring to the 1,035-kilometer railway that opened in December, a landmark project of high-quality Belt and Road collaboration connecting Kunming in Yunnan province with the Lao capital, Vientiane.
"Many hospitals and schools were built under pilot poverty alleviation programs," Sommano told China Daily in fluent Mandarin. "The results are obvious."
As the second son of the former Lao foreign minister Quinim Pholsena, a key figure who pushed for the establishment of diplomatic ties between China and Laos in 1961, Sommano, together with his siblings, studied at Beijing Bayi School with Xi in the 1960s.
On Nov 13, 2017, Xi, who is also general secretary of the Communist Party of China Central Committee, arrived in Laos for a two-day state visit after he attended the 25th Asia-Pacific Economic Cooperation Economic Leaders' Meeting in Vietnam. It was the first visit to Laos by a Chinese head of state in 11 years.
Despite a tight schedule, Xi made time to meet his friends from the Pholsena family at the hotel where he stayed in Vientiane. Xi had also met them when he visited Laos in 2010 as vice-president.
"Xi remembered all of our names," Sommano said. "He was standing by the door, and we walked into the room to shake hands with him. He asked if we were well."
Sommano said the family felt privileged and proud to meet Xi. "Our younger family members were also very excited and even asked me if I could help get Xi's autograph," he said.
Sommano said he was most impressed that Xi called his family, many of whom had studied in China, witnesses and successors of the friendship between China and Laos. "He stressed specifically that we should pass this on to our next generation."
During the visit Xi reached a number of agreements with the Lao leadership, such as accelerating the synergy of the Belt and Road Initiative and Laos' strategy to transform itself from a landlocked country to a "land-linked "one. The two sides also emphasized pushing forward the construction of the China-Laos economic corridor, the China-Laos railway, and expanding collaboration fields such as energy, resources, electricity and finance, as well as sectors such as healthcare, education and poverty alleviation.
The two countries agreed that jointly building a community of shared future with strategic significance on the basis of mutual trust is in line with the fundamental interests and common expectations of the two parties, two countries and two peoples, and also conducive to the cause of peace and development for the world.
Xi attended the groundbreaking ceremony for a China-aided upgrade project of Mahosot Hospital, one of the first hospitals in Laos, built in 1910.As a landmark project in bilateral collaboration in public welfare, the 700-million-yuan ($104 million) project includes the expansion of the century-old hospital and the construction of new in-house medical facilities.
In November the first phase of the project was handed over to Laos, including the new ward building and the building for treating infectious diseases.
Phisith Phoutsavath, who took part in the groundbreaking ceremony as the then deputy general manager of Mahosot Hospital, said the upgrading project helped to increase the number of beds to make it the biggest in Laos.
The upgrade was important not only because it improved the hospital's capability to treat more patients, with better skills, but also because it allowed Mahosot Hospital, a teaching hospital, to train more medical talent in Laos, Phisith said.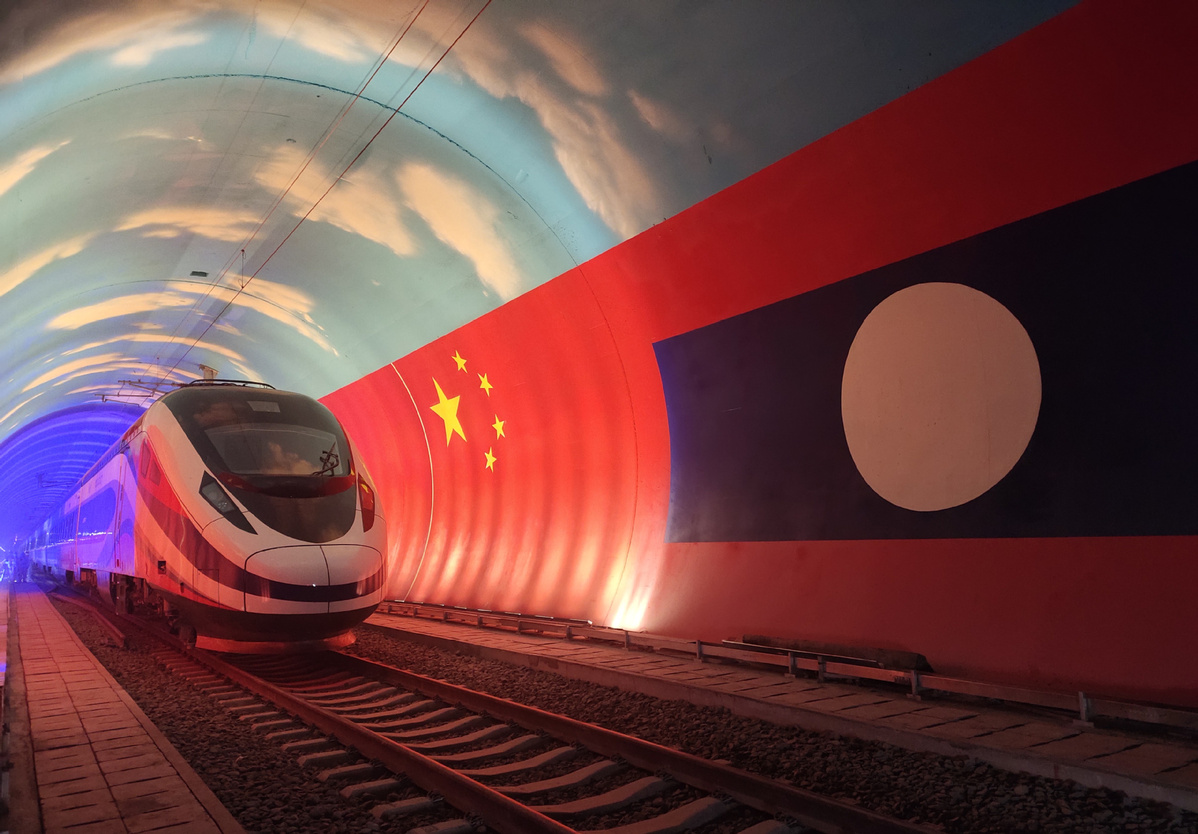 "Xi also told the Lao and Chinese ophthalmological teams to continue working together for the Lao people," Phisith said, recalling that Xi also visited Lao patients who received free cataract surgery from Chinese ophthalmologists as part of an aid project at the time.
That collaboration left a valuable legacy for Laos, Phisith said. When international travel was most restricted during the pandemic, Lao doctors were able to do cataract operations on their own, he said, as a result of their previous experience of working with the Chinese doctors.
In addition to the collaboration in cataract surgery, the hospital worked with its Chinese partner in Yunnan province to treat patients with heart disease.
The hospital has seen an increase in the number of patients since the inauguration of the China-Laos railway, Phisith said.
Many Lao people used to travel to Thailand to receive healthcare because it was even closer for them, Phisith said, but with the new railway more people are traveling to Mahosot Hospital because the railway has made it easier for them to travel to Vientiane.
With a speed of 160 km per hour, the China-Laos railway has cut the travel time between Vientiane and Boten, on the border with China, from 15 hours to about four hours. Including the onward connections to Kunming, the trip takes about 10 hours in total, compared with the previous time of two to three days.
By June 2 the China-Laos railway had handled more than 3.2 million passenger trips, with the top number of passengers on the line's Laos section reaching about 5,000 in a single day. It has carried 4.03 million metric tons of goods, including 647,000 tons of cross-border goods such as electronics, photovoltaic items and fruit.
In addition to improving Laos' transport connections with China, the railway is helping to transform Laos into a regional logistics center because it has opened a new era for regional trade. For example, Thailand transported 500 tons of durian to China via the railway route for the first time in April.
Phisith said he hopes to see more healthcare collaboration between China and Laos. Before he retired last year he also proposed collaboration with Chinese hospitals to help Mahosot Hospital improve its cancer treatment and neuroscience.
Recalling bilateral collaboration since 2017, and especially during the pandemic, Sommano said China was the first country to provide assistance to Laos, including sending medical experts, vaccines and other supplies.
"The assistance was not just on the government level," he said, noting the extensive aid from Chinese provinces and enterprises.
Impressed by Xi's domestic policies on protecting the environment and alleviating poverty, Sommano said China's achievements set an example for Laos.
As a frequent traveler to China before the pandemic, Sommano said he was impressed by how China has developed in leaps and bounds over the past 10 years under Xi's leadership.
"I see new changes every time I go to China. Many young people in Laos have become more interested in learning Chinese … and studying in China."
China's rapid development has attracted people to learn more about it, he said.
Today members of the Pholsena family are working in various government agencies, continuing to witness how China and Laos work with one another.
"Just as President Xi said, whatever the government does, it needs to create real benefit for the local people," Sommano said.
"We can feel that in Laos (from the collaboration with China)."