Former English teacher morphs into star seller for Koolearn
Share - WeChat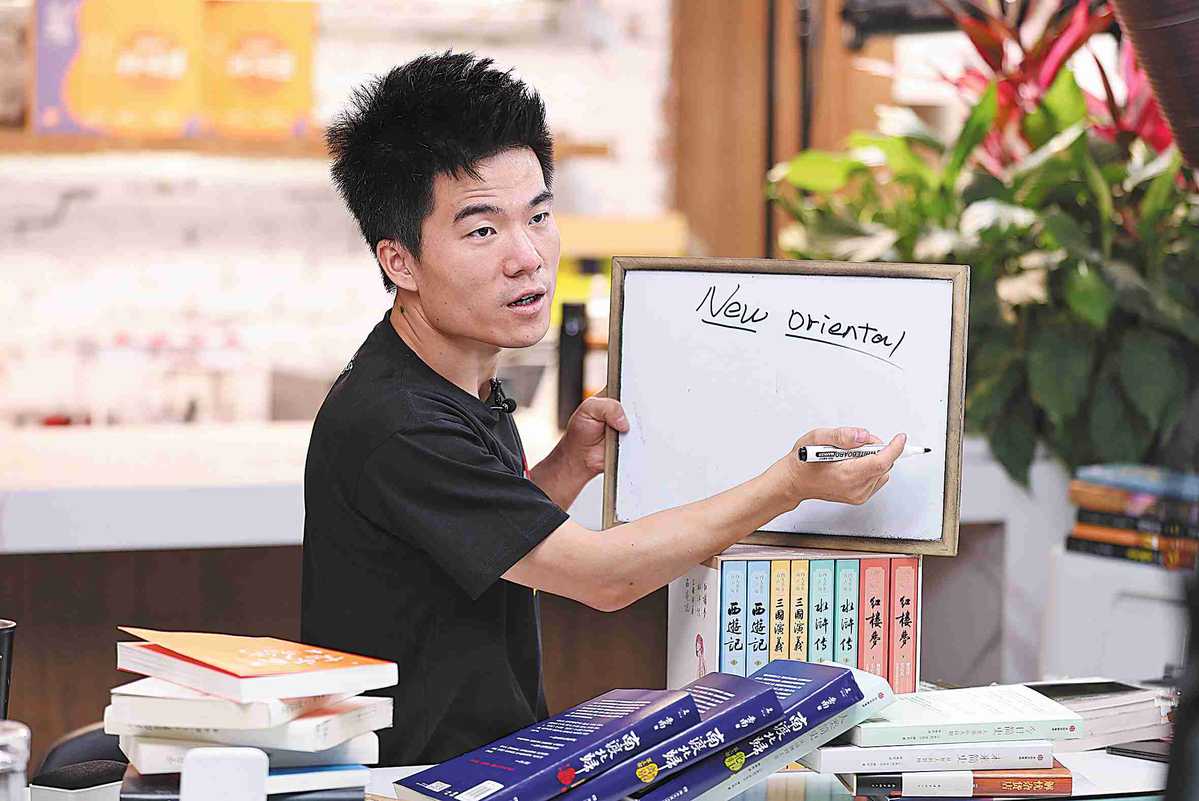 How did a young English teacher become famous overnight and even drive up the shares of an education giant by as much as 700 percent in the stock market within a month?
My colleague Ma Si and I didn't know the answers until we interviewed Dong Yuhui, one of the most listened-to livestreamers in China these days.
When he first arrived wearing a black shirt, common sneakers and a calm face, nowhere could we recognize him as a big internet celebrity.
He talked in a natural way, just like an old friend telling his story, exactly in the same way as he talks during livestreaming.
"I am just an ordinary person selling vegetables on Douyin (China's TikTok). I hope that people do not pay too much attention to me. More focus should be given to many of the ordinary people's lives like street vendors and farmers," Dong said.
He didn't expect to attract millions of people seeing his livestream every day, a sharp contrast to merely dozens of people half a year ago. At that time, Oriental Selection was set up as its parent company New Oriental was seeking a transformation after it witnessed a sharp dive in the stock market due to the government's regulations on the education sector.
"It has been a hard time, but we didn't give up and insisted on livestreaming for over 10 hours a day, just like what we are doing today," Dong said.
Perhaps it is an accidental success, but Dong's words made us believe that what drove his success was not the so-called opportunities, but an attitude of finding hope in desperation.
"As for future plans, I aim to sell more agricultural products to help drive the development of rural areas and improve the livelihoods of rural residents. My goal is to sell the products as much as possible, which may help improve some of their incomes. As long as the products are sold, farmers will receive benefits," he said.
Dong, who dubbed himself a farmer's son, was born in Tongguan, a small county in Shaanxi province. He said his father is his role model, who always tries his best to buy and read newspapers, despite being a busy farmer.
After hearing the story, we understood why Oriental Selection chose to focus mainly on books and agricultural products, the items that typically are not popular on livestreaming platforms because of low profits. In fact, for consumers following Dong's livestreaming, they are not buying corn or books, but the company's precious values for society.
In that respect, Oriental Selection's appeal to consumers is similar to that of well-known foreign brands. Cosmetic brand L'Oreal said the brand is for the pursuit of a better self, not merely selling cosmetics. Sports brand Nike vows to have the spirit of self-transcendence.
These years, we are embracing a consumption upgrading, and consumption with "value, fun, and wisdom" may become the next norm.
Ding Hegen, director of the Institute of Media Economics and Management of Nanjing University, said, "Dong's livestreaming style goes beyond the level of material needs. Instead, it strikes a chord of empathy, nostalgia, value and cultural connotations within consumers."
"To make it simple, people can feel the same thing as he feels and eventually form a natural willingness to buy," he said.
When we asked Dong if he has considered doing livestreaming for foreign consumers, he said he would "if the company has detailed plans in the future and needs him to do so".
"But honestly, the entire logistics system, marketing and industry regulations in foreign countries are different from those in China," he said, noting that industry giants like Amazon are keeping profit margins at a low level so that many businesses who want to enter the sector end up losing money.
At the end, we followed Dong to do a livestream. During the session, Dong and his colleague sang a song and played the ukulele. Both Ma and I could not help ourselves in raising our hands and swaying to the music. For us, it was also a happy ending.