Vaccination to be required for public venues
Share - WeChat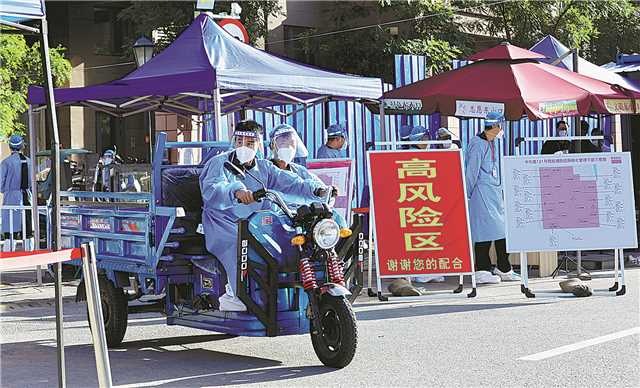 Starting on Monday, those who haven't received a COVID-19 vaccine will be restricted from entering some public venues in Beijing, city officials said on Wednesday.
"Except for those who are not suitable for vaccination, only visitors who have received COVID-19 vaccines will be allowed to enter many public sites, including educational institutions, libraries, museums, movie theaters, art galleries, cultural centers, stadiums, fitness centers, entertainment venues and internet cafes," Li Ang, deputy head of the Beijing Health Commission, said at a news conference. "Other places requiring visitor restrictions and reservations will give priority to those who have been vaccinated.
"We also encourage seniors who often visit seniors' universities, activity centers and fitness and entertainment venues to get the COVID-19 vaccine as early as possible," he said. "Under the current situation of epidemic prevention and control, vaccination is still an effective way to prevent being infected and prevent conditions from further worsening."
According to Li, as of Wednesday noon, the city has given over 62 million doses of COVID-19 vaccine to over 23.4 million people, including around 3.61 million people aged above 60.The city had about 4.3 million people aged 60 or above by late 2020.
Beijing reported nine new infections between Tuesday and 3 pm on Wednesday, including one asymptomatic case. All the new cases were among people in quarantine.
The total number of infections rose to 12 in the current outbreak, which emerged on Monday. It has involved four districts, with Yanqing registering eight cases. Shunyi district had two and Tongzhou and Changping had one each.
Beijing has also adjusted the epidemic prevention and control measures for those entering from outside the city.
According to the previous policy, those who returned from regions with one or more domestic COVID-19 cases reported within 14 days would be forbidden from entering Beijing, while the new policy adjusted it to seven days. As long as no local infections were reported in a county-level area, people in that area will no longer be restricted from entering Beijing if other counties in the same prefecture-level region have infections. Restrictions for entering Beijing on people who have been to land border ports are also lifted.
In Xi'an of Shaanxi province, the tally of the recent outbreak starting on Saturday had reached 29 by Tuesday, including 11 confirmed cases and 18 asymptomatic carriers, most of which were related to a recycling resource trade market in the city.
Gene sequencing showed the Omicron subvariant BA.5.2 is to blame for this cluster of cases, which is more contagious than the previous strain, according to the local center for disease control and prevention.
Anhui province reported 81 locally transmitted confirmed cases and 141 asymptomatic carriers for COVID-19 on Tuesday, the provincial Health Commission said on Wednesday morning. All the new confirmed cases were found in Suzhou, with 75 identified in Sixian county and six in Lingbi county.
By Wednesday noon, the eighth round of mass testing in Sixian, the center of this outbreak, found nine infections in communities, the first time for a single-digit growth since the outbreak started on June 26, according to the Suzhou epidemic control headquarters.
Zhu Lixin contributed to this story.