President's remarks motivate city
Share - WeChat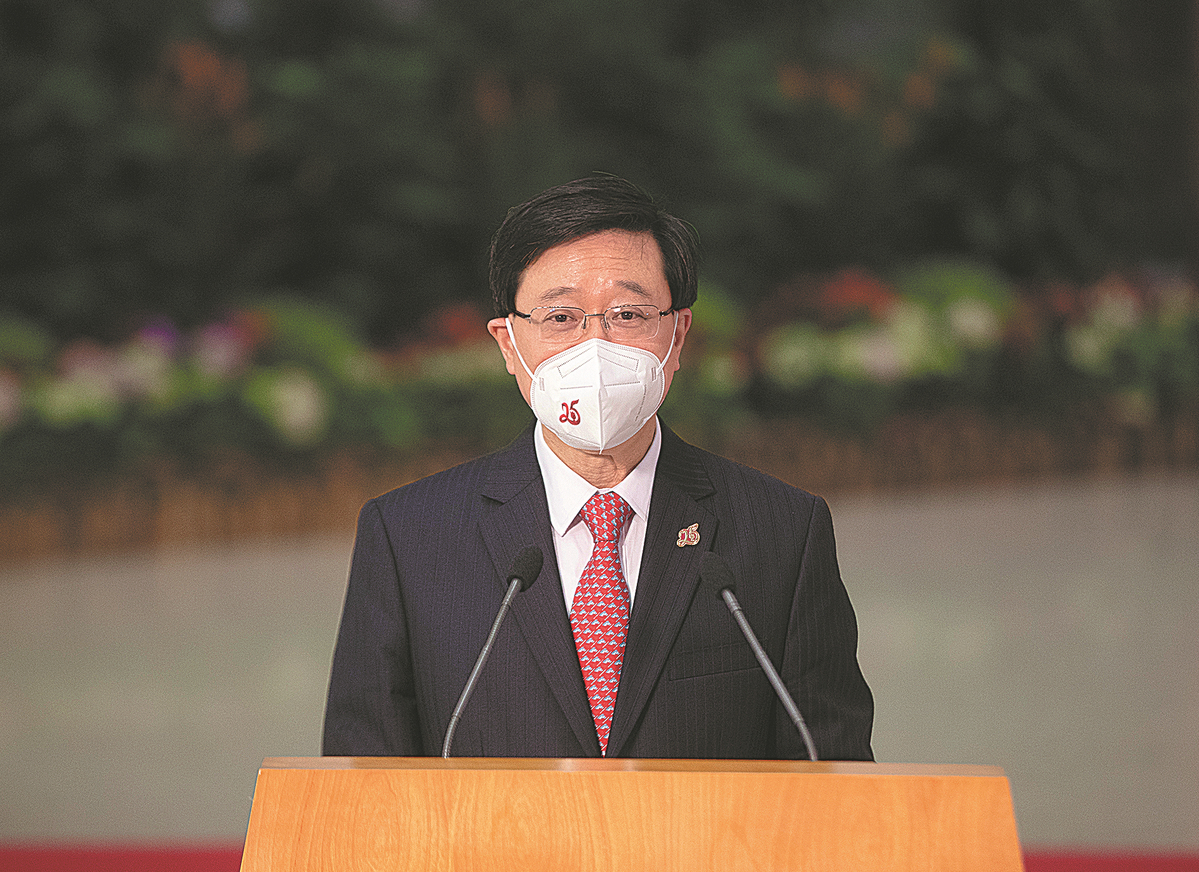 President Xi Jinping's two-day visit to the Hong Kong Special Administrative Region has brought joy, care and motivation to the city, the new Chief Executive of the Hong Kong SAR John Lee Ka-chiu said on Friday.
The president's visit is of great significance to Hong Kong as the city has transformed from chaos to stability and is at the critical juncture of maintaining stability and seeking prosperity, Lee said at a briefing on the president's visit.
Despite the COVID-19 epidemic in the city, Xi visited Hong Kong and attended a meeting marking the 25th anniversary of Hong Kong's return to the motherland and the inaugural ceremony of the sixth-term government of the HKSAR and made an important speech, which shows his and the central government's deep care for Hong Kong compatriots and the full support and great importance they attach to the city's development, he said.
"We are deeply motivated as the president affirmed the success of the 'one country, two systems' principle in the past 25 years in Hong Kong, spoke highly of Hong Kong's role in national development, and placed high expectations on the city's future contribution to the nation's development," he said.
In his speech, Xi said the principle of "one country, two systems" has been tested and proved time and again, and there is no reason to change such a good system and it must be adhered to over the long run.
Lee said the president's remarks are very clear and down-to-earth and reaffirmed Hong Kong people's confidence in the successful implementation of the "one country, two systems" principle in the city.
"The president has given important guidance for the new Hong Kong SAR government and said the central government would give full support to the new government, which gives us great confidence and motivation," Lee said. "I will guide the new government to make the best efforts in our governance to live up to the president's expectations and requirements, as well as the hopes of Hong Kong people."
In his speech, Xi stressed the full and faithful implementation of the "one country, two systems" principle, the importance of ensuring the central authorities' overall jurisdiction and a high degree of autonomy in the Hong Kong SAR, implementation of "patriots administering Hong Kong", and maintaining Hong Kong's unique status and strength.
The president's remarks can help Hong Kong and the international community to comprehensively and accurately understand the principle of "one country, two systems" and make sure its practice stays on the right path, Lee said.
"Together with my team, we will do our best and face difficulties head on to bring benefits to Hong Kong people and start a new chapter for Hong Kong together," he added.