China firmly opposes accusations made by certain Western countries against HKSAR
Share - WeChat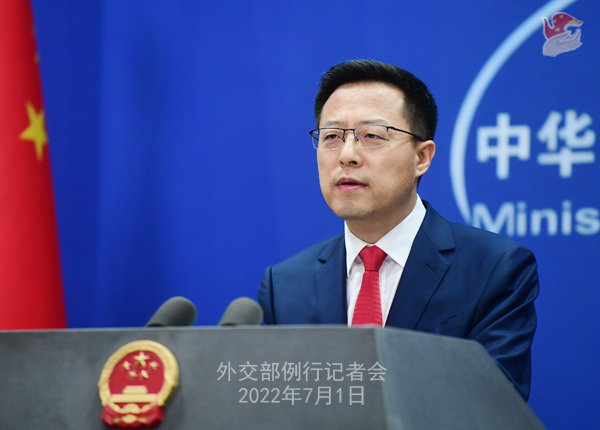 Foreign Ministry spokesman Zhao Lijian said on Friday that China firmly opposed and strongly denounced accusations made by certain Western countries against the Hong Kong Special Administrative Region during the 25th anniversary of its return to the motherland.
"Any smear of the successful practice of 'one country, two systems' is futile," Zhao issued the stern warning at a daily press briefing.
The remarks came as the United States and the United Kingdom made accusations against Hong Kong's democracy and rule of law, as well as the practice of the "one country, two systems".
Zhao slammed a handful of Western countries for jumping out at the joyous moment which belongs to the whole of Chinese people, including Hong Kong compatriots, and making irresponsible remarks against Hong Kong issues which are purely China's internal affairs.
These countries chant slogans of democracy and human rights yet turn blind eyes to their serious problems and poor track records, Zhao stressed. "They have no qualification to point figures at a prosperous and stable Hong Kong that forges ahead in unity."
"No interference in China's internal affairs will succeed," Zhao warned.
"No external forces can stop the "one country, two systems" policy from making steady progress and nor can they prevent Hong Kong from maintaining prosperity and stability," he added.