Testing arranged as Anhui, Jiangsu report new cases
Share - WeChat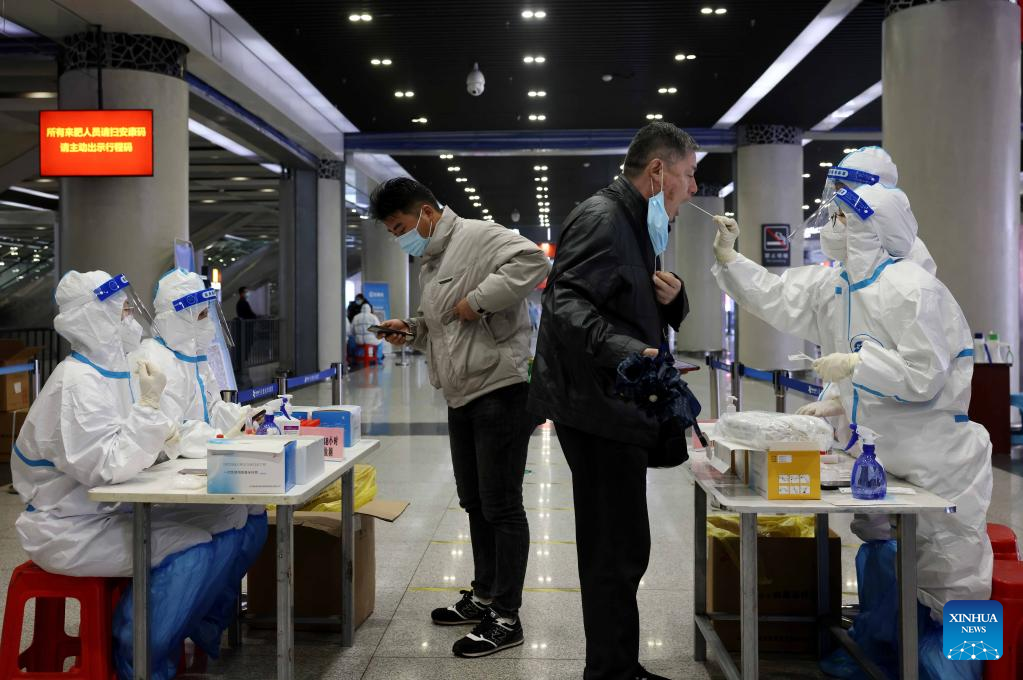 Multiple districts and counties in Anhui and Jiangsu provinces have started a new round of mass nucleic acid testing after dozens of infections were reported in the two provinces on Tuesday.
Sixian county of Anhui province reported 23 asymptomatic cases on Tuesday, data from the provincial health commission showed, bringing the total number of asymptomatic cases in the county to 29 since Sunday.
The county found the first infection on Sunday during regular nucleic acid testing for groups of people at high risk of infection. The rising infections triggered tougher restrictions in the county, which has a population of 962,000, including launching restrictive measures on all its residential communities and villages to avoid unnecessary outside trips.
The current infection has spread to neighboring regions including Nanjing and Huai'an in Jiangsu and Hefei in Anhui.
As of Wednesday afternoon, Nanjing had reported two confirmed and two asymptomatic cases. All four cases were contacts of patients diagnosed in Sixian county.
On Tuesday, Huai'an reported one case who drove back from the county.
More regions have launched mass nucleic acid testing to curb further spread of the virus.
Sucheng district of Suqian in Jiangsu, Dangshan county of Anhui and Sihong county of Jiangsu have all launched mass testing.
Nanjing has upgraded Yanhe Garden residential community to a medium-risk area for COVID-19 and launched mass testing from Tuesday.
Han Liming, Nanjing Party secretary, visited the COVID-19 prevention and control headquarters of the city's Luhe and Qinhuai districts on Tuesday and said that all loopholes in virus containment work must be fixed.
According to a meeting she attended on Tuesday evening, the virus should be contained with the fastest speed and at the lowest cost.
The virus containment work should minimize its impact on local residents' daily lives and on companies' and factories' production and operations. Places that guarantee daily life, production and operation should not be simply closed for the government to contain the virus, the meeting said.
Zhou Jin, a gas station worker in Nanjing, said that her life has hardly been affected except that she was asked to take a PCR test on Tuesday.
"I sweated a lot when I queued for testing," said the woman who lives in the city's Gulou district.
"But I understand why I should do this. Some vulnerable people need us to protect them. It's all about putting yourself in other people's shoes and caring about others," she said.