Scientist in glacier alert
Share - WeChat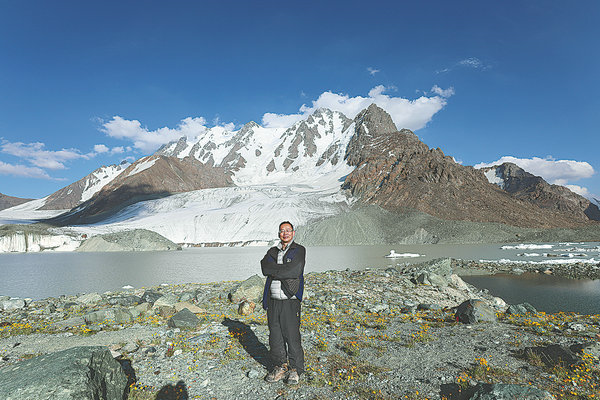 Glaciers are stunningly beautiful, but they can be equally terrifying. In recent years, the dripping meltwater of Glacier No 1 in the Xinjiang Uygur autonomous region sounds like the roll of a war drum, its accelerated beat getting more and more intense every day.
Xinjiang-a fascinating land of mountains, forests and deserts-is home to some 20,000 glaciers. Since the 1950s, these glaciers have retreated by more than 20 percent. "If global warming is not contained right away, Glacier No 1 may disappear in just 50 years," says Li Zhongqin, 60, chief of the Tianshan Glaciological Station at the Chinese Academy of Sciences.
Formed during the third glacial period, the ice mass between the Tianshan Mountains is known as "a living fossil of glaciers" for its concentration of modern glaciers, typical landforms and sediments, and well-preserved ancient glacial remains. The headwaters of Glacier No 1 are also the biggest source of the Urumqi River.
According to statistics, the precipitation in the Tianshan Mountains accounts for 84 percent of the total precipitation in Xinjiang. Also, rivers nourished by ice and snow meltwater in Tianshan account for 52 percent of the total surface-water resources in Xinjiang.
In 2013, the Tianshan Mountains, including Glacier No 1, were listed as a UNESCO World Heritage Site.
The World Glacier Monitoring Service, headquartered in Zurich, Switzerland, lists Glacier No 1 among top 10 ice masses whose "traceable melting retreat" reflects changes in glaciers around the world.
The massive amount of information about Glacier No 1 currently available is the result of generations of perseverance. Li points out that the high altitude of glaciers leads to great difficulties during expeditions. The snow is thick and the air is thin, which makes breathing a challenge.
Li began glacier field monitoring in the late 1980s, when he was still a student. At the end of every summer, he took his seasonal hike near the top of a glacier. He scrambled over a frozen ridge and headed toward a pole wedged in the ice. This is called the "sight rod" that helps determine how fast a glacier is melting. By now, he has his footprint on most of China's glaciers.
Not one to be deterred by altitudinal challenges, Li says field research is of paramount importance.
"It is how we can investigate problems in real time and that makes finding a solution easier," says the scientist who has barely enjoyed the warmth of summer since 1987.
Since its monitoring began in 1962, as much as 20 percent of Glacier No 1 has melted away, and the ice mass continues to shrink at a rate of five to six meters every year. Li squarely blames global carbon emissions for the impending catastrophe.
"The melting glacier will not just affect people's livelihood (mainly farming). It will devastate the local ecology," he says.
Over the past few decades, the accelerated glacial ablation owing to global warming has caused issues like rising sea levels, changes in the water cycle and increased glacial hazards.
In late July last year, the Yuqi area of Sinopec's Northwest Oilfield, located in the Taklimakan Desert in Xinjiang, was suddenly hit by an exceptionally heavy rainstorm. More than 300 square kilometers of land was flooded.
Based on research, Li believes that glaciers will melt faster because of soaring global temperatures, and the meltwater will irrigate the earth vigorously for a period of time, but this will come at the cost of irreversible consumption of glacier solids. In addition, the amount of meltwater will continue to plummet.
Li says small and vulnerable glaciers (covering an area of less than 1 square kilometer) account for 80 percent of total glaciers.
"These small glaciers will likely disappear by 2050, and those that sprawl over 2 square kilometers or so will be gone by the end of this century," he says.
The current trend of accelerated melting of glaciers can cause a series of natural disasters, including landslides and collapse of glacial lakes. Applying scientific methods to buffer melting and maintain sustainable water resources is the need of the hour.
Researchers, led by Li, have developed some countermeasures, which include building mountain reservoirs, setting up glacier protection areas, making artificial snowfall and covering glaciers with reflective insulation materials.
"All we can do is try to slow down climate change, although the melting of glaciers hardly depends on the will of man. If each of us can reduce our personal carbon emission and commit to a sustainable lifestyle, half the battle is won," Li says.