Penchant for plants
Share - WeChat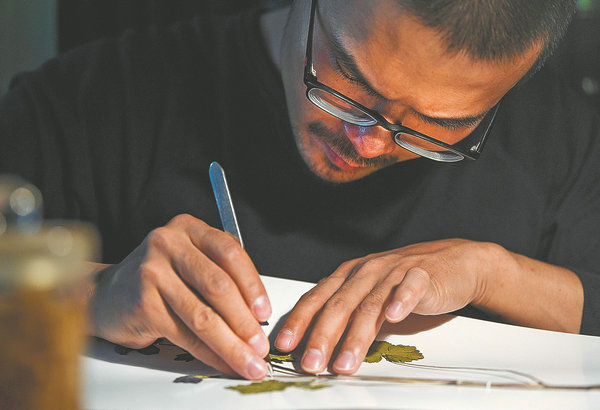 On each day of the field trip, Yang cleans the latest specimens, neatly arranges them between sheets of newspaper and places them inside a plant press. Over the next few weeks, he replaces the paper every morning and evening until the specimens are completely dry. These are then labeled and mounted as exhibits. Sometimes, readying one specimen can take up to two months.
The process of plant taxonomy may seem monotonous and punishing, but Yang begs to differ. "Each plant is unique. Every time I look at one, it is like peering into a whole new world. A set of questions come to mind. Why is the flower red instead of yellow? Why are there five petals instead of four? Why does it look so similar to another plant? Finding the answers is so fulfilling," he says.
Yang was born in Urumqi, the regional capital, in 1984. At the age of 6, he found at home a handbook on Xinjiang's herbal medicines. He was still learning to read and was unable to comprehend all that was written, but the line drawings of plants piqued his curiosity.
Once in primary school, Yang began learning the names of various plants and spent his allowance on getting herbs from a local pharmacy. He compared these with descriptions in the handbook, familiarizing himself with their smell and taste. Plants became his favorite toys, and given the myriad species in Xinjiang, the source of his joy was infinite.
With time, he became interested in the nomenclature and classification of plants. He realized plants belonging to the same family or genus share similarities in appearance and characteristics. He started reading more about Xinjiang's medicinal herbs, which marked the beginning of his dedication to plant taxonomy.