Equestrian sector saddles up for growth
Share - WeChat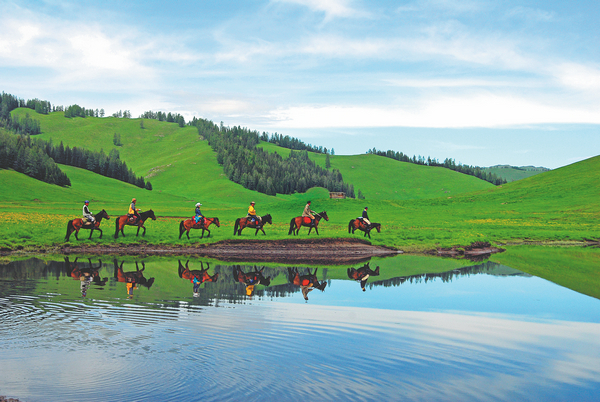 Rising interest, affluence ride on deep cultural heritage
The Chinese equestrian sector is gearing up for milestone development, with rising affluence set to tap rich cultural heritage, riding also on the back of international sporting events and domestic tourism, according to the latest industry trends and analysis.
More than 1.19 million people were registered at 2,000 equestrian clubs nationwide by 2019, rising over 20 percent in just two years, figures from an inaugural report on China's horse culture industry showed.
Of about 3.67 million steeds across two-thirds of the country, more than 100,000 horses are also used for tourism and leisure activities, with 30 million rider experiences every year that help make up over 60 billion yuan ($9.41 billion) in the output value of horse cultural tourism, the report said.
The 295-page book, presented by the Art Development Center of the Ministry of Culture and Tourism, tracked and analyzed Chinese equestrian development, drawing on millennia of human-horse interaction. Major topics covered include industry management and investment, breeding, tourism trends, education, professional training, as well as its historical, ethnic and social aspects.
Beyond basic equestrian sports and club activities for urban consumers, traditional horse-related folk, cultural, arts and crafts activities and events made up a significant part of the sector, the report showed.
Chinese equestrian culture offers a "super intellectual property" that taps into a treasure trove of the country's heritage and can be suitably applied to sectors home and abroad for innovative and stable growth, said Kong Rong, deputy director of the Art Development Center and the book's co-editor.
Wu Gangfang, head of the China Horse Culture, Sports and Tourism Institute under the Art Development Center and the book's other co-editor, said the Chinese equestrian experience encompasses an exemplary match of human development in harmony with the natural environment, reflecting deeply people's way of life.
"Now we can comprehensively provide the figures, details of the sector, its value, stakeholders, opportunities for global and local cooperation and growth in line with the cultural confidence of our horse tradition," he said.
"We consolidate our five millennia of history and heritage with our horses, keeping up to speed with the rest of the world's equestrian developments. From ethnic performances, cuisine, lifestyles, traditions and personalities, to mining modern developments like e-commerce and other aspects of the digital economy, we're showcasing our cultural strengths on horseback."
The blue book, which took more than two years to compile, includes a breakdown of riding clubs and sites throughout the country's provinces, municipalities and regions, detailing their animal stock, management, personnel and related equestrian resources.
There are also sections specifying international competition and riding standards and certification requirements, such as qualification and scoring criteria ranging from dressage and show jumping, to trail riding and horseback archery.
The report's focus on Chinese equestrian culture describes more than 500 popular idioms directly linked to horses, as well as allegory, classic poems, painting, performances, historical tracts and other major cultural works that draw deeply on the animals and their close relationships with their human keepers and admirers.